English Afternoon High Tea Time
This post will give you some afternoon tea ideas and recipes to let you organize your own afternoon tea party at home. It will also help you understand the difference between 'high tea' and 'afternoon tea', as there is, quite understandably, some confusion as to the meaning of both terms.
Below I will link to some of my easy afternoon tea recipes that will enable you to prepare your own English afternoon tea.
High Tea vs Afternoon Tea
OK, I have called this post 'afternoon high tea' because there is some confusion as to the meaning of afternoon tea and high tea, and I thought I would have a go at tackling that briefly here.
I am myself by birth very English, and even I confess to having been confused by the different terms.
What is Afternoon Tea?
Afternoon tea refers to the meal which would be taken towards the end of the afternoon which would keep you going until supper or dinner at around 20.00. Afternoon tea time is normally around 16.00.
Originally it would be something that the British upper classes would enjoy, as, of course, they needed some way to bide their time and gossip.
These days it is still common to stop for a tea break during cricket matches when afternoon tea will be served to the players. This happens both in village cricket matches as well as international Test matches, where the tea break will be 20 minutes.
The timing of a cricket tea break will depend on the game format, the start time, and in England at least, the weather!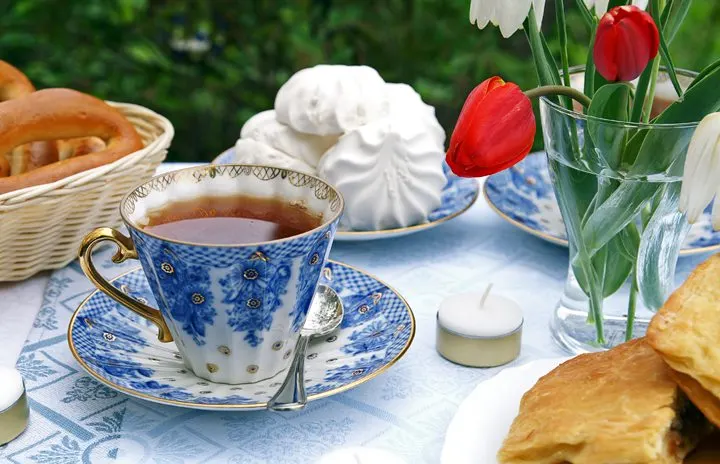 Afternoon tea was introduced in the 19th century and became a fashionable social event for the upper classes where people would meet up and chat. It would have been an important part of society in many parts of the British Empire back in the day.
Afternoon tea would typically consist of finger sandwiches, cakes, pastries, scones with jam and cream, and other sweet or savoury treats. And, of course, tea. Afternoon tea was still enjoyed every day by The Queen, until her recent passing, it is claimed.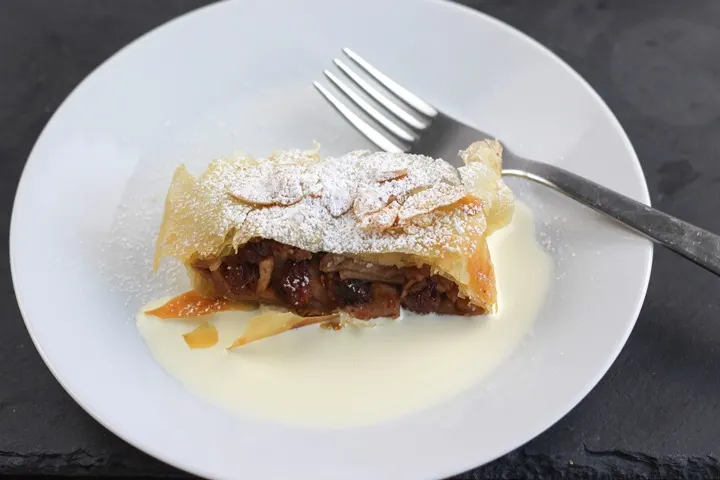 Afternoon tea can be enjoyed inside or outside, depending on the weather. But if you are outside, in England during August, you may need to cover the jam to keep the wasps away!
What is High Tea?
High tea (and it is high tea, not hi tea or hi-tea) is a reference to a meal that would be enjoyed by the working classes after a hard day in the factory. Many of the factories in the 19th century were situated in the Midlands and the North of England, and coming home the workers would be famished and would want to eat straight away.
What is high tea time? This could be any time after 17.00 and could include anything, but would likely be a hot meal like a meat pie or something similar, and perhaps some cakes.
Tea would also commonly be present. I remember that having tea at the evening meal was also something I found very strange when I moved up North from the South as a studying 18-year-old.
I studied at University in the North of England and can concur that the names for these meals have remained.
You will find that in the North most people still refer to their evening meal as 'tea' as opposed to 'dinner' or 'supper'.
Outside of the UK, many people think that 'afternoon tea' is called 'high tea', but this is a common mistake. But it is not surprising that people think this, as many places in the UK even market afternoon tea as high tea, but this is really more a marketing ploy to attract tourists, who may not know the difference.
So really, tea is the major common denominator between the two.
Why 'Tea'?
Well ever since the British found out about tea, they have drunk quite a lot of it. Now more than 100 million cups a day in Britain alone, apparently.
It became very popular in England after being introduced by the East India Company in the 17th Century when it was a prized product amongst the aristocracy.
With the development of trade and tea rooms across the country, tea drinking became a national pastime in the British Isles, and the British Empire, and it still is. By the middle of the 19th century, it was the most popular drink amongst the working classes.
I remember being brought up on Twinings Earl Grey tea at home (Twining opened his first tea shop in 1717) and my mother used to love the Chinese Lapsang Souchong (which was far too smokey for my liking!).
We still drink Twinings Earl Grey at home, with a splash of milk, of course! In fact, I have one next to me right now as I write.
In the UK, afternoon tea would traditionally be served from a teapot using black tea, and many people have their own ways to make the perfect cup. These days many people tend to use tea bags, rather than loose tea.
My grandmother was actually married to a tea planter in India and she would always give me a very hard time if I poured the water into the pot and it was not boiling properly!
And of course, the milk always goes in last, once the tea is in the cup, not the other way around!!
Afternoon tea in London
If you are ever visiting London you will have a range of places where you can take afternoon tea. All the well-known establishments will be able to provide you with a posh English tea experience.
So, for example, Claridges, Harrods, the Savoy, the Ritz, the Dorchester, and Fortnum and Mason can all provide you with a typical English afternoon tea.
For some, you may have to watch the dress code and check the balance of your bank account before you go though!
Afternoon tea gifts
There are thousands of different tea types to choose from, from China and India, any one of which you may find at an afternoon tea party.
In Japan, for example, they have Matcha green tea made from finely powdered dried tea leaves. If you wish to gift someone a nice tea-related present, why not try this Matcha kit from Art of Tea below?

Or maybe these tea time gifting boxes would make a nice gift for a tea aficionado?
Variations on tea time
So, although the British will drink tea all day long, from breakfast to bedtime, there are some other expressions you may hear.
'Tea time' for example is one. What is tea time and what time is tea time in England? Well, tea time could refer to afternoon tea or high tea, depending on where you are in the country. So either 16.00 or 17.00 for example.
But it could also mean anytime when someone wants a cuppa (cup of tea or cup of char). Hence the expression 'any time is tea time'.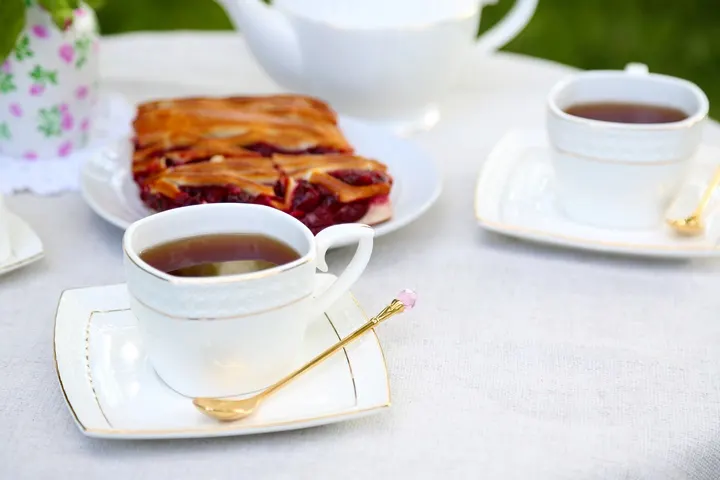 You may also hear the term 'elevenses' which refers to a short break at 11.00 a.m. when one might partake of a cup of tea and some biscuits for example.
A 'Cream tea' is also something you may hear of and is similar to an afternoon tea, but just includes scones with jam and clotted cream and tea. It is traditionally from the West Country (the counties of Devon and Cornwall in the South West), where they have a long-held rivalry on how best to eat your cream tea. You can read more about this in my scones with clotted cream post.
A cream tea may be enjoyed at almost any time of the day.
Afternoon tea etiquette
Originating from its posh beginnings, afternoon tea obviously has some etiquette attached to how to behave. Quite useful to know, if you were visiting the Queen, or nowadays the King, at Buckingham Palace, for example 😃!
Here it is nicely summarized in this amusing video describing afternoon tea etiquette, by William Hanson (this link will take you to YouTube to play the video).
Anyhow, having given you some background, I shall now give you some afternoon tea recipes to help you make your own afternoon tea party. Invite your friends and pretend you are royalty!
Afternoon tea ideas
Here below are some afternoon tea food ideas for you to make your own afternoon tea menu. Make sure you create a nice table spread.
If you browse to the bottom of the post I have also included some links to some hearty high tea recipes on my site so you can even put together your own high tea menu! Good luck!
Recipes for Tea Sandwiches
Afternoon tea starts with sandwiches with the crust cut off. How about these ones?
3. Cheese and Pickle Sandwiches
After the sandwiches, we have some cakes, pastries and biscuits……
Cake and Pastry recipes
7. Madeira Cake
8. Banana Cake
9. Sponge Cake
10. Macaroon Cookies
11. Lemon Cake
12. Fruity Flapjacks
or something more savoury perhaps?
15. Mushroom Pastry
16. Apple Strudel
And then, of course, the Scones with jam and cream
18. English scones with clotted cream
and on this link a make your own Clotted Cream recipe from one of our friends.

And finally the Tea
Really for the tea, I do not want to make any particular recommendations, apart from my own favourite Twinings Earl Grey:
Twinings Earl Grey Tea

There are so many types of tea and everyone tends to have their own brand that they like. Tea is a very personal thing.
If you are a real tea enthusiast, you may like to explore the Art of Tea website, where you can find a wonderful range of organic and botanical teas, as well as lots of new information about tea. Or maybe join their exclusive club and try a new type of tea every month. Just click on the banner below.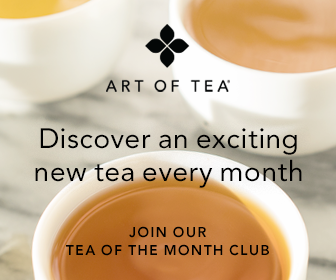 These days everyone makes tea with a teabag, but to do it properly you should use loose tea in a teapot and a strainer when you pour it.
On the continent, most people drink tea black, sometimes with a slice of lemon, but in the UK many still add a dash of milk to it. I certainly do. In the old days, it was to stop the expensive porcelain China cups from cracking it is said.
I hope you have found this post useful and that you can try some of my recipes and enjoy a real English tea party!
How to Prepare your Afternoon Tea
English High Tea Menu
could be as follows (not Afternoon tea 😃!):