Chicken and ham and leek Pie
This is a recipe for chicken, ham and leek pie. At Xmas we often have plenty of ham and turkey (or chicken) leftovers which we normally use to make a pie of some sort.
This chicken, ham and leek pie is one of the many pie alternatives you can make with the leftovers. There are some links to other recipes at the end of this post.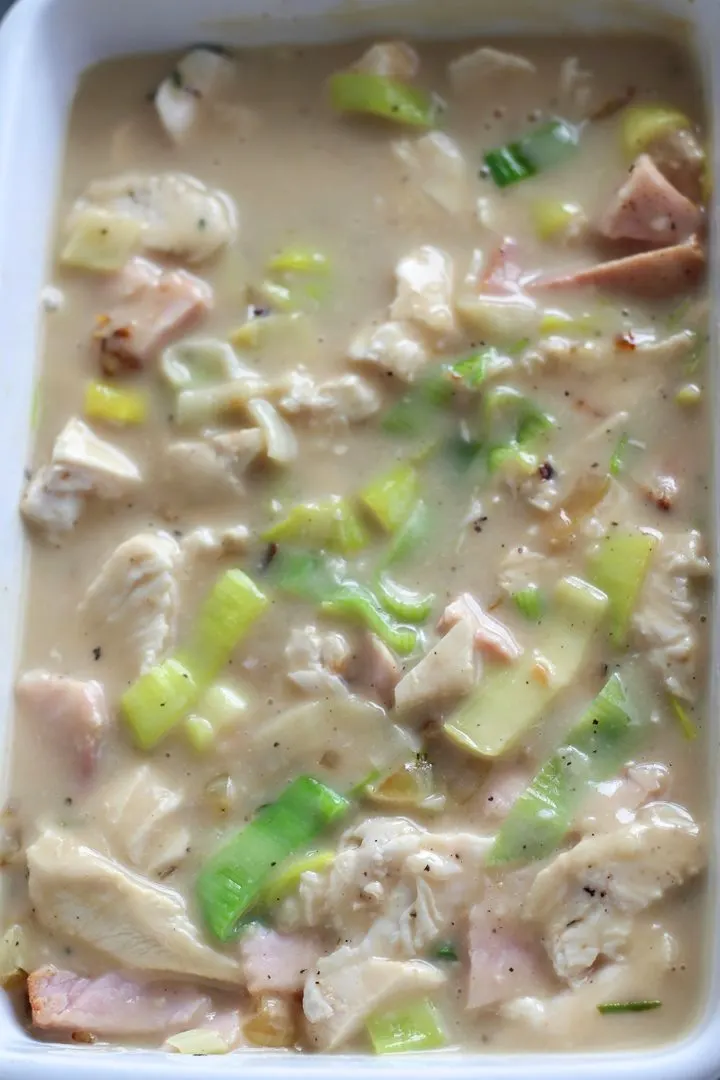 This recipe is based on the fact that you have some leftover ham from a boiled ham, but that you may need to cook some chicken (if there is nothing leftover from the dinner before). You can also just use some cubed ham, if you do not have any ham leftovers.
In this recipe, I actually initially cook the chicken breast by simmering it in the chicken stock. Though the thought of 'boiled chicken' may put you off, believe me, it works very well and keeps the chicken moist and tasty for in the pie. If you have leftover chicken or turkey from the roast, just add that instead.
This chicken, ham and leek pie recipe is very simple and can be made using puff pastry or shortcrust, depending on your preference.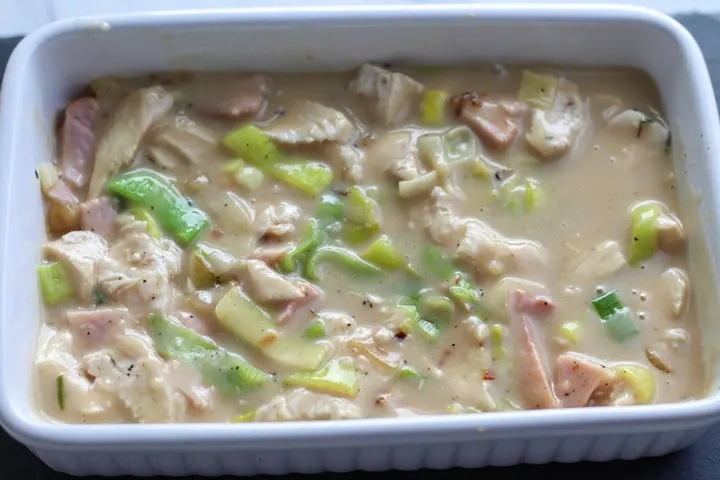 Ham and Leek
Ham and leek are always a good combination. The saltiness of the ham complements perfectly with the sweetness of the leek.
If you wish to discover this using another recipe, then try my bacon and leek pasta bake, which I am sure will convince you.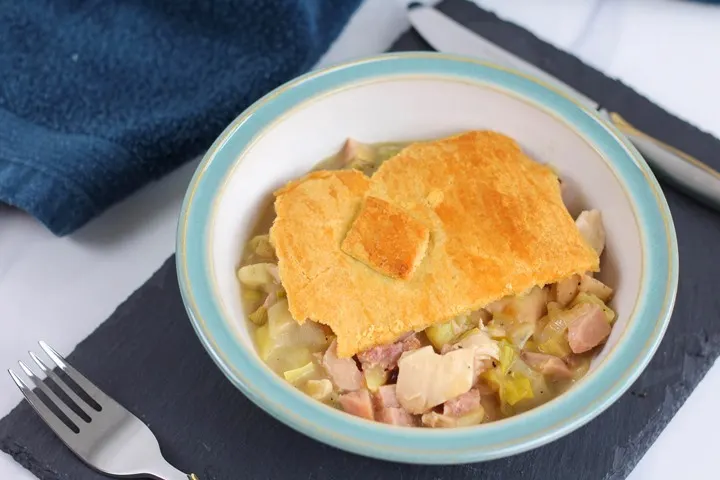 Add some chicken (or turkey) and the combination of tastes is complete. Add a nice creamy sauce and a delicious pastry lid and you have a typical English pot pie recipe.
We have many different types of pie in Britain and Ireland. A pie is a baked dish that includes either meat or fruit and is covered by a layer of pastry (or in some cases, mashed potatoes).
It can be savoury or sweet and eaten as a main course or as a dessert.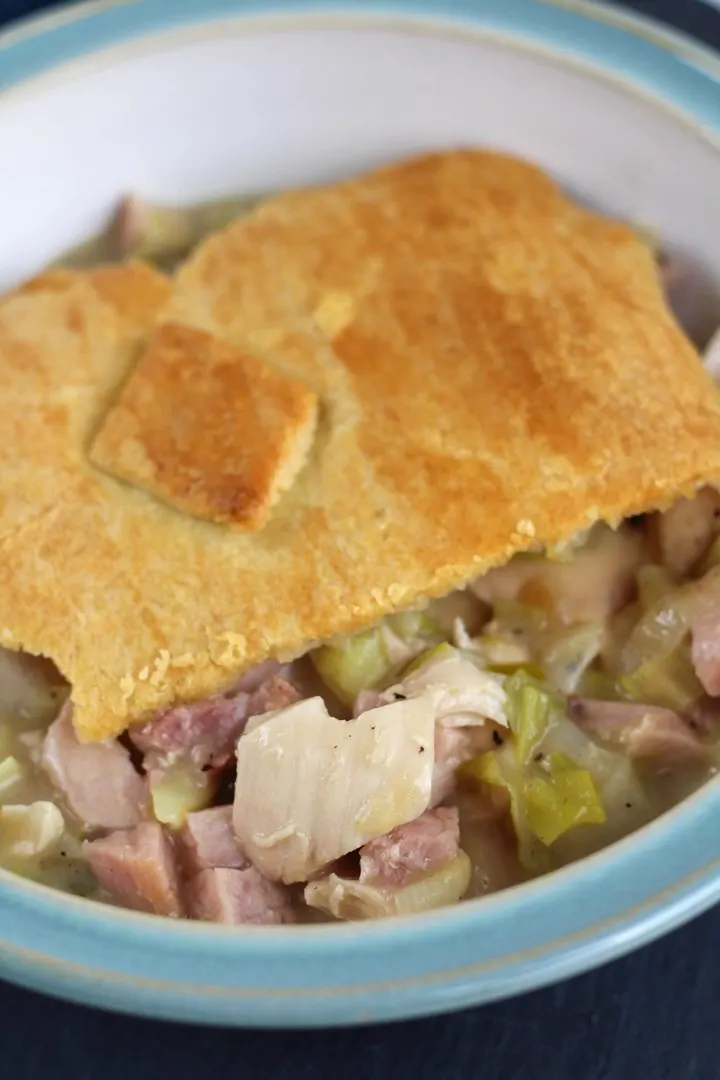 Some examples of main courses with a pastry covering are: chicken and mushroom pie, chicken and ham pie, steak and onion pie, pork pies, and steak and ale pie.
Some main pie courses with a mashed potato cover are: cottage pie, shepherd's pie (the same with lamb instead of beef), and fish pie.
And some sweet dessert pies are things like apple pie, rhubarb pie, cherry pie, apple and blackberry pie…..the list is a long one of possibilities.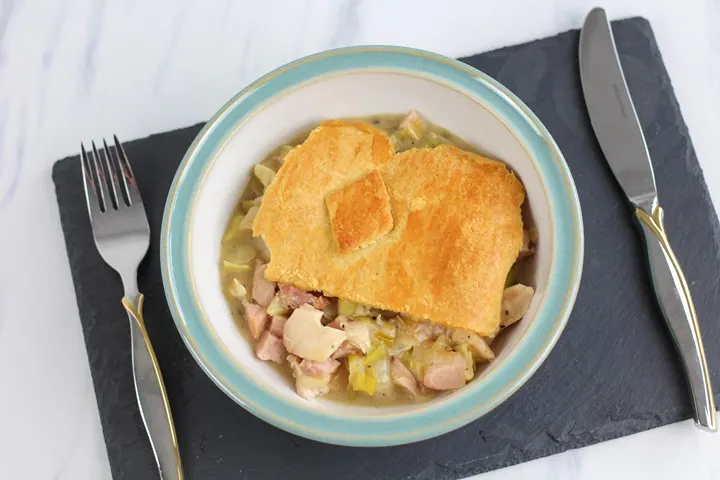 We even have some desserts called pies that do not have a pastry top, like Banoffee pie. A delicious sweet pie made with banana and toffee, hence the name. In fact, this reminds me I need to make this recipe for this blog – it seems to be lacking!
These pictures were made of a pie where I had not used any cream in the sauce. If you want the sauce to be more creamy, then just add the cream as described in the recipe below.
I hope you enjoy this recipe, and let me know how you get on in the comments section below!
How to make a chicken ham and leek pie