Recipe for minced beef hotpot
This easy minced beef hotpot recipe is my version of a hotpot using minced beef instead of lamb.
If you have ever been to the North of England you may have been lucky enough to try a Lancashire hotpot. Lancashire hotpot is a traditional British dish consisting of layers of lamb, onions, and sliced potatoes. These are slow-cooked to perfection, resulting in a hearty and flavorful one-pot meal.
This recipe is really more like a hotpot version of my cottage pie recipe, without the mashed potato topping. Good old British comfort food – great for a cold winter night.
Stew and Pie Recipes and Hotpots
There are so many different types of stew and pie recipes you will come across in the UK.
A pie can be sweet, like an apple and cherry pie. But most commonly in the UK a pie will be a savoury dish with either a pastry or potato topping. So, for example, a cottage pie, a Shepherd's Pie or a fish pie will tend to have a mashed potato topping.
A steak and ale pie, a traditional pub favourite, will have a pastry topping, which could be puff pastry or shortcrust. But you may even get the same filling served up as a stew.
A hotpot, on the other hand, is normally a stew with a topping made of sliced potatoes, a bit like in a potato gratin. It is normally made of succulent lamb from the wonderful fells of Lancashire. But in this case, I have made one with ground beef.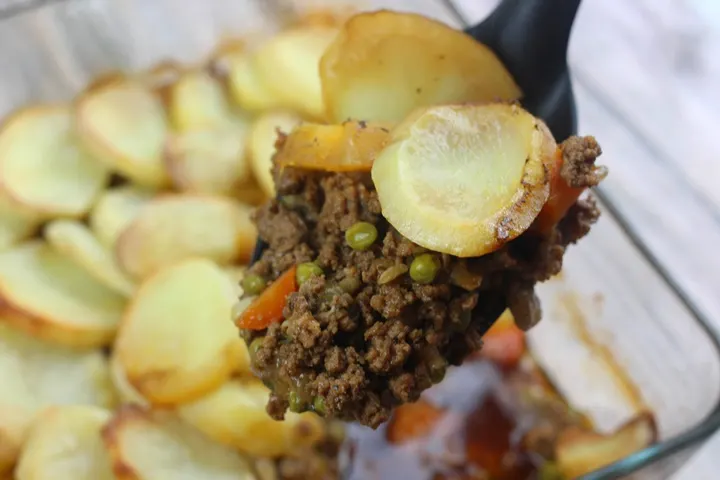 Although it is not technically a beef stew, I think the sliced potato topping is definitive for the description. Hence the minced beef hotpot, or ground beef hotpot name!
Beef hotpot Recipes
You can of course experiment with other recipes to make a good beef hotpot. You could try making a delicious beef stew and topping that off with some sliced potatoes instead. There are a few stew recipes on this blog site you could try.
Maybe the beef in beer stew recipe is the one to experiment with. Although it will take a bit longer though to make, as the original recipe is a slow cook recipe.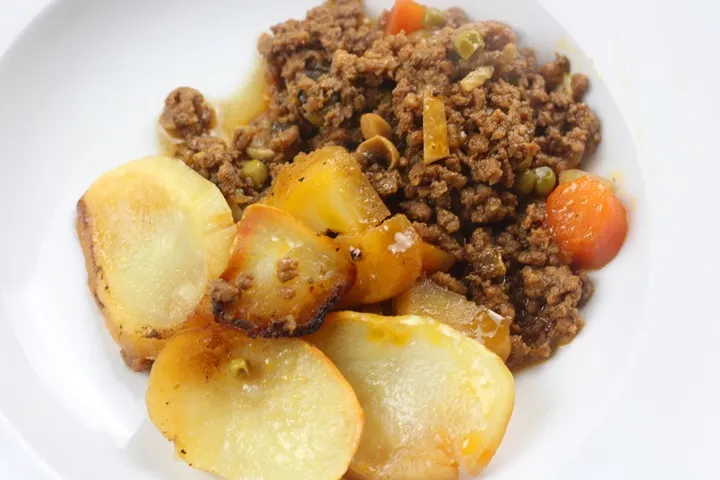 But perhaps my beef soup recipe is better, as it is made in the Instant Pot and is ready a bit sooner. But you may still have to tweak the recipe to get the sauce thickness right. This ground mince hotpot recipe is gluten-free, but that may change if you want to thicken up the sauce at all.
The possibilities are endless!
But for now, why not try this one first and let me know how you get on in the comments section below?
How to make minced beef hotpot