Madeira Cake with Almonds
This easy recipe gives you a classic Round Madeira Cake with a hint of lemon.
Madeira Cake is a product of the British kitchen. In the past people would eat Madeira cake with a nice glass of Madeira wine, hence the name. It goes down very well in your high tea cake collection.
Some other of Gav's Kitchen Cake Recipes
At the end of this blogpost you will find some links to some other cake recipes that are in some ways similar, and yet different.
My moist lemon pound cake is also a lemony-tasting cake. But it is a lot more lemony than this one, as the cake absorbs the sweetened lemon juice at the end.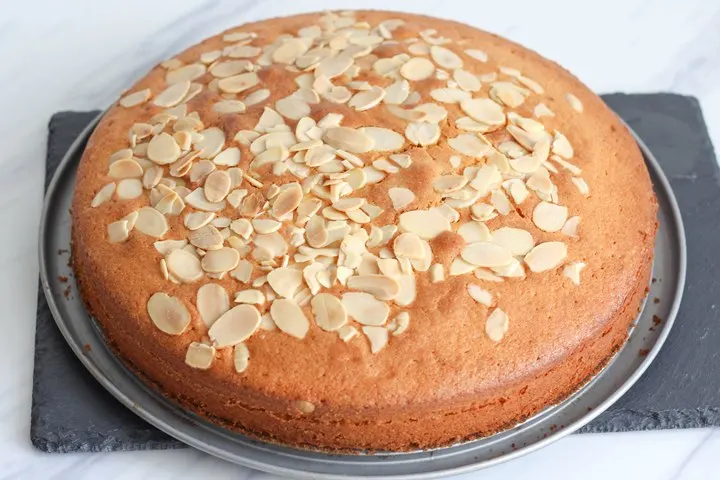 My butter sponge cake recipe is also a tasty light sponge cake but with more of a vanilla taste than lemon. The butter sponge cake is raised with baking powder, rather than self-raising flour, as in this recipe.
And my Brazilian Banana Cake recipe is a bit heavier type of cake with the unmistakable taste of bananas.
Madeira cake in a Round or loaf tin?
Well really you can make this cake in a round or a loaf tin, it is up to you. These quantities were put into a 10-inch round cake tin, but would also fit into a loaf tin. I like to use the round cake tin as it gives you more options for cutting the cake.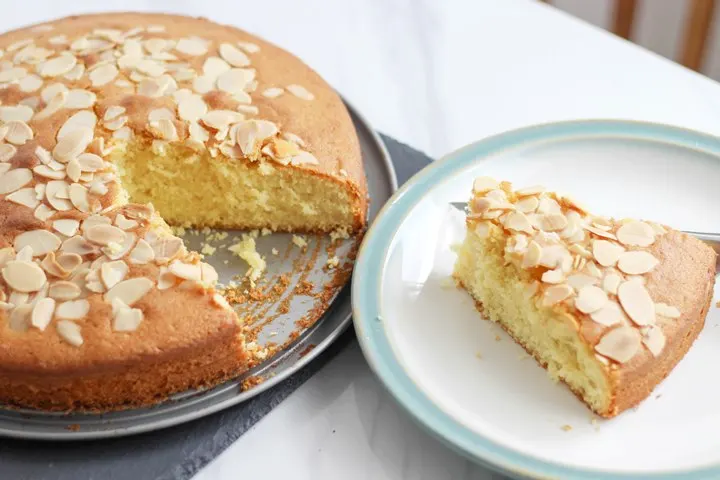 In this recipe, I used a mix of self-raising flour and a small amount of plain flour (which I needed to use up). The combination worked well and the self-raising flour made sure the cake rose sufficiently.
Almonds on a Madeira?
I added some almonds to the top of this round Madeira cake to give it some decoration, but also to add some taste. I love almonds and I think it is good to experiment with additions to cake. Like in my carrot and walnut cake.
Some people like to add cherries and other fruit to their Madeira cake to make them more interesting.
I happen to think that the recipe is good as it is. I hope you enjoy it too.
How long does a Madeira Cake last?
Well, I think this depends on your household. Sponge cake should be kept in an airtight box to keep it fresh. Some people say you can keep them for up to two weeks.
I like to think that you should be able to keep it for a while, if properly stored. But I have not been able to test it, as the girls eat it within a day in our house.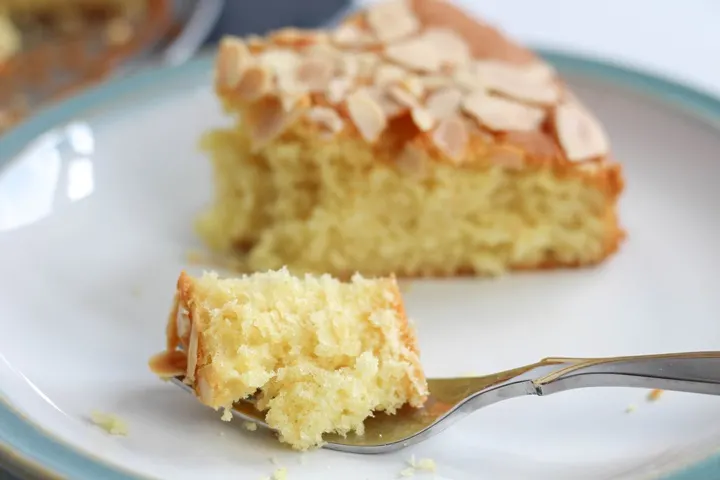 So given that simple fact, I would tend to make it just before I need it to ensure there is some left to eat!
If you do make this recipe, please let me know how you get on in the comments section below!
How to make a lemon Madeira cake