Mini Apple Strudels
This is a simple recipe for mini apple strudels or 'apfelstrudel' as they are known in Germany. This apple strudel recipe uses filo (or phyllo) pastry to create crisp apple strudels that are just so delicious.
Turn your apple strudel into mini apple strudels with a simple transverse cut with a sharp knife.
Apfelstrudel
Apple strudel is a dish that originated in the Austro-Hungarian Empire. It is considered one of the national dishes of Austria. In fact, if you visit Vienna, which we did in 2019, you will find it is available in pretty much all of the cafes in the city. Vienna is famous for its cafes.
I also have great memories of eating apple strudel as a kid when skiing in Lichtenstein, Austria and also on day trips to Germany when I lived in the Netherlands.
Recipes for apple strudel vary, with some using raisins and nuts and other interesting ingredients in the apple filling. I use sultanas and walnuts in this recipe.
Some people use puff pastry for their strudels. But I find this is not like a traditional strudel as is made in Germany or Austria. There they use a very thin dough which is more like a filo dough, which is layered and gives a crisp outside.
So I used filo pastry in this recipe to get as close as possible to what I have eaten in those countries.
Using the phyllo dough
The pastry dough I used came with seven sheets of very thin filo pastry. It was extremely fragile and was difficult to handle, very unlike puff pastry dough.
The original strudel dough is normally repeatedly rolled out as butter is basted to the sheets to give a super layered effect.
I did butter the sheets here with melted butter but did not roll it out any further because the filo was so delicate, and I did not think it needed to be further layered. I was right.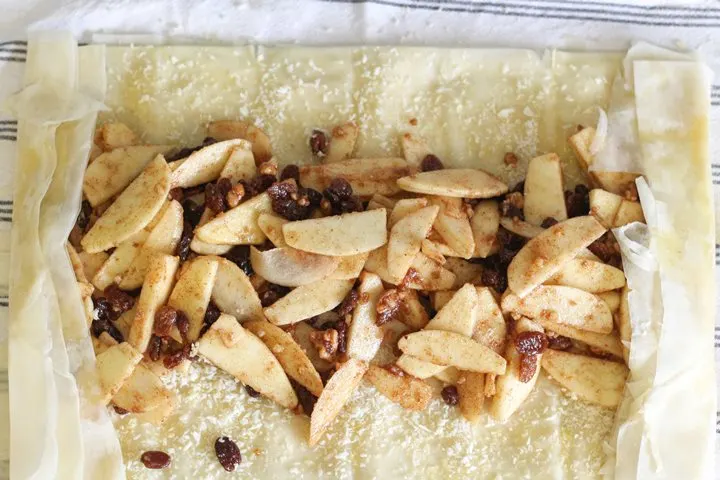 Instead, I basted the sheets with melted butter on a dishtowel before adding the filling and then used the dishtowel to roll the strudel as tightly as possible. The result was a satisfyingly tightly packed strudel, of which I was quite proud.
When cutting the strudel to produce the mini apple strudels, the filo pastry was quite brittle and had the tendency to break. But this is how it is meant to be. Make sure you use a sharp knife to make the cut.
I actually used a serrated bread knife which cut through quite effectively.
A tip from one of my readers was to lightly score the strudel pastry where you are going to cut it before putting it into the oven, which will prevent it from crumbling when it is out of the oven. This is probably worth giving a try.
Which apples to use for your strudel?
Many recipes ask for a tart apple, like a cooking apple or Bramley apple to make a strudel, which they then sweeten using copious amounts of sugar. I am not convinced this is the best way.
Why not use the natural sugars from a sweet apple to create sweetness? Strudels are normally powdered with some icing sugar anyway.
So I used some French-origin Gala apples in this recipe, which are sweet eating-apples and it worked out fine. It also meant I could limit the amount of sugar that I added to the filling.
This recipe gave an apple strudel that was big enough to produce about 9-10 mini apple strudels.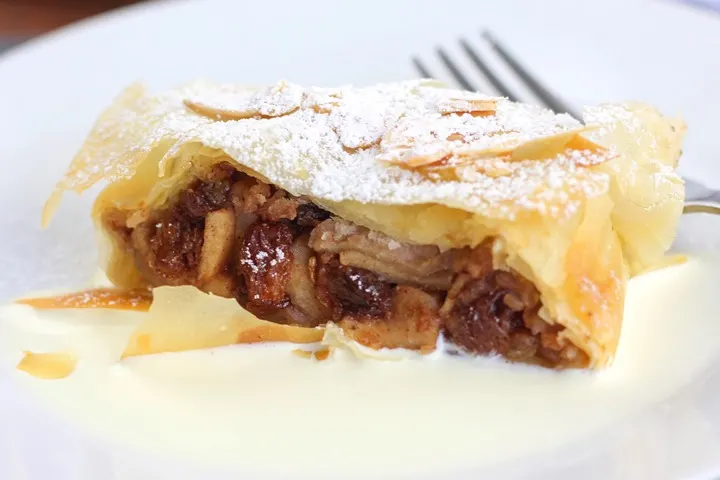 How to eat apple strudel
Apple strudel is a pastry that is eaten a little bit as cake would be. So it would certainly be at home served up for afternoon tea. I think it is better to eat warm, but you can eat it cold if you want.
Strudel is delicious when eaten with whipped cream, ice cream, clotted cream or custard. Use whichever you can get your hands on.
As mentioned, the filo pastry is quite brittle, so to cut through it you will need a sharp edge like a knife or the side of a fork, which is what I used.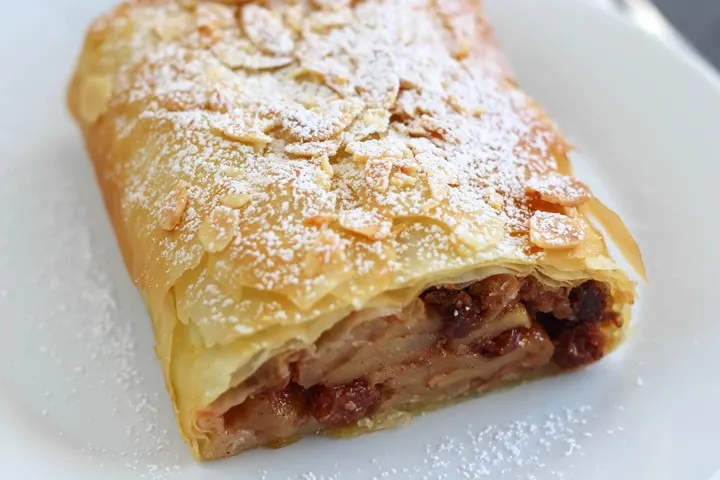 I kept some of this apple strudel overnight in a sealed container in the fridge and reheated it in the microwave, but this did make the pastry a little bit soggy.
So I found that it is better to reheat the strudel in the oven as that keeps the filo nice and crispy.
Apple strudels are great to eat for breakfast – why not make one for your Christmas celebration? A nice alternative sweet treat for the family.
I hope yours turn out as good as mine did!
Good luck trying this recipe. If you do, please let me know how you get on in the comments section below!
How to make mini apple strudels