Apple Cherry Pie Recipe
Sometimes a good dinner requires a mix of something tart and sweet to finish it off properly. This apple and cherry pie recipe is the perfect solution, combining the tartness of the cooking apples with the sweetness of the cherries.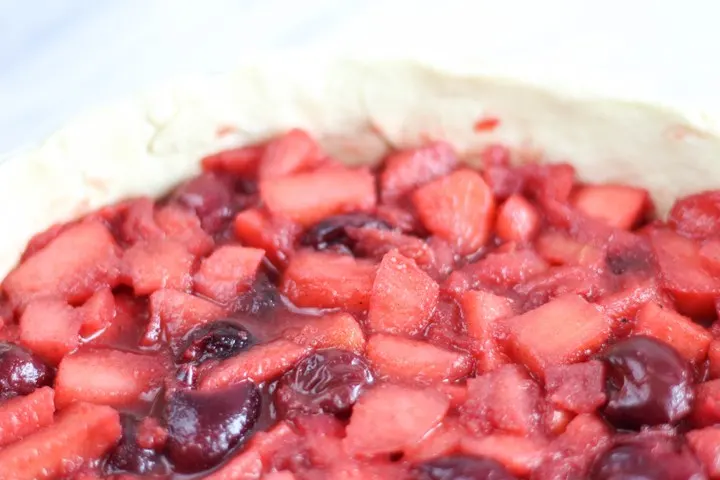 You can make this with a closed top crust or with a lattice as I have done in these photos below.
Which are the best apples to use in a pie?
For this pie I used some Bramley cooking apples, which are common in our local supermarket. The advantage of the Bramley apple is that it is quite sour and helps provide the tart taste to the pie.
I prefer to use cooking apples in my pies and crumbles for this very reason.
But many other apple types are possible. Granny Smith is a commonly known type often used in apple pies. Golden Delicious is quite a sweet apple that is also often used.
Just make sure you use an apple that is quite firm and will not go mushy when cooked or brown too quickly when it has been peeled.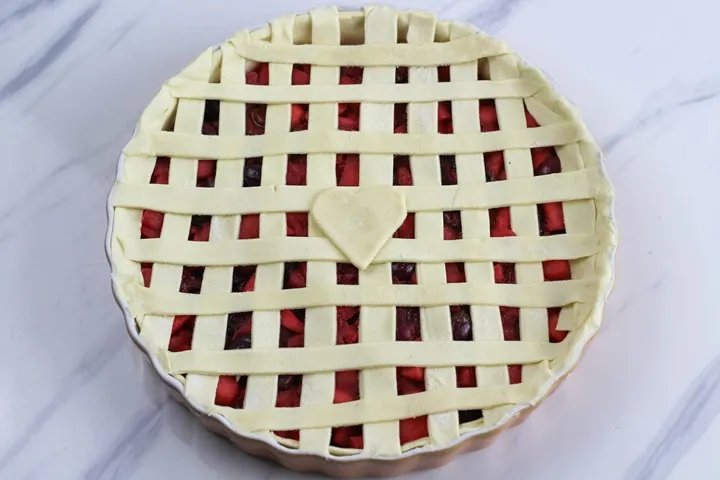 At the end of the day, it is really up to what you can get locally and what is in season. I use sugar to temper the tartness of the cooking apples, but perhaps if you use a sweeter apple you do not need to do this.
I used frozen cherries in this recipe as we can get them all the year-round. But feel free to use fresh ones if you can get them (but remember to remove the pits!!).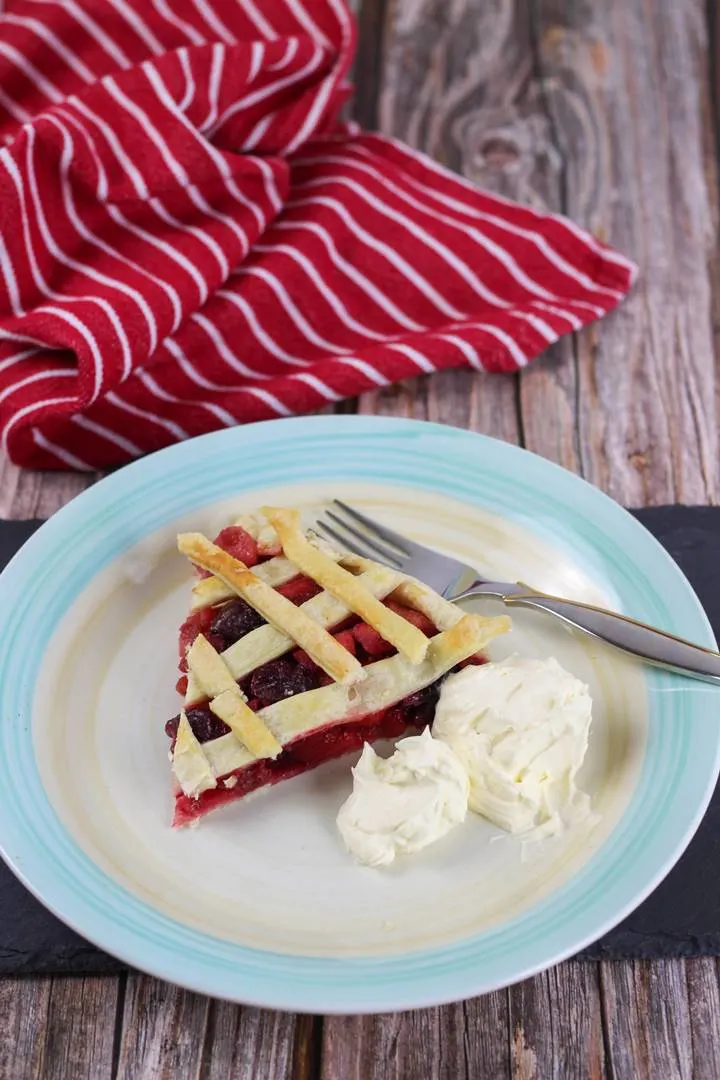 Closed top crust or lattice?
Well, in this case, it came down to the amount of pastry dough I had to fully cover the pie!
Here I was using a 10″ pie dish, and by the time I had rolled out pastry for the base, I only had a limited amount for the top crust of the pie so I decided to make a lattice top of puff pastry.
I discovered a good way to cut the long thin pieces for the lattice – by using the edge of a ruler (or rule)!
I have a triangular scaled ruler which was perfect for cutting the pastry in a straight line. Another handy tip from Gav's Kitchen!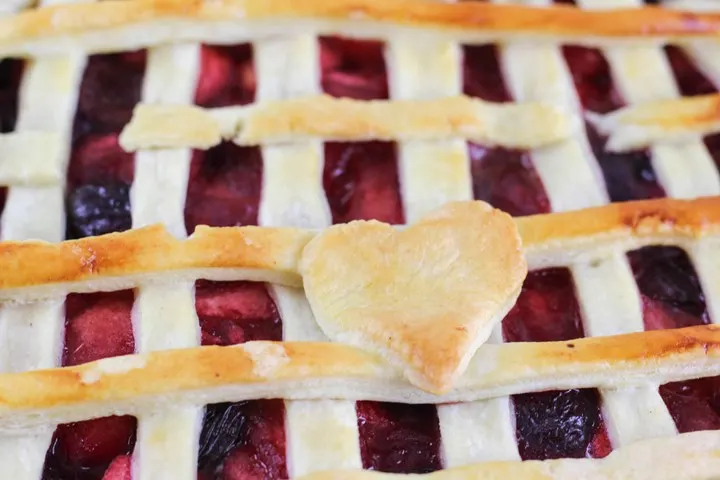 In hindsight, the pie might have looked a bit better if I had weaved the lattice pieces, but at the time it seemed so fiddly with the thin dough I had left over, I decided it was not worth the extra effort.
After all, it would not have tasted any different and it was for our own consumption!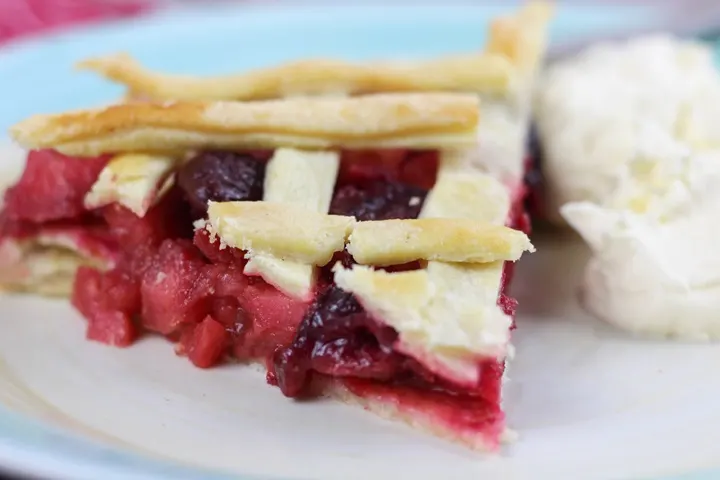 Apple Cherry Lattice Pie
Though this is a very simple recipe, it is something that you might find in many cultures. Many places have apple pies in their cuisine so I doubt that any country could claim this as their own.
You could also make this as a 'crumble' or 'cobbler' or 'crisp' if you prefer, instead of using pastry. If you wish to try this, just use one of the toppings from one of my crumble/crisp recipes, linked below, and replace that for the pastry.
I have used a puff pie pastry, but you could also use a shortcrust pastry if you prefer. That may actually work better if you are making a latticed pie crust. There is less chance of the slats breaking during cooking.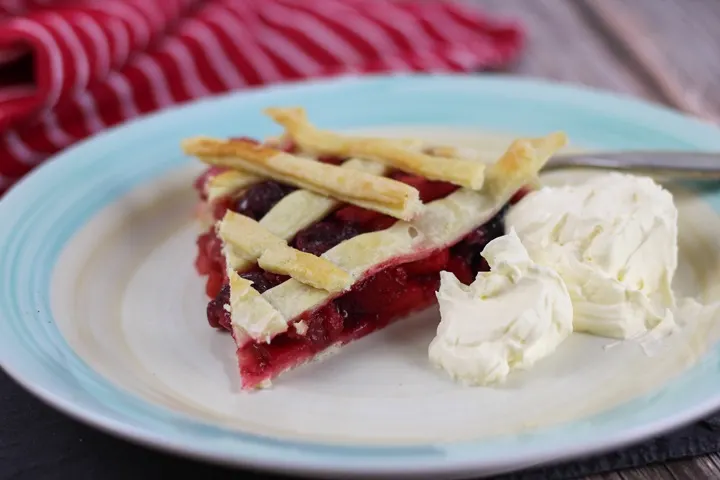 I think this is a great dessert recipe, when served warm.
But also it is perfect to serve up at afternoon tea with some fresh cream or clotted cream. It is certainly one I shall be making more often as it went down very well, both warm and cold.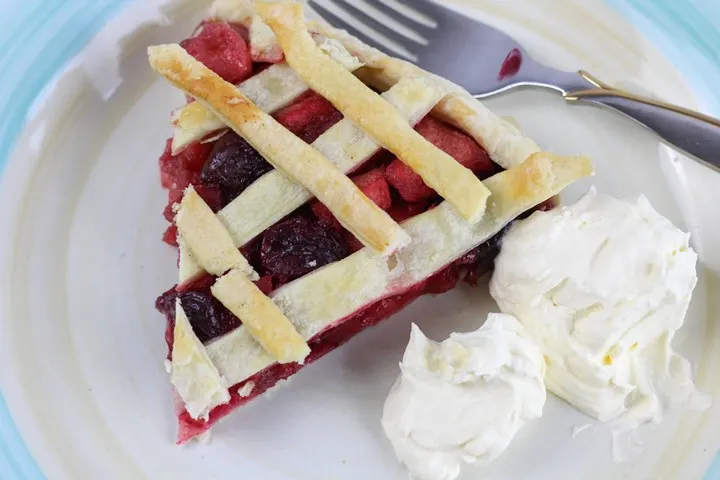 I hope you enjoy making it. If you do, please let me know how you get on in the comments section below!
How to make an apple and cherry pie
You may wish to try these other typical British dessert recipes:
Or read about British Afternoon Tea here: