Make a leftover chicken pie
This leftover chicken pie recipe is a great way to use up your Turkey or chicken leftovers after a Christmas or Thanksgiving dinner.
There are many pies you can make with leftovers, like a chicken and mushroom pot pie, a chicken ham and leek pie or a creamy chicken and ham pie, for example, depending on what you have leftover, of course.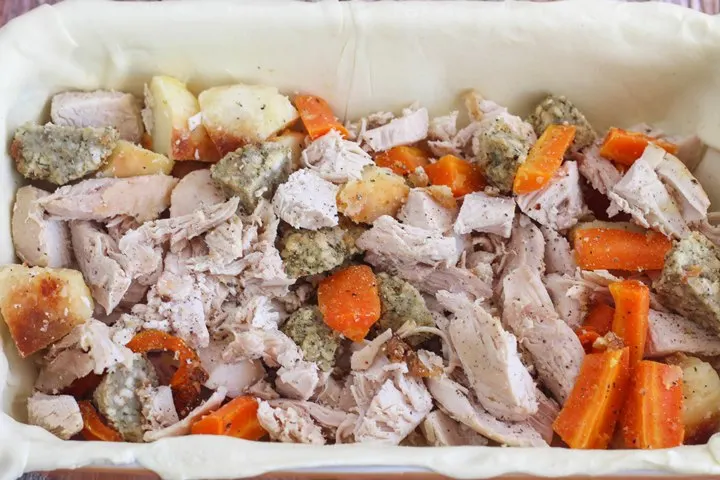 But perhaps a more unusual solution is this recipe for a leftover chicken pie, which contains ALL the leftovers from your meal the day before (within reason!).
[My Mum always used to use the leftovers to make some healthy soup together with the chicken broth boiled from the bones of the chicken.]
We quite often have a roast chicken dinner on a Sunday as our Sunday roast.
As there are only three of us living together, this is often what we will eat at Christmas as well, if we are not together with other family members. A turkey for the three of us would just be too much food and it would get wasted.
Hence I call this a leftover chicken pie, but you can just as easily replace the word 'chicken' with 'turkey' for the sake of this recipe.
What to include in your leftover pie
Chicken or turkey is of course the main ingredient. Just the best bits of white meat you can find, but feel free to use some of the dark meat as well if you like. We never have any dark meat left over, as my daughter eats all the chicken legs when we have the roast!
In the example that I show in these photos, I used some sage and onion stuffing, some baked carrots and some roasted potatoes. I would be tempted however to use just the more solid ingredients.
I would imagine that not everything from a roast dinner would be suitable, like Yorkshire Pudding or bread sauce, for example, as they are likely to make everything a bit soggy.
But you could, of course, also include other ingredients like onions, parsnips, sprouts, ham or whatever else would feel happy sitting in a pie with the other ingredients!
Some sprouts would definitely go well in this pie, but like the dark meat, we never have any sprouts leftover. My wife will always finish them off when we eat the roast. She loves them to bits!
I did not use the gravy leftovers in the sauce, as I wanted a tasty creamy sauce in the pie. This is not like the gravy you eat with a roast. But hey – it's your leftover pie, use whatever leftovers you want!
The quantities mentioned in the recipe were enough to fill the pie dish in the photos. This is about 2 litres capacity. Feel free to adjust the quantity of sauce to suit your amounts of leftovers and the number of mouths to feed.
I used ready-made puff pastry in this recipe, but you could also use a shortcrust pastry if you prefer. It's up to you.
When to eat your leftover pie
Cooked chicken can be kept safely for a few days in the fridge. It can also be frozen and eaten later.
But beware that you can only reheat cooked chicken once. Because of this, we will always use up our leftover roast chicken within a couple of days.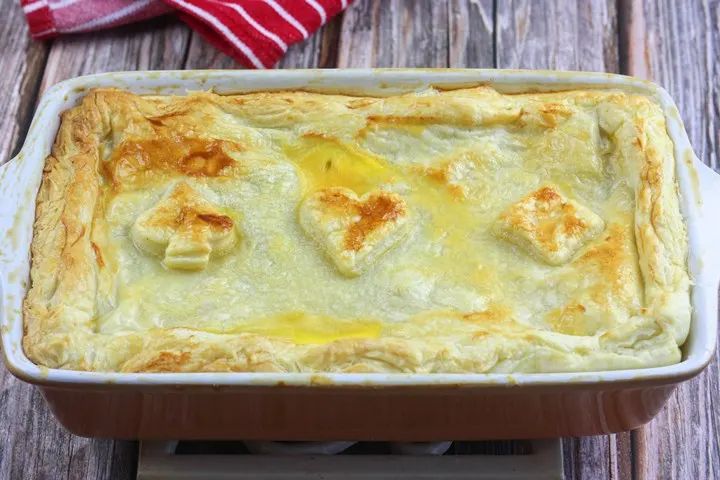 In fact, normally we will make the pie the next day and eat it the same day. Bear in mind that you should cook the rolled pastry shortly after rolling it out. Or it is likely to dry out.
So you should only put the lid on your pie a few hours max before cooking.
You can always prepare the pie filling the day before. Just keep it covered in the fridge until you are ready to assemble the pie and cook it.
I hope you enjoy making this recipe. If you did, please let me know how you get on in the comments section below!
How to make leftover chicken pie
And some other pie recipes: