Creamy Mushroom Sauce and Chicken
This simple recipe will help you to make some delicious creamy chicken in mushroom sauce, using chicken breasts.
All the cooking is done on the stovetop, preferably using cast iron skillets.
This recipe is a great family meal. It is very easy to make and you can serve it up with whatever vegetables you have to hand. It is good to eat with either some sort of potato or pasta, to mop up the delicious creamy mushroom sauce.
Chicken in a skillet
I have in the last year or so discovered the beauty of cooking in a cast-iron skillet. Before I acquired one of these I used to cook in aluminium frying pans.
Unfortunately, though, the non-stick Teflon would eventually fail and they would have to be replaced.
Now I have a small 10" cast iron skillet that I cooked these in. The advantages of using a cast iron skillet are that it is easy to clean. And as long as you have seasoned it properly, they are great non-stick pans.
They also do not warp with use, and on top of that, they will last forever if you look after them. The disadvantage is that the handles do get quite hot and they are quite heavy. So you have to be careful picking them up.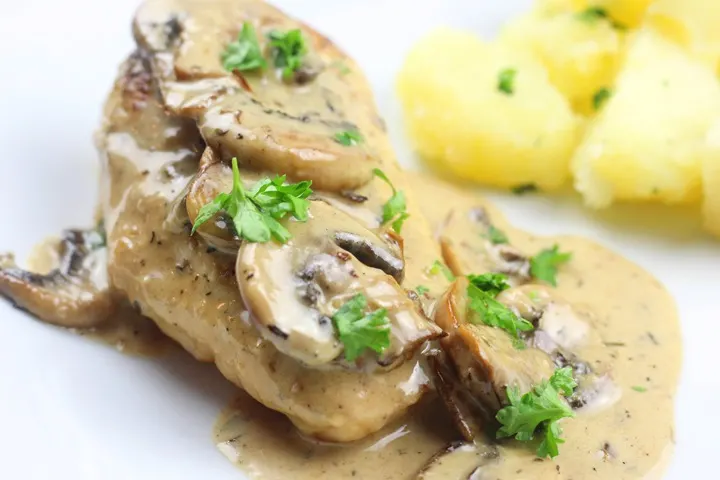 If you need an affordable skillet why not try this great offer from Uno Casa? A 10" and 12" skillet both with heat-resistant silicone handles (one disadvantage – the handles do get hot – I need these handles!). What a bargain!

Cast Iron Skillet Set – $40.00
from: Uno Casa
I now use my skillet for nearly all my frying jobs, including fried eggs and bacon, so it was a no-brainer to use it for this recipe as well.
Making creamy chicken and mushroom
You can make this recipe in one or two skillets, depending on your preference. If you use just one pan it will take a bit longer as you will not be doing stuff in parallel.
I actually used two skillets to make this so I could prepare the sauce whilst I was frying the chicken.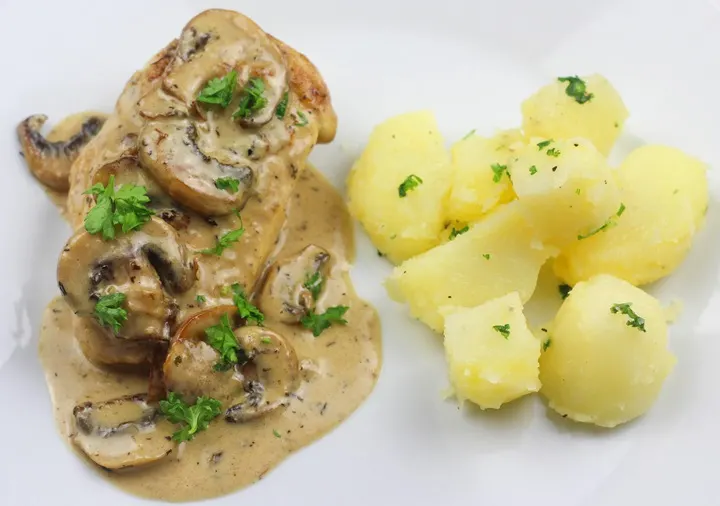 It is important that you cook the chicken so that it is cooked through. I do not have a meat thermometer to test this so I find the best way is to cut into a breast, in the thickest part, and check it is not at all pink inside. It should be white and not too moist.
You could also use chicken thighs to make this recipe. But again make sure the chicken is properly cooked. It might be better to cook them in the oven for a while as well if you use thighs.
You can serve this with vegetables, or with pasta or rice, depending on your preference. I served up with some stove-cooked buttered potatoes to soak up the sauce.
The sauce also makes a delicious chicken and mushroom pasta dish.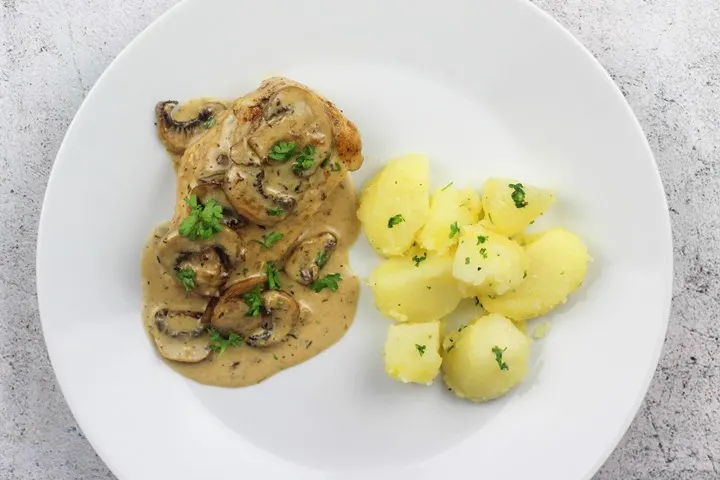 I hope you enjoy making this meal. If you do, please let me know how you get on in the comments section below.
How to make creamy chicken and mushroom