Cucumber Sandwich
This shows you how to make simple English cucumber sandwiches.
There can be nothing more English than an English afternoon tea with sandwiches.
Pride of place amongst the British tea sandwiches are of course the cucumber sandwiches, closely followed by the egg sandwich, ham sandwich and cheese and pickle sandwich.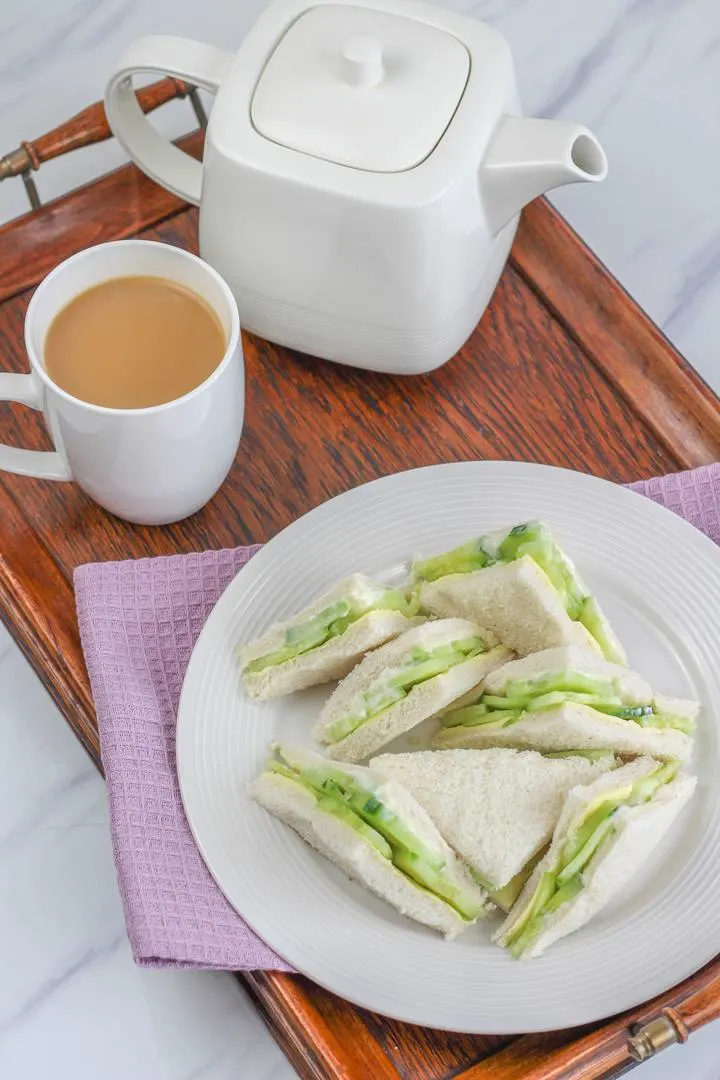 Cucumber sandwiches sound a bit ridiculous of course. Who on earth came up with the idea to put cucumber in between two slices of bread I do not know. But I must confess, they are actually quite good! And you can vary how you make them.
Afternoon tea and Cucumber Sandwiches
Afternoon tea is something that has been enjoyed by the British for years. It consists of sandwiches and cakes served with scones and of course, a nice cup of tea. But the cucumber sandwich is often the one that gets eaten first.
I used to play cricket and during a day-long cricket match there are standard breaks for lunch and, of course, a 20-minute tea break.
I remember our school matches when we would come into the dining hall for the tea break and a huge array of sandwiches and cakes would be waiting for us to dig into!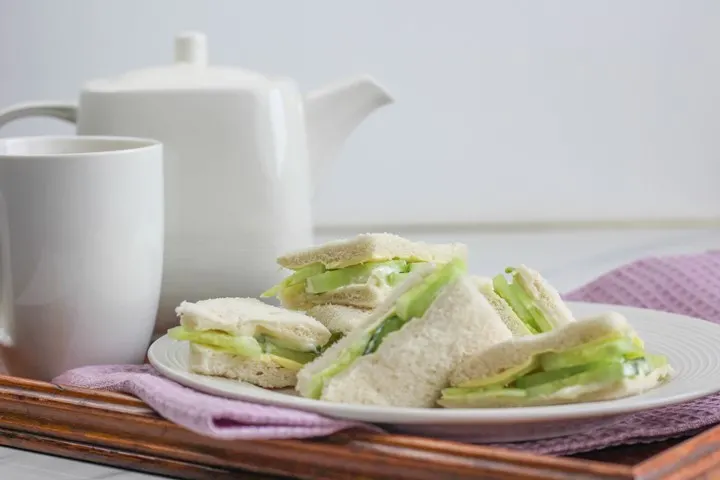 Back then everyone would try and grab the places with the chocolate and cream eclairs that were the prized tea items. But you knew if they went first, there would always be some cucumber sandwiches leftover!
How to make cucumber sandwiches
You will not believe it but there are in fact lots of ways to make a cucumber sandwich. Here are a few variations below.
What to put in your cucumber sandwich?
Firstly you have to think about the content – my sandwiches are simple – they have butter, cucumber, mayo and white bread and maybe some seasoning to taste.
But some people include cottage cheese, cream cheese, Worcestershire sauce, dill, or even lemon juice or malt vinegar in their cucumber sandwiches!
How to best slice the cucumber?
Then secondly, you have to think about the preparation process. During the writing of this blog post, I actually had a revelation. You will see what I mean below:
The cucumber should ideally be sliced as thin as possible so as not to make the bread soggy. The peel, even though it is full of nutrients, is normally partly removed before slicing the cucumber.
If you slice the cucumber into circles I found on the first sandwiches I made that it was actually quite difficult to slice the cucumber to the same thickness every time. And when you then assemble the sandwich it tends to look a bit uneven. Like this: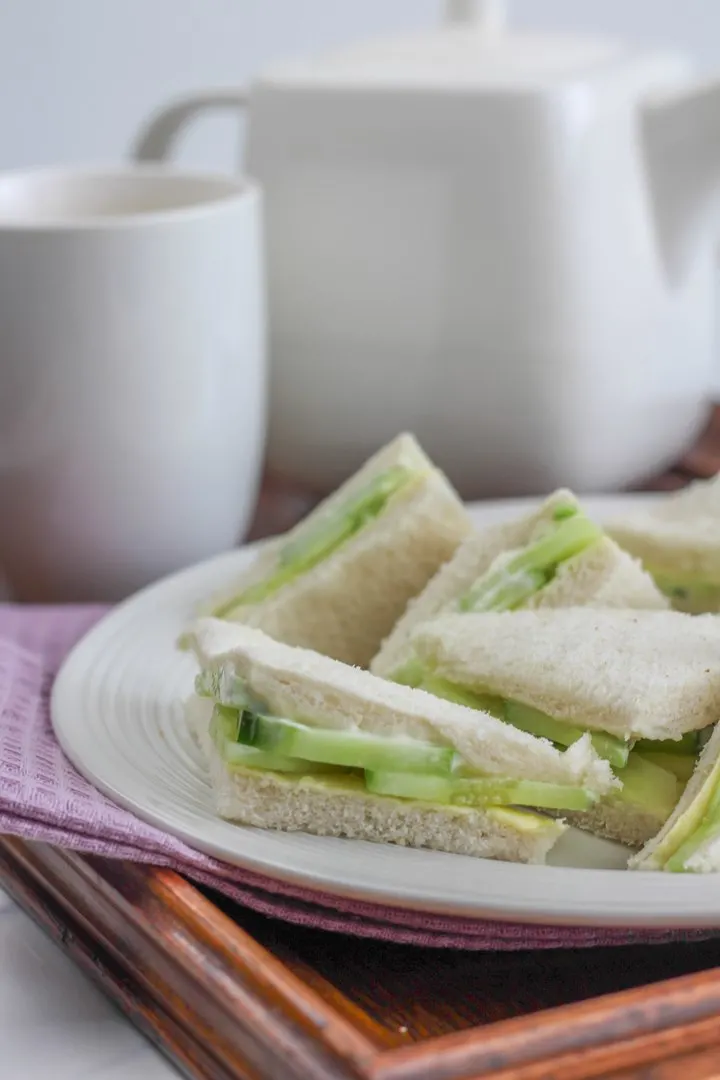 I found after we had made the most of the pictures that when you sliced the cucumber lengthways with a cheese slice, it was possible to get a much even and accurately sliced piece of cucumber.
This makes it a lot easier to then stack the sandwich and keep it tidy, especially when you remove the crust from the bread afterwards.
So I definitely recommend using this method for slicing the cucumber. It is much easier to get a tidy sandwich! 😃
Remove the bread crust
After assembling the sandwich you should remove the crust as that is just the way it is done at English tea parties. You will need a good sharp bread knife to do this.
If you are making the sandwich up front, for a picnic for example, then, of course, you do not really need to do this.
Crustless finger sandwiches are just a bit posher (or for people who do not like the crust!)
How to cut the sandwich
Now the big question is how to cut the sandwich and present it. Hmmm. Difficult.
You can cut into squares, triangles or rectangles (fingers) really. It is up to you how you want to do it and really it does not matter that much.
You will see them cut in all sorts of different ways at English tea parties. It rather depends on how you want to present them. You will probably find that triangles are the most popular method in practice.
Anyway, I hope you enjoy inventing your own healthy cucumber sandwiches and serving them to your tea guests (with a nice cup of Earl Grey tea and some scones)!
If you do try to make cucumber sandwiches, please let me know how you did it in the comments section below!
How to make cucumber sandwiches