Welcome to Gav's Kitchen – a Family Food Blog
Hi there! Welcome to my family food blog. The aim of this recipes blog is to introduce easy and delicious recipes for dinner and other meal times for you to cook for your family.
This recipe blog contains family-friendly recipes and easy dinner ideas that you can cook at home, using basic ingredients from your local store.
Most recipes can also be used by single people just by adjusting the quantities accordingly or by meal prepping.
I hope to grow this blog so that it becomes one of the favourite recipe blogs for my followers. If you try and like any of my recipes, please bookmark my site! 🙂
A bit about Gav
I am a happily married father of three beautiful kids. I am an avid rugby fan, having happily played the game for twenty years, and have many other hobbies; motorcycling, fishing, tennis and homebrewing amongst them.
After a long and fun career as a mechanical engineer and Project Manager and Quality Manager in industry, based in the UK and Holland, I am now running a B&B in Ireland.
This gives me more time to experiment with one of my other hobbies, which is cooking. I have always loved to cook, and this blog describes my recipes.
Over the years I have built up a fairly large repertoire of mainly cheap family dinner ideas which are shown on this blog.
I love cooking, as it is really just a process, just like any engineering project. A small adjustment can make such a huge difference!
You will find in some of my recipes that I may sometimes use some strange or perhaps unusual ingredients, but it is all done for a reason!
I was taught the basics of cooking by my Mum, and have always been able to put a reasonable family dinner on the table.
Sometimes though, I used to lack inspiration and that was really the reason for starting this blog – so that I would have my easy dinner ideas for family meals at the tips of my fingertips, which makes it easy for me to put a shopping list together!
And also to help inspire other people, who may not normally cook, to get into the kitchen and cook.
Slightly irrelevant, but here is a picture of me about to go round the TT circuit on my Ducati 916 in Assen, the Netherlands. Had to get the Duc in there somehow….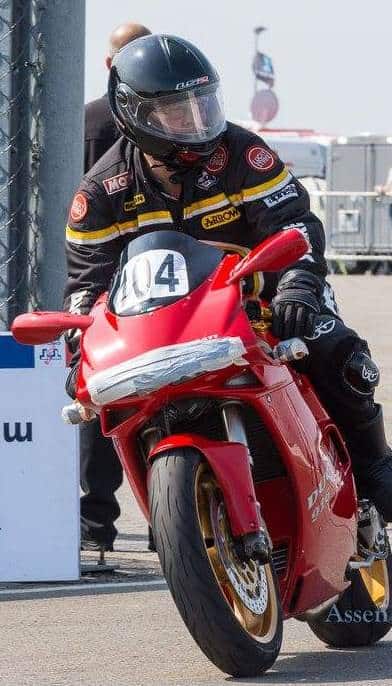 Cooking influencers
I am not a chef but a self-taught home cook. I enjoy cooking and showing easy tasty recipes that beginners can easily try.
My first cooking hero was Keith Floyd, who always made me cry with laughter. I loved the way he would get more and more under the influence of wine as the cooking progressed and the way he made fun of his producers.
Pure genius. RIP Keith.
My hope is that you will be motivated to create your own tasty home-cooked meals, so as to stop wasting money on eating out and fast food! Cooking is fun and can be very rewarding when the results turn out good.
I think modern-day British cooking heroes such as Jamie Oliver and Gordon Ramsey have both done a huge amount to get people interested in cooking and producing interesting, tasty and healthy food. I love watching their TV shows.
Delia Smith is also one of my idols, and some of my recipes will certainly have originated with her. These people have all inspired me to cook more, and I think have some of the top food blogs out there. You will certainly see their influence in some of my recipes.
Gav's Kitchen
The first picture below shows what my kitchen actually looks like now that we have decorated it. We put in a gas cooker and large American Style fridge freezer as well.
When we bought this house back in 2018 the kitchen looked like this:
It obviously had to change. It was all a bit too brown for our liking. Now it is a great room to cook in, and though we do not have all the mod cons, we have most things we need.
We still need to change the floor though, at some point……
The View from Gav's Kitchen
One of the great things about my kitchen is the view from my window. We get a large variety of wildlife on our back lawn (mainly birds), but also some foxes and cows in the field behind.
These pics were all taken from my kitchen window: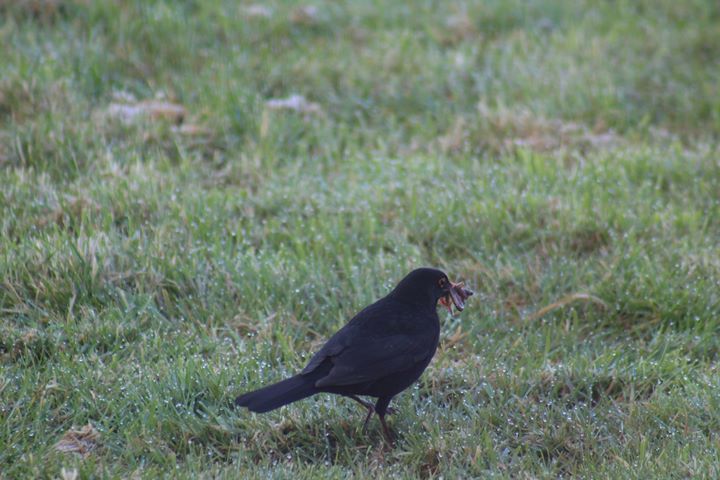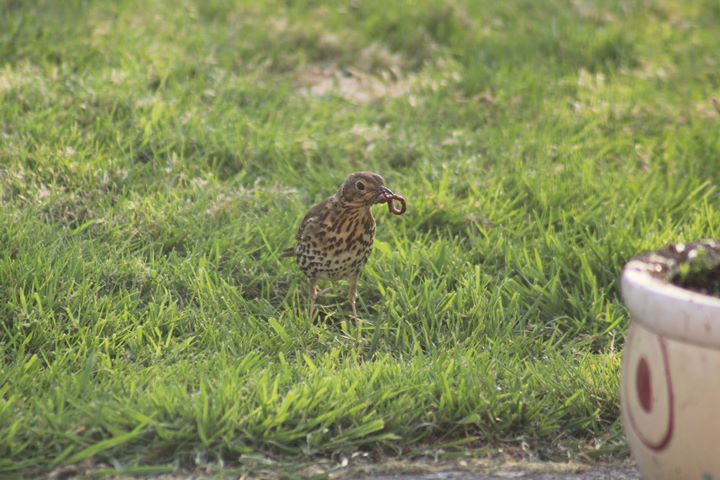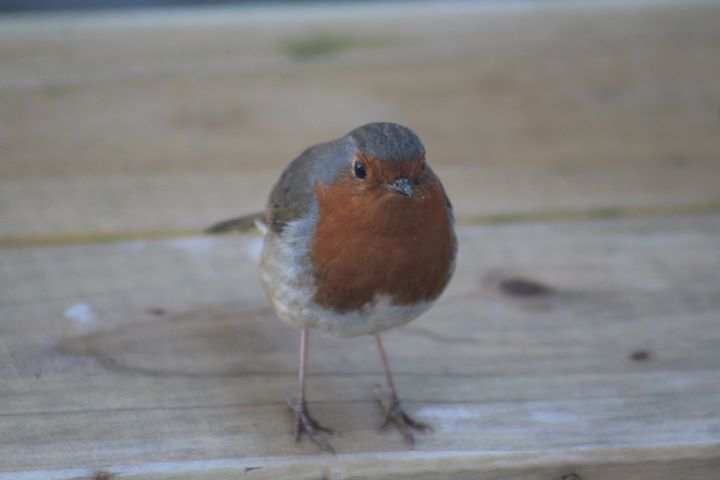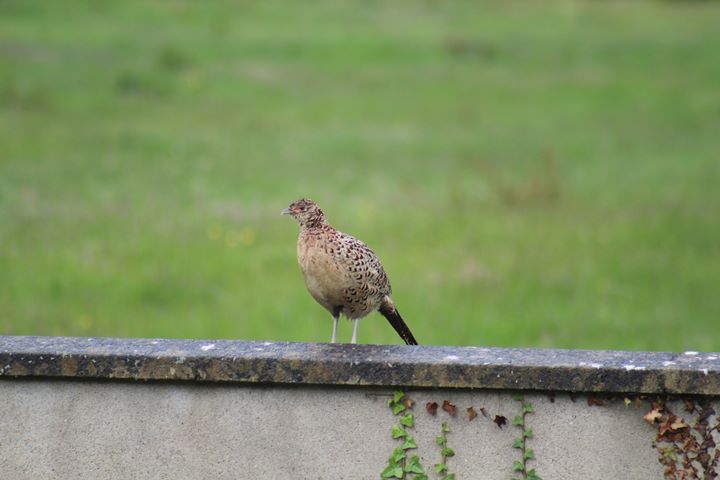 You can see the birds also find plenty to eat in the garden!
And our sunsets are also pretty spectacular, especially in the winter months. We look west towards the Atlantic Ocean and the colours are sometimes just incredible. Here a few examples of photographs, all taken from Gav's Kitchen: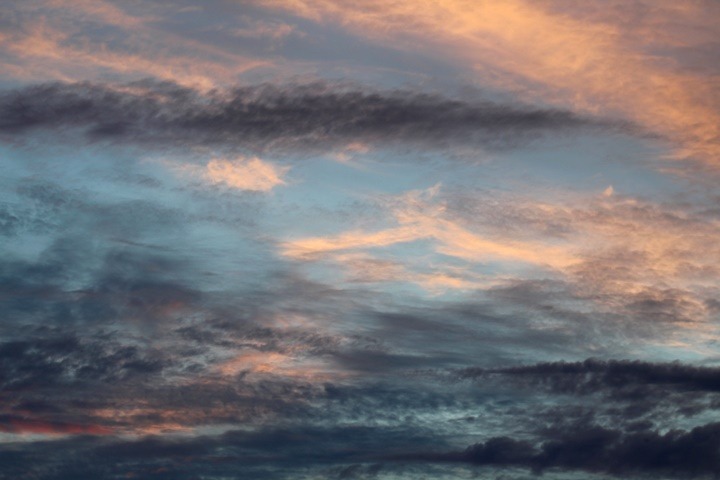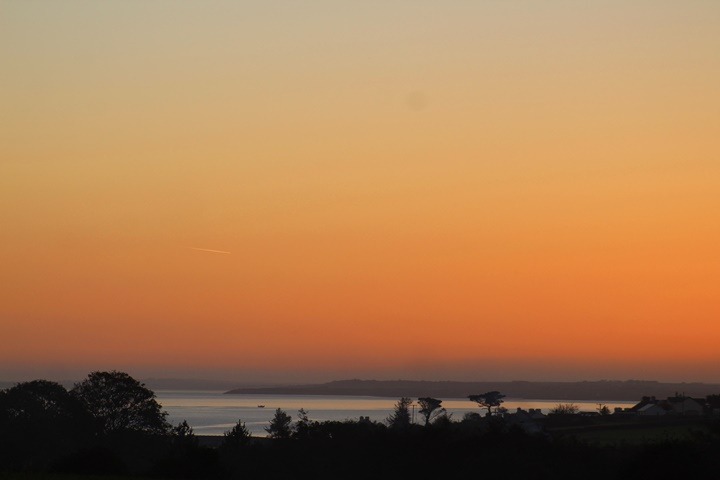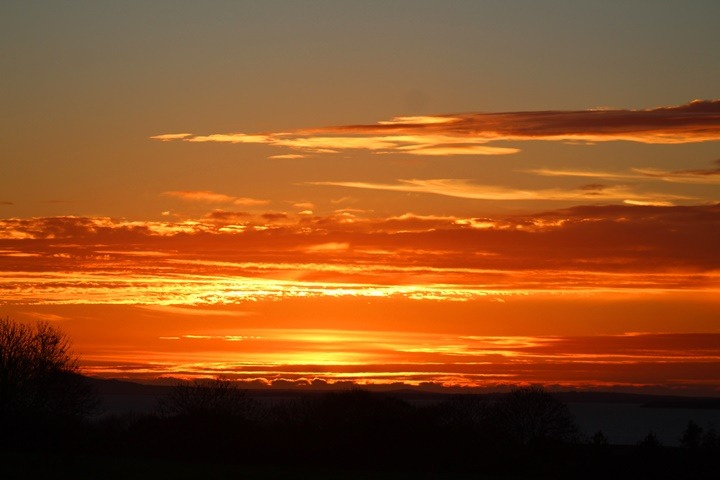 Gav's recipes
Over time, I have built up a range of recipes that I have adapted to my own taste. I am now slowly working on improving my range.
I will be building up the food blog recipes bit by bit as I go through my existing repertoire, and expand it.
At the least, I hope to enthuse some of you to take up cooking. And hopefully, spend less money on unhealthy fast food.
Maybe in time, this may become a healthy food blog, but we are starting with cheap, tasty and easy dinner recipes for the family before we niche out!
You will find some vegan and vegetarian recipes working their way into the blog in time, like these ones:
International Experience
I have spent many years working and living in different countries and have built up a love of many different types of food.
You will find Indian, Italian, British, Irish, French, South African, American, Brazilian and other food influences in my recipes.
I have always tried to give my family good tasty family meals, despite their various fussy dislikes, and continue to enjoy doing so.
You will find quite a lot of Italian recipes on my site as I am a great fan of Italian food.
Aspiring home cooks
This blog is primarily aimed at trying to get anyone who does not cook into the kitchen.
All my meals are pretty easy family meals to make and do not require any special skills.
So anyone with the right bits of kit and ingredients can cook my easy family recipes.
I hope you will start using this site as a family meal planner, as I now do, to help you do your weekly meal plans.
It would be great if you could see my site as one of the most useful family recipe blogs out there, given some time. I would love my site to become one of the best cooking blogs to help new people into the kitchen.
It is so very rewarding when you can produce a delicious meal from basic fresh ingredients that get people talking.
If you are starting out cooking maybe these posts could be of assistance:
Food Presentation
I aim to please. But I will not try and make the food look better than it actually is – we will be eating ALL the meal recipes that are photographed in my recipes!
So do not expect fantastically difficult recipes that only a Michelin chef could pull off. Or recipes containing ingredients that you can only get by travelling to Mars.
I will be putting simple dinner recipes for families on here that taste really good and satisfy, whilst using the most basic ingredients you can get from your local store.
Most of my ingredients are sourced from either Tesco or Aldi, which are the main supermarkets where I live, and there may be some fresh herbs from our own garden. But otherwise nothing too fancy.
If you do not understand some of the terminologies that I may have used, then please send me a message via the site.
Any similarities to other millions of recipe bloggers out there is a coincidence. There are, after all, only so many ways you can boil pasta, or fry an egg.
Please understand that the food that has been photographed for this blog has been cooked primarily for us to eat.
This means the photographer (whoever that may have been) has had to put up with shouts of 'it's getting cold' , 'get a move on' ! etc, so please excuse any blurred pictures.
The good pics are obviously my wife's (or stock photos) – though I am slowly getting better!
Objectives of this family food blog
There are loads of family recipe blogs out there. This particular family recipe food blog aims at achieving a number of things:
Provide inspiration and encourage others to cook family recipes
First of all, to encourage some of you non-cooks out there to start treating your partners, male or female, to a tasty meal. Cooking is good, and doing it with love for others is even better. [Oh, and by the way – please excuse my URL. I do not wish to make any distinction between the sexes (but my wife saw this website URL was available and bought it…. so you can blame her 😃 ).]
Make people realise that cooking family recipes is so easy and fun to do. In fact, I think we should all be taught to cook from an early age.
Provide a growing volume of home and family recipes to help give you inspiration to cook yourself. As I try experimenting with new stuff I will add any new recipes here, if they are any good.
In time I would like this to be the best family food blog out there so that people will return to for inspiration. Hopefully when needing to come up with a family dinner recipe. Hopefully, in time, people will be able to use my blog for easy meal ideas or as a family meal planner. I would love to have people coming back to my site on a regular basis.
Introduce easy, tasty family friendly recipes
Another aim is to turn simple ingredients into tasty meals in the easiest of manners (i.e. as few pans and washing up as possible, and as efficiently as possible).
Make people realise that some blog recipes are so good they have to be repeated over and over again, and to challenge you to improve on them by trying and suggesting your own improvements. No recipe is perfect. There should always be some continual improvement (YES, I used to be a Quality Manager!).
Help busy people plan their meals
Provide some quick dinner ideas to help busy people produce quick family meals
Help hardworking people to understand how they can produce healthy and easy family dinners in one cooking session (in the weekend maybe), that may be able to last them a whole week in portions in the freezer, so as to save them valuable time (and money) during the week.
Give you enough variety to satisfy dinner parties, weekday meals, BBQ's, kids meals, Sunday roasts, hor 'd oeuvres and footy snacks. In short, anything you may need to deal with in a normal lifetime.
Maybe something different
I have just started home brewing wine and beer, so as to be able to live up to Keith Floyd's reputation. I may add some tips on that as well in time……
UK / USA Different Measures
I grew up in the UK, so please excuse my English spelling and use of metric measures. Try this page below if you need to convert temperatures, weights and liquid measures.
And finally…
I hope you enjoyed reading and trying these family meal ideas. All my food recipes are tried and tested but please let me know if you have any improvements for them.
We are always open for improvements and want to make this one of the best family food blogs. So we need my blog's recipes to be the BEST!
My Family Food Blog Links
Find us also on :