Carrot Walnut Cake
This is a recipe for a succulent Carrot Walnut Cake. A delicious cake that you can eat as a snack at any time of the day, but especially at tea time!
The Perfect Walnut and Carrot Cake
This exquisite Carrot and Walnut Cake bursts with flavour combining the natural sweetness of carrots with the satisfying nuttiness of walnuts.
Carrots are the star ingredient of this luscious carrot cake with walnuts. Not only do they add a delightful touch of natural sweetness, but they also infuse the cake with moisture and a tender texture. Packed with vitamins, fiber, and antioxidants, carrots offer a myriad of health benefits too.
Incorporating carrots into your dessert is a fantastic way to sneak in some extra nutrients while savoring a slice of heavenly goodness.
When it comes to enhancing the texture and flavour of carrot and walnut cake, walnuts play an instrumental role. Their earthy nutty taste combine perfectly with the sweetness of the carrots.
And if you want a satisfying crunch in your cake, just chop them and leave them in small pieces before you bake it. Walnuts are also rich in heart-healthy fats, protein, and omega-3 fatty acids.
A Perfect Harmony of Ingredients
Besides the star duo of carrots and walnuts, this recipe calls for a medley of spices. We use cinnamon and nutmeg, to add warmth and depth to the cake's taste.
Additionally, the moistness and richness are achieved through the inclusion of eggs, vegetable oil, and a touch of vanilla extract.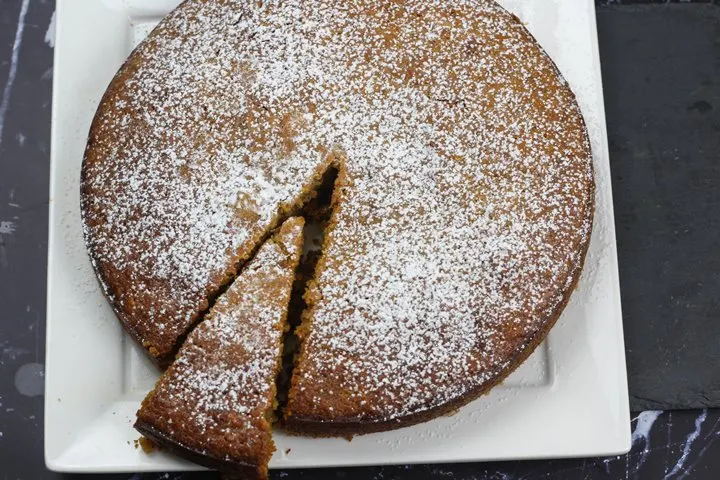 As your carrot walnut cake bakes to perfection, your kitchen will be filled with an irresistible aroma. Once the cake is done, remove it from the oven and allow it to cool before adding the finishing touch—a sprinkling of powdered sugar.
If you wish you can also frost the cake and garnish it with some whole walnuts. We did not do that though this time.
You could also bake the mixture in a muffin tray to create some carrot and walnut muffins if you prefer.
If you made this recipe, let me know how you get on in the comments section below!
How to make a succulent carrot and walnut cake