Boiled ham recipe with baked glaze
This boiled ham recipe gives you a beautiful tasty and moist ham with a yummy baked mustard, sugar and honey glaze. After boiling the ham is baked in the oven to give it a delicious crusty glaze on the outside.
This is a very easy recipe to prepare and is very little fuss. We often serve it with some baked potatoes (with mayo and chutney) and some greens like oven roasted broccoli. The vegetables can also be cooked in the same oven as the ham. This makes it super easy with a short prep time.
You do not need to glaze the ham. But I think it is much better with a tasty crunchy glaze on it.
I use a carving fork and a carving knife to remove the ham from the pan of boiling water.
After basting with the glaze ingredients it creates a beautiful sweet mustardy outside to the ham, which is good both warm and cold.
I have measured the ingredients for a relatively small ham (1,5 kg) as this is the one I used for the photos. But of course, feel free to scale up the ingredients to suit the size of your ham and family!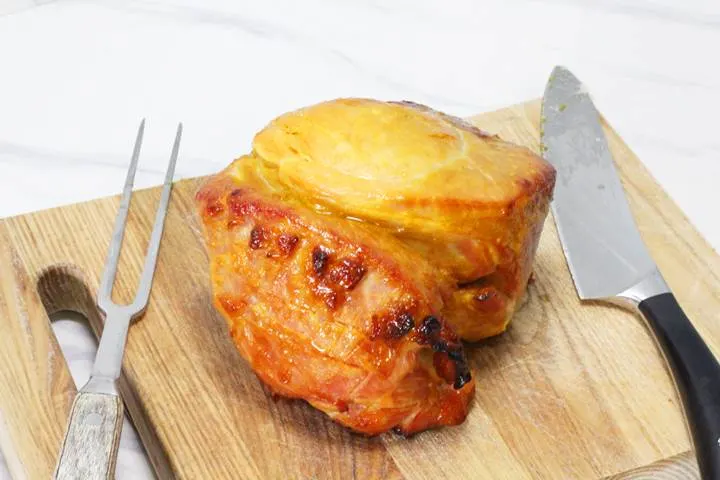 This recipe is really for a boiled and baked ham as we do the last part of the cooking in the oven in order to create a nice tasty honey-baked glaze on the ham.
This honey-baked ham glaze is really delicious – honey and mustard are such a good combination with ham.
How long to boil a ham?
When only boiling a ham a rule of thumb is to boil for about 20 minutes per pound plus an extra 20 minutes. So this 1,5kg ham would normally boil for about 3 x 20 +20 = 80 minutes.
However, a ham is not a ham without a nice bit of glaze on it. So we bake the last part in the oven, and so in the recipe below I will boil for 60 minutes and bake for about 30 minutes.
Christmas ham
This recipe will feed the three of us for two nights and one breakfast. On the second day, we will eat the ham cold on toast or in sandwiches.
This is a boneless ham we have used. We will eat this meal quite regularly during the week as it is easy to make and does not require much work.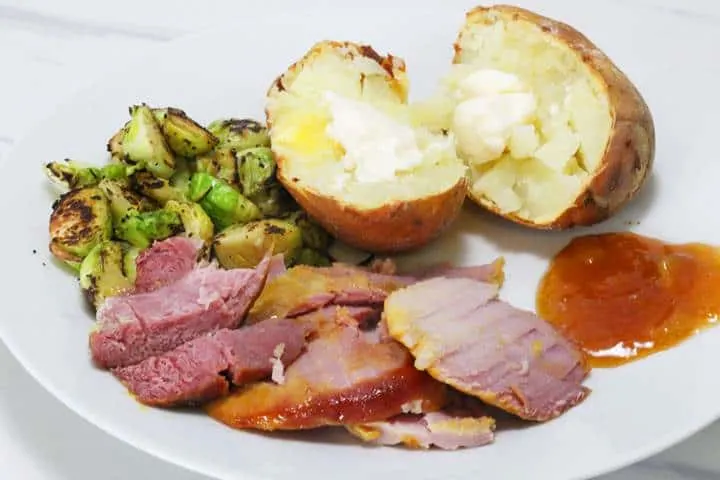 At Christmas, we normally buy a much larger ham which will last us for several days after Christmas to feed the larger family. It may or may not have a bone in it.
We follow the same basic process to soak, boil and bake the ham but just use more mustard, honey and sugar as required.
We do not celebrate Thanksgiving over in Europe but I imagine this recipe is perfectly suitable for a Thanksgiving ham as well.
Another great way to eat this home-cooked ham is ham on toast for breakfast the next day (or two days, depending on how much you have). A bit of mayo goes well, and some mustard maybe 😃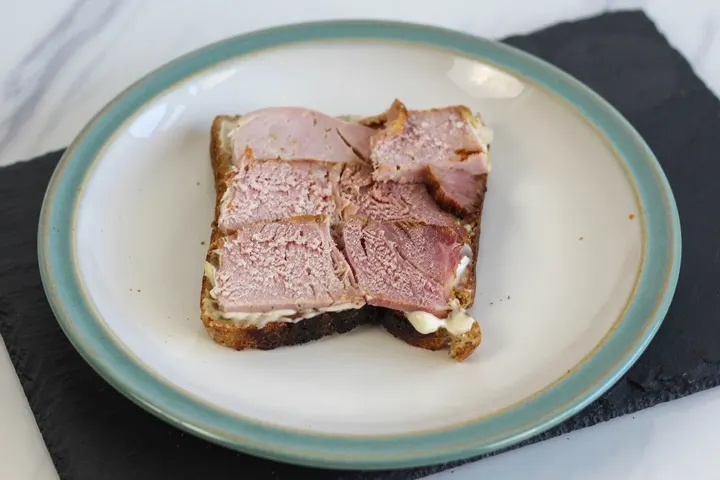 Or add a soft boiled egg to it for ham and eggs on toast: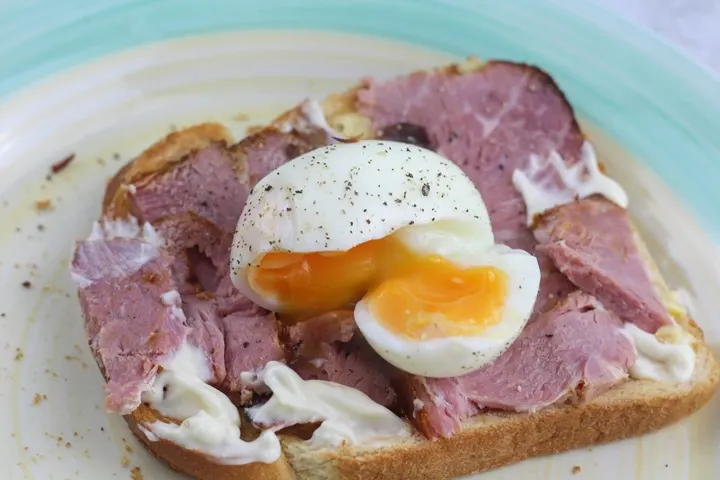 Or in bread as a ham sandwich – lovely with your afternoon tea 🙂
Honey baked ham glaze recipe
This ham glaze recipe below is really easy to make – the glaze is mixed in about one minute! And what a taste! Honey-baked ham has always been a well-known combination. But adding the mustard and sugar creates a caramelized ham glaze that is just delicious.
This must be the easiest and best ham glaze around.
If you use maple syrup instead of honey you would have a maple glazed ham recipe which must also be good. Next time maybe!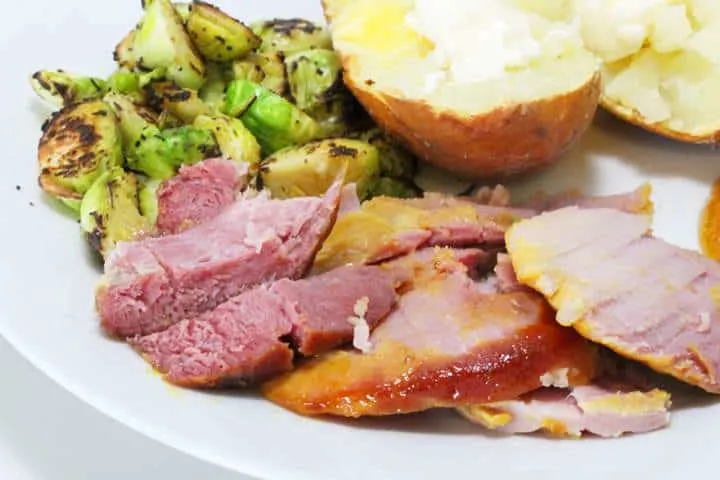 Some other serving ideas:
Sauces to Serve With Boiled Ham
Depending on your preferences there are several sauces you can make to eat together with boiled ham.
Mustard sauce: This sauce is made by combining mustard, brown sugar, and vinegar, and simmering it until thickened. The tangy and sweet flavours of the sauce complement the saltiness of the ham perfectly.
Pineapple sauce: This sauce is made with crushed pineapple, brown sugar, and mustard. It provides a sweet and fruity contrast to the salty ham. But beware this is a love-it-or-hate-it option. At school, we used to have gammon with a slice of pineapple on top and I think that put me off!
Horseradish sauce: Made with horseradish, sour cream, and lemon juice, this sauce is creamy and tangy, with a little bit of heat. It is a classic pairing for ham.
Cranberry sauce: This tangy sauce is usually served with turkey, but it also pairs well with ham. So good at Christmas or Thanksgiving when the cranberry sauce should be available. The tartness of the cranberries cuts through the richness of the ham, providing a nice balance of flavours.
But feel free to experiment and find your own favourite combination!
If you do make this boiled and baked ham recipe, please let me know how you get on in the comments section below!
How to make boiled ham with a honey-baked ham glaze
Side dishes to eat with boiled ham:
And for the ham leftovers: