Egg salad recipe
This is a recipe for a delicious creamy egg salad. There is nothing better on a nice summer's day than a creamy egg salad as a side dish or as a sandwich filling.
We love making egg salad sandwiches for packed lunches or when we are traveling, to take with us. They are great for road trips.
These creamy egg salad sandwiches are quite nutritious and will fill you up in no time. And this must be one of the easiest recipes around.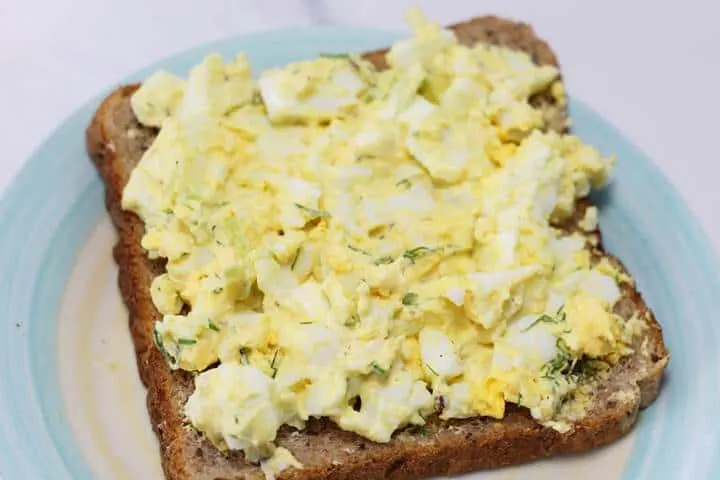 They are really very simple to make and can be prepared in about 20 minutes.
This is another simple recipe that my Mum had perfected – we would go off to the Point to Point (horse races in the countryside) with a picnic hamper, some egg salad sandwiches and a bottle of bubbly. Perfect!
How to make egg salad
This creamy egg salad recipe is really easy to make. The hardest part is boiling the eggs, but even that is pretty straightforward.
The basic ingredients for this recipe are basically some hard-boiled eggs, Hellmann's Real mayonnaise, dill, mustard, spring onions and some salt and pepper. The mustard adds something special to the egg salad.
Some people use salad cream instead of Mayo, but the result obviously tastes different. I prefer, as with many of my recipes, to use Hellmann's. Others may use cottage cheese or even include watercress in their egg sandwiches. There are more ways to skin a cat as they say!
How do you know if eggs are fresh?
When boiling the eggs it is important not to undercook them. I cook my perfect hard-boiled eggs for about 10 minutes and I only add them to the water when the water is boiling. I add and retrieve them using a spoon.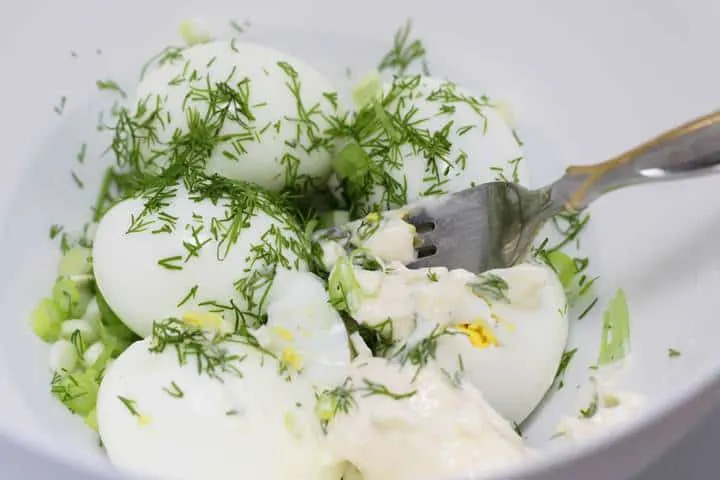 In the past, I used to keep chickens and our chickens used to run free in the yard. It was a big garden. However, this meant that if we found eggs they had laid in the garden we never really knew how old they were.
The best way to find out is to see if your egg floats. If it does you probably should not risk eating it. A good fresh egg will sink to the bottom of a bowl of water.
If it doesn't sink then it may be cracked, damaged or too old. Don't use it.
This easy egg salad recipe is a great addition to any BBQ or summer get-together and is the perfect creamy egg sandwich filling that will fill that gap.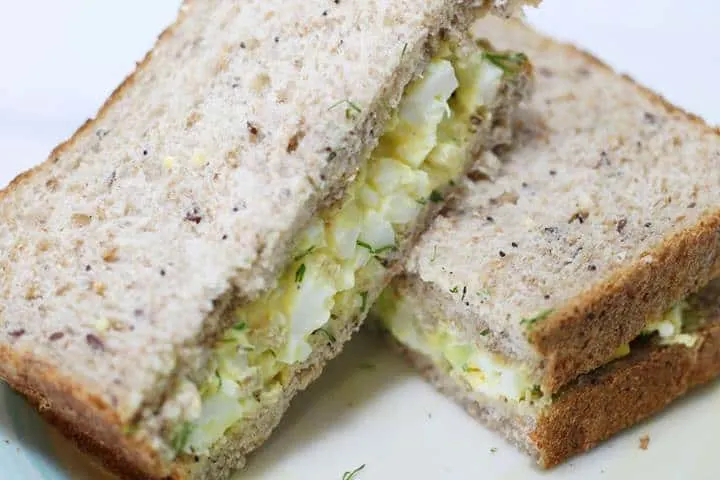 It is also a perfect sandwich addition to any afternoon tea. In fact, it is an essential part of a typical English afternoon tea. With the crust cut off – quite super! 😃
I hope you enjoy making this delicious egg salad. If you do, please let me know how you get on in the comments section below.
How to make a creamy egg salad sandwich