Slow-cooked Beef in Beer Stew
Treat yourself and your family to this delicious slow cooking beef in beer stew, loaded with chunks of tender beef, potatoes and carrots.
This is such a simple beef stew recipe to produce and so fantastically tasty.
The longer you cook it really the better it is, as the meat will fall apart more. Be aware that if you do cook the meat for longer, you need to add the vegetables later in the process.
I made the one shown in the photos because there was an important rugby match to watch in the late afternoon.
I timed it just right so we could serve up at half-time, and not miss any of the game 😃.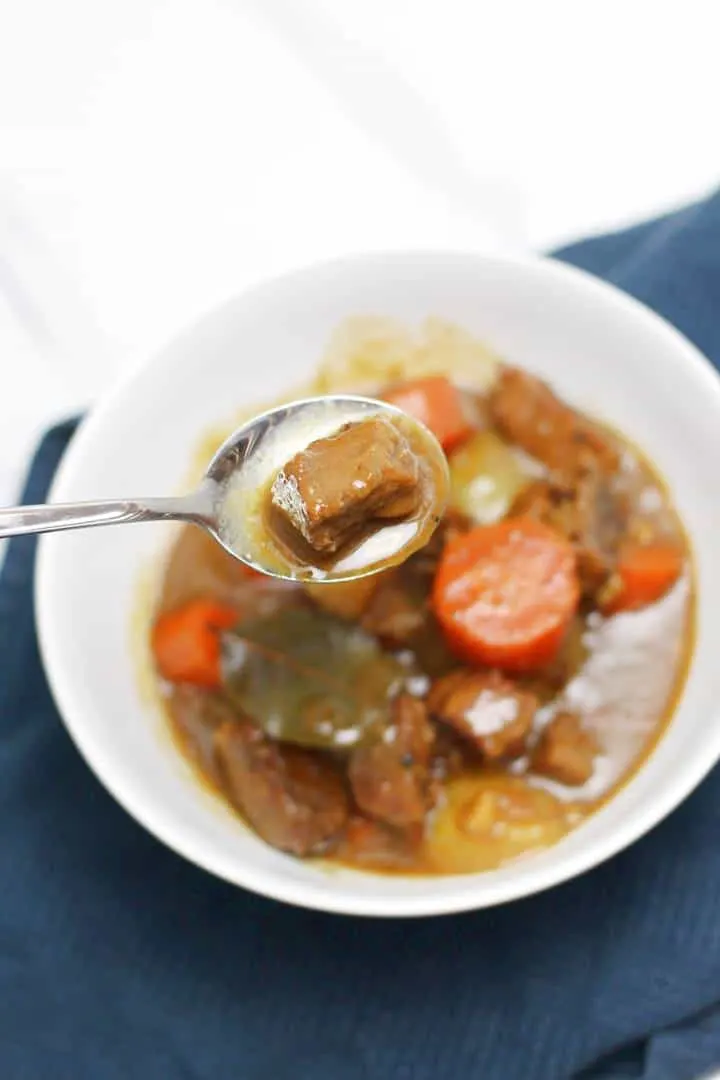 Best beer for beef stew?
Where the original recipe came from I am not sure, but I have been cooking this meal for many years and have experimented with many different beers over time.
When I made the stew in the photos I had no beer in the house (oh NOOOOOO!), but fortunately I had some IPA (India Pale Ale) that I was busy brewing in the garage.
The fermentation was pretty much finished, so I thought I would use that, and WOW – it worked great! So this is really an IPA beef stew!
I used a 500ml bottle (straight from the fermentation bucket, yeast and all) and the result was super.
But really you can use any type of dark beer or strong beer to make this recipe.
I sometimes get the question can you use lager instead of ale to make this stew. It would not be my preference. Unless it is a strong lager like a Belgian Leffe or Duvel, or any other of the wonderful Trappist beers produced in Belgium.
Also any IPA or craft beer would also be good.
But you would not find me making this meal with a Heineken or any other type of plain lager I am afraid.
I think the darker beers just provide more flavour to the meat. A Guinness, for example, goes down very well in this recipe, and would, of course, be especially Irish.
Other Ingredients
The type of beer is obviously important but the other ingredients cannot be ignored. The beef you choose should ideally be as lean as possible. If it isn't then cut off any fat before you use it.
Also, you should be using stewing steak, like a nice bit of chuck steak, which are generally the tougher but cheaper cuts of meat. They will become more tender with the slow cook over the long cooking period.
If you want some more information on which type of meat to use in this recipe, then look here: choosing the right beef stew meat.
The cuts should be nice and large, say 1 1/2 inch square pieces if possible. Substitute the new potatoes for peeled and suitably sized potatoes if you wish.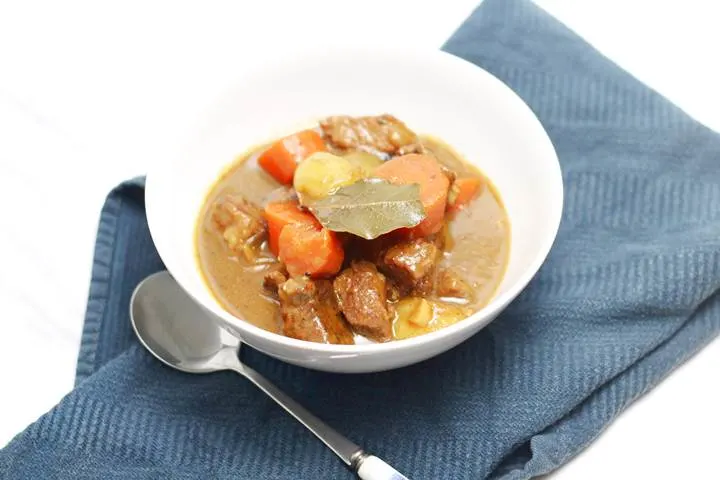 Different Slow-Cook Beef Casseroles
I have a few recipes on my site for beef casseroles. Some with beer, others with wine, some in the oven and others in the Instant Pot, for example.
As we live in Ireland you can use this recipe to make a proper Irish beef stew. Just use a pint of Guinness to make a proper Guinness beef stew. I also have a recipe for some mini steak and Guinness pies, that may also take your fancy.
Having said that a real traditional Irish stew would actually use lamb rather than beef.
Alternatively, if you prefer French-style cooking, then you could try my Beef Bourguignon recipe, which is beef stew braised in wine, as opposed to beer. You may find Beef Bourguignon even better than this recipe, as it has a milder taste, but it is certainly more expensive on the vino!
My Instant Pot beef soup is a similar recipe to this one, but is made in the Instant Pot instead, to speed things up a bit. This can be quite handy when time is of the essence.
At the end of the day, whether you use beer or wine, the alcohol evaporates away, but the rich taste it gives to the sauce is just fantastic.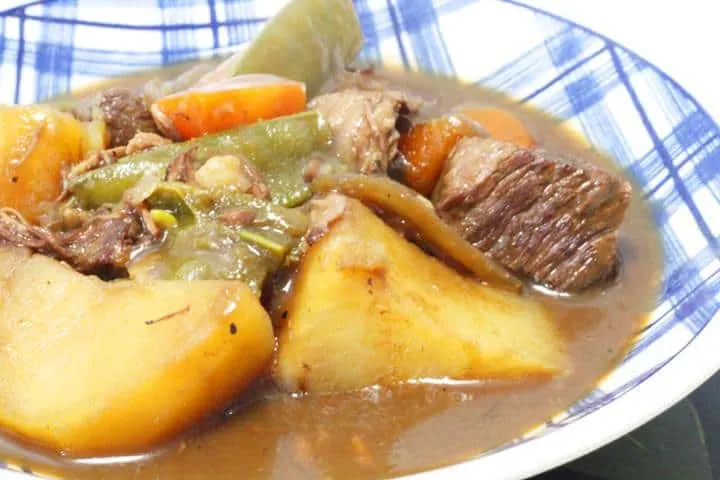 Cooking Pot, Casserole, Slow Cooker, Crock-pot, Dutch Oven?
The type of pot you use to cook this meal is very important. The pot needs to have a well-fitting lid to retain all the flavours.
I recommend using a Le Creuset type casserole dish if you have one. Or a 'Dutch Oven' I believe you call them if you are in the United States (I had never heard this description for one of these pots, even having lived 30 years in the Netherlands – funny eh?).
These solid cast iron enamelled pots are fantastic and the well-fitting lids keep all the flavours inside beautifully. I have had mine for 25 years and swear by them.
Otherwise you can use your trusted crock-pot or slow cooker if you have one.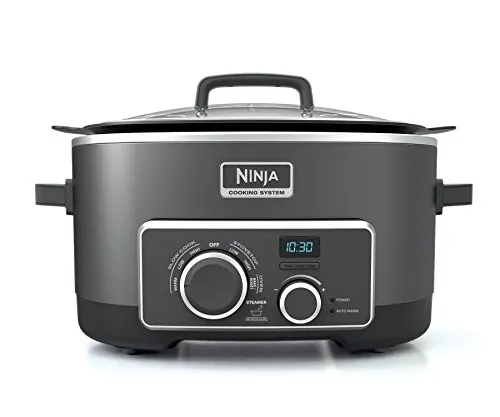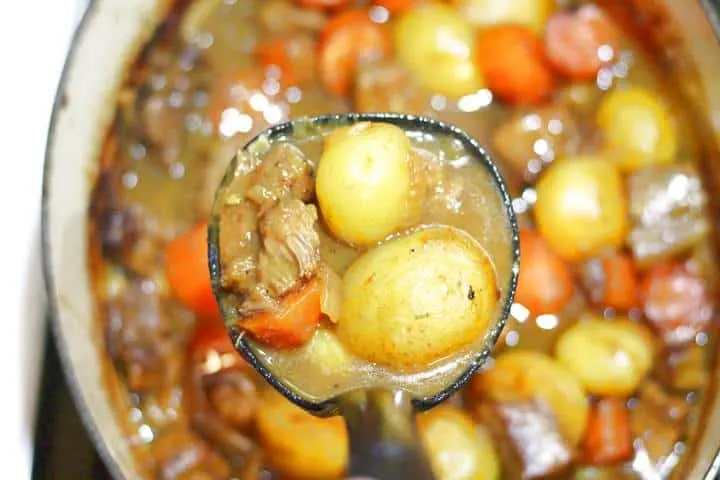 I hope you enjoy trying this supremely easy beef stew recipe. Please give some feedback in the comments section below if you do!
If you want to see all of my recipes on one page, you can find a visual index here at this link : Gav's Kitchen, Recipe Index.
How to make a delicious Beef in Beer Stew