Baked Ham on Toast
This is a simple recipe for baked ham on toast.
Every Christmas we bake a large ham, the leftovers of which we will then use for several days afterwards. Apart from the chicken and ham pie, the mini ham and leek pies, and the ham mayo sandwich, probably most of the leftovers get consumed as ham on toast or ham and egg on toast.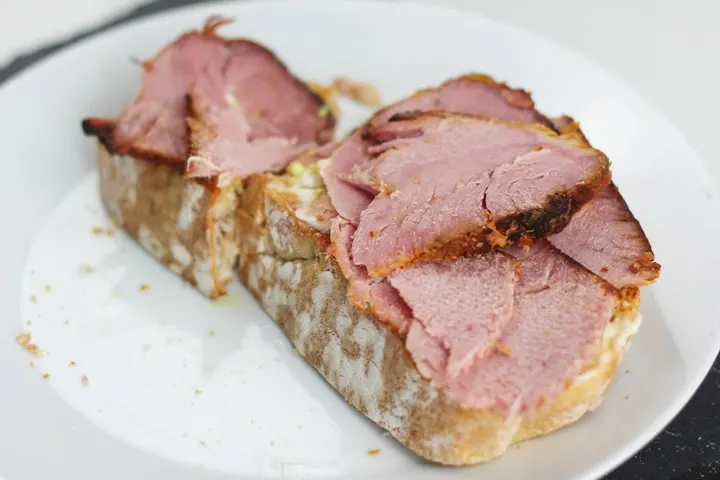 How to use up ham leftovers at Christmas
There is nothing quite like a nice well-cooked piece of ham. It is so versatile and the leftovers can be used in all sorts of recipes. There is a list at the end of this blog post of some recipe ideas for using up your baked ham leftovers.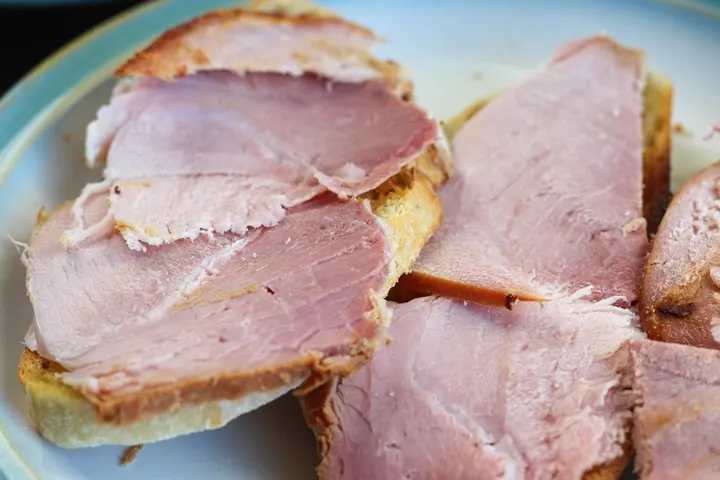 On Boxing Day, as we know it in the UK (or St. Stephens day in many other countries) on the 26th December, we will often eat ham with baked potatoes for lunch, together with some Mango Chutney.
But probably the majority of our leftover ham disappears at breakfast time, with the very simple ham on toast combination. It is something that for us is a big part of our Christmas fare.
And when you have an important birthday in the family between Christmas and New Year, as we do, you can spice it up with a bottle of bubbly as I did last year. Ham on toast with strawberry Champagne – unbeatable! 😃
Which condiments on ham on toast?
How you eat it is really a personal thing I think. If you eat ham on a piece of toasted sourdough bread, some people like it with butter on the toast. But I prefer a simple mayonnaise and mustard combination.
However, if I were to eat it on some Irish Wheaten toast, then I would prefer to use butter. So the type of bread you use is also important.
Recently we have been eating finely shaved ham from Aldi on toasted muffins for breakfast with a thin layer of mayo and English mustard. Absolutely divine.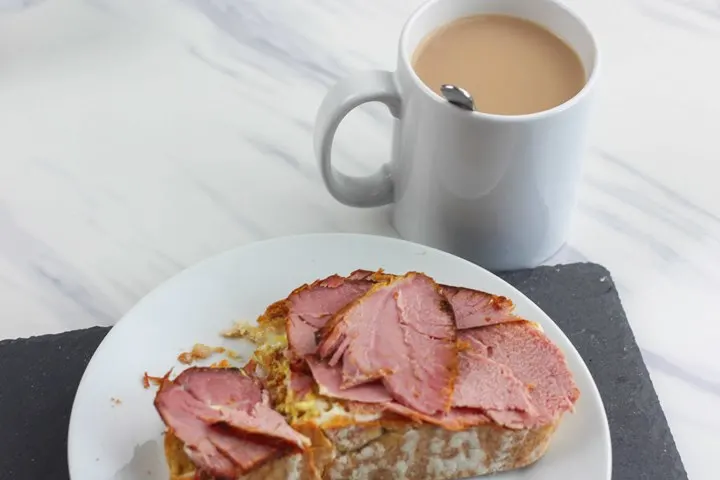 The key is of course to have some delicious ham slices. The boiled and baked ham with a sweet honey mustard glaze that I like to make is really very moist and tasty and will last a few days after Christmas when you look after it in the fridge.
I find the first few days you can eat it like this on toast, or as cold meat, but thereafter I will put it into a pie of some sort. See the list below for some ideas.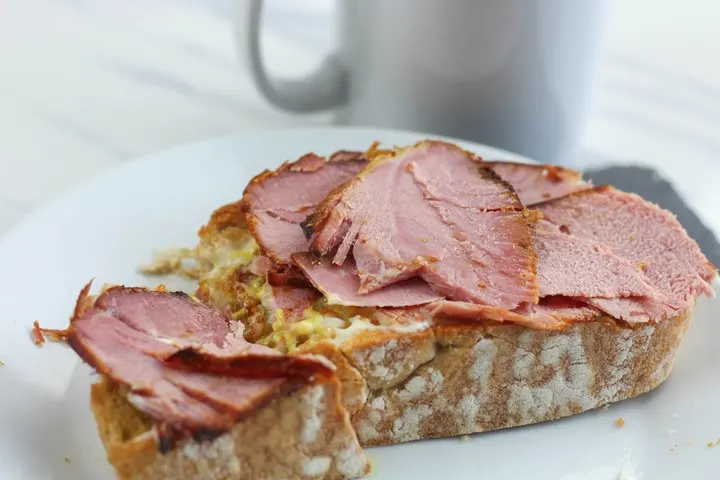 I hope you get to try and bake your own ham. It really is worth it, and it is a lot cheaper than buying pre-cooked ham from the store. Give it a go and make your own ham-on-toast breakfasts!
Let me know how you get on in the comments section below!
How to make ham on toast
To cook the ham:
Some ideas of how to use the ham leftovers:
Or a dressing maybe?:
Or some other toast snacks: