Mini Chicken, Ham and Leek Pot Pies
This post gives you delicious mini chicken pot pies with pie crust. The recipe describes how to make the pastry and the chicken, ham and leek filling.
Pies are a very important comfort food in many countries around the world. This recipe will enable you to make your own individual mini chicken pot pies. They are wonderful as a snack at any time of the day.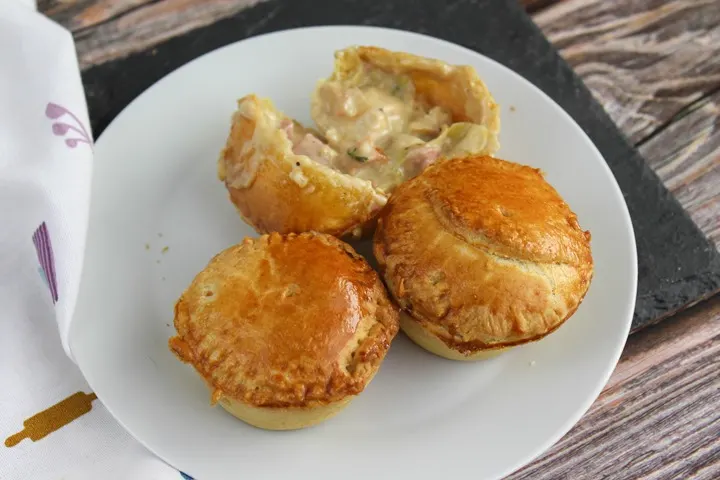 A delicious Recipe for using Ham and Chicken or Turkey Leftovers
Christmas and Thanksgiving always leave a pile of leftovers that need to be used up, especially chicken or turkey and ham. Sometimes we put them in a single chicken ham and leek pie, or a chicken and mushroom pie, or a leftover pie. But in this recipe, we turn them into some delicious mini pot pies.
They are delicious hot and served up on their own or with a nice salad.
Shortcrust Pastry Recipe
The secret to this recipe is the delicious shortcrust pastry. This time I made it myself, rather than using ready-made pastry.
Some people say life is too short to make your own pastry. But really it does not take that long to make a tasty pastry, and you will see that when you try this recipe.
Not only was this recipe easy to make, but it uses basic ingredients. The delay is that you need to put it in the fridge for an hour or so to make it easy to roll out and shape.
The only problem was making the right amount. When I made this initially I used half the pastry ingredients and only had enough for nine pies. So I stored the extra filling and made seven more the next day using store-bought pastry.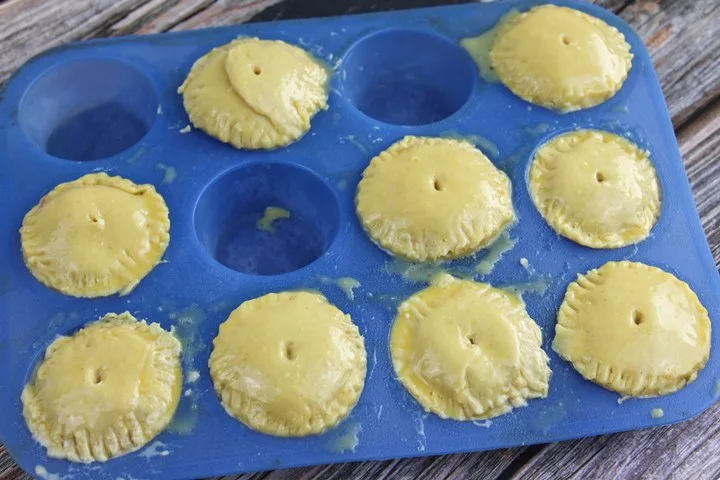 The difference in taste was significant, with the homemade pastry being definitely much tastier than the store-bought pack from Aldi.
I will definitely use this pastry recipe again to make other types of pie – maybe even some sweet ones.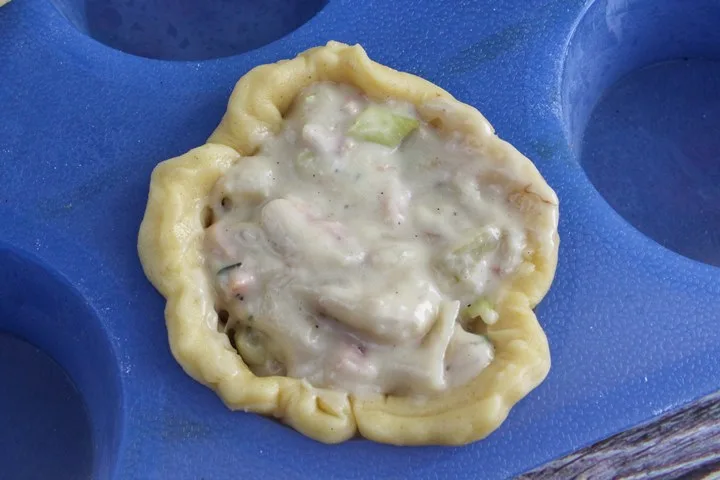 The amounts have been adjusted now in the recipe to make the full amount (although it will depend on the size of your muffin tin). My silicon muffin tray has holes with a diameter of about 67mm, and I made a total of sixteen of these pies.
Filling the Pies
The only tricky part of this recipe is filling them so you do not get too much leakage. You need to cut the base of the pastry large enough to give enough to work with when you are doing the crimping.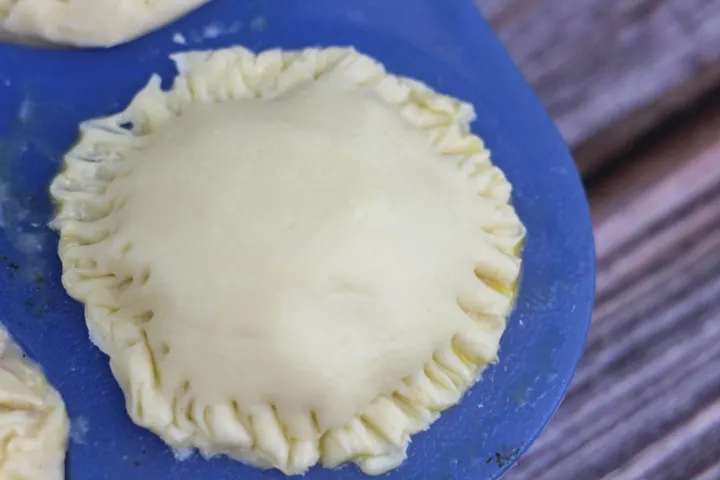 The egg wash needs to be brushed onto the pastry surfaces that will be crimped so that it works to glue the pastry together.
You can see from the pictures that my handiwork still needs some improvement. I did find that in some cases if you have enough pastry you can overlap on the top, which did actually provide a more reliable seal. It maybe does not look as good but it worked very well!
The big question I had was whether or not to put a hole in the top of the pies. I did this for the first batch, but then had quite a lot of filling leakage through the holes in the oven. So in the second batch, I kept them shut, and I think the result was better – less leakage and more filling!
Freezable Mini Chicken Pot Pies
The advantage of cooking individual pies is that you can easily freeze them after cooking. You can then just retrieve them from the freezer when you need a quick meal. And also they taste better than any pies you can buy in the shops.
Just heat them up in the microwave or oven until they are cooked through.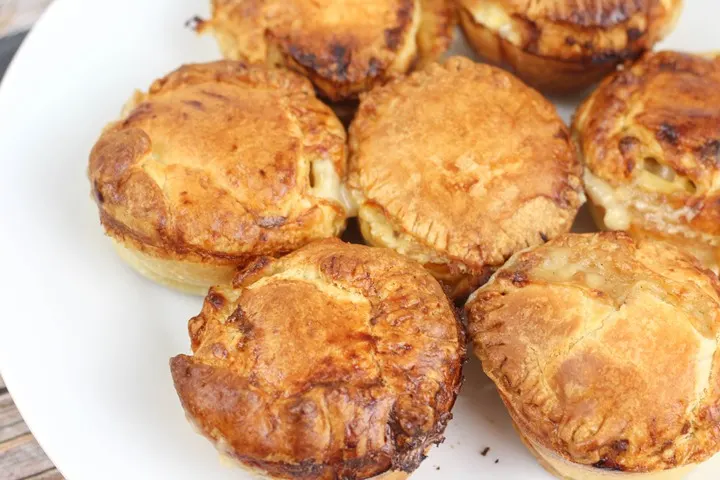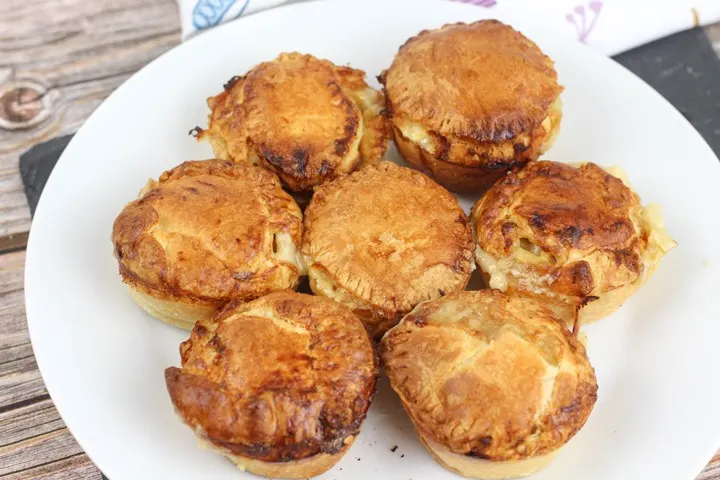 I hope you enjoy trying this recipe and would love to see some pictures if you do!
How to make Mini Chicken Pot Pies with homemade shortcrust pastry
Some other recipes for using up your chicken and ham leftovers:
Make these pies when you have leftovers from:
Or maybe try this recipe instead: