Ham and Eggs on toast
Ham and eggs on toast is one of the most simple and yummy snacks you can make. Ready in no time and good at breakfast, lunch or dinner.
Ham and eggs have gone together for years. Especially around Christmas time, we tend to eat this a lot for breakfast when we have some beautiful home cooked ham leftover which needs eating.
This is a great little snack and is found in different forms and with different names all over the world.
Dutch Eggs
If you add cheese to it (which does improve it unsurprisingly, but is obviously more calories), you can compare it to a 'croque madame' in France or an 'uitsmijter ham/kaas' in the Netherlands (although this is with cheese as well).
The Dutch however often tend to undercook the fried eggs and in some places, you may receive them with partly uncooked egg whites, which is really not on.
You can also try these with a poached egg or a boiled egg instead to make them a bit healthier.
My wife believed I shouldn't add this to the blog as it is too simple. She then, in the same breath, without missing a beat, asked if I would make one for her for lunch……! 😃
It is so simple but so tasty! In most of these pictures, we have just used some wafer-thin cooked ham from Aldi which does a great job. But I think using your own home-cooked ham is better. Vary it a bit by using some sourdough bread to make your toast is also a good tip.
Not too many calories as well. However, we ruin that by using Hellmann's of course!
Sometimes if you are just learning to cook food you need to start with the simple stuff. And this is a perfect one to start with.
Fried Eggs with Ham
Believe me, cooking a perfect fried egg is something that does take some practice! I like to eat my eggs over-easy as you call it Stateside.
We do that over here by lapling the hot oil over the top of the egg in an inclined pan.
I find if I turn them over to cook the top properly, there is a larger risk of breaking the egg.
It is important to know that the fresher the eggs, the less likely they are to break in the pan.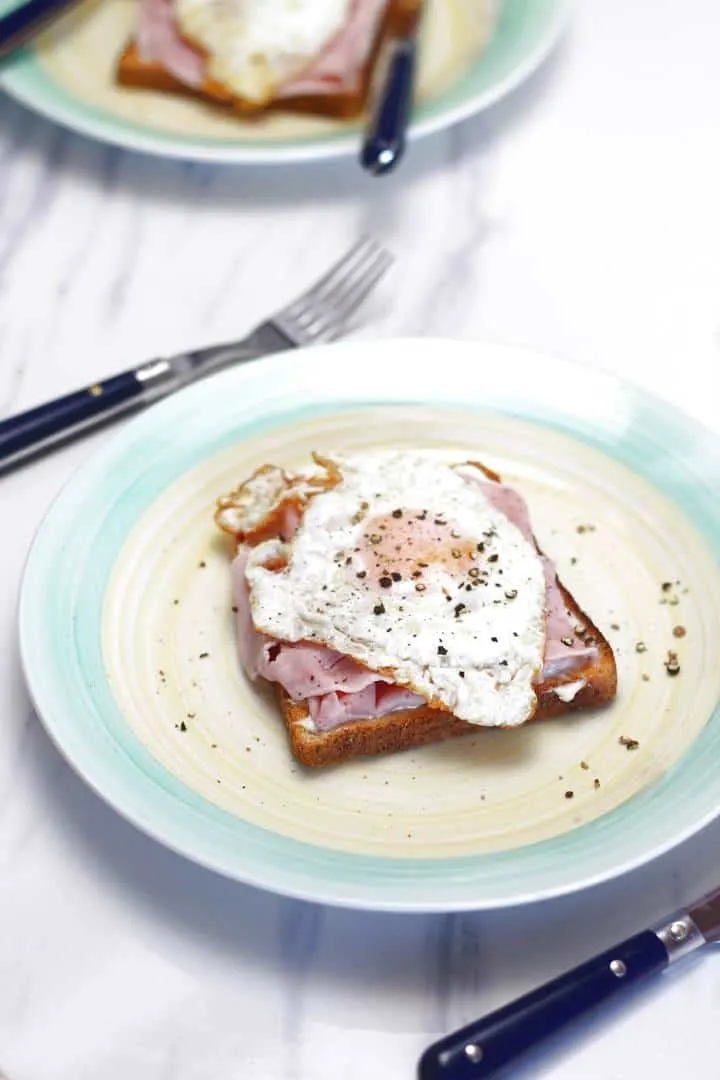 It is a great snack for breakfast or lunch, or just if you have the munchies late at night, and is really ready in 5 minutes. For some variety add a slice of cheese!
Soft boiled egg and ham
If you have a little bit more time on your hands you could also try this with a soft boiled egg. A little bit healthier as you are not using oil to cook the egg, but you still need to get the water to boiling, so it takes a bit longer. Just boil the egg for 5 minutes, cool it under the cold tap and peel it. A bit easier than a poached egg I find.
Here is a soft boiled egg I made with some home-cooked ham:
And if you need some gourmet ham why not try these guys?
I hope you enjoy making this. Let me know how you get on!
How to make ham and eggs on toast
If you enjoyed this snack, you may also like to try this: