Chinese Fried Rice
This Chinese Fried Rice is a family favourite that you may like to order at your local Chinese restaurant. But it is something you can easily make at home.
It is also a very good recipe for using up leftovers, so you do not need to follow the recipe exactly.
Just add any vegetables that may suit – like chopped mushrooms, shallots and even sweet corn go well in this accompaniment.
You may even want to make it a main dish by adding some meat to the pan (chicken or pork for example). For example, leftover chicken from the Sunday roast goes great in this meal.
Just add at the end of the process, to create a chicken fried rice recipe.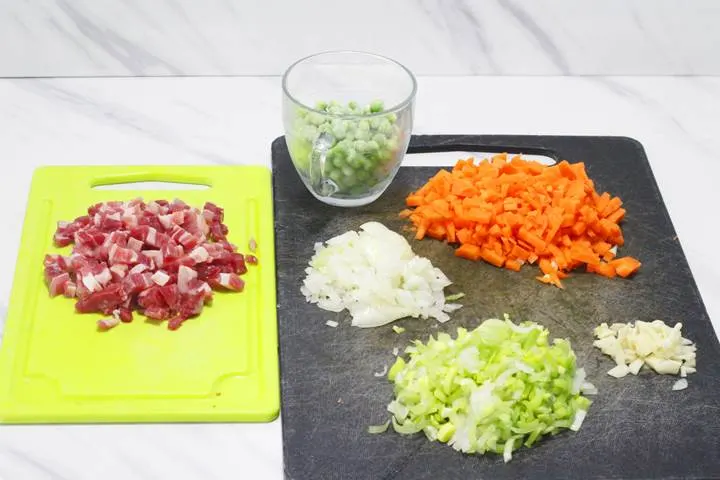 Visit to the shipyard in China
I worked in China for several months on different occasions. I have spent about 6 months in China in total altogether. But I must say, I do not recall having fried rice like this over there.
But then quite a few of the food inventions we see in Chinese restaurants in Europe do not seem to be common in China.
If you have never been to China, you may wonder what a real traditional Chinese meal is actually like.
My first experience with one was in 2011 after a long journey from Europe, arriving in Humen town near Guangzhou and Dongguan.
A colleague and I arrived at the hotel at 20.00 and just wanted to retire and go to bed. However, the shipyard had sent their entire management team to meet us and take us to dinner.
I remember the rotating table in the middle, carrying all sorts of differently prepared food like chicken feet, pork, duck etc.
All the dishes were very different (and some better than others). The Chinese love their Chicken Feet. Call me old-fashioned, but that was something I could not get into.
There were cups of tea and ashtrays for the smokers, some of whom quite happily smoked non-stop throughout the meal.
Different courses kept arriving in the private room with about twenty of us around the table, none of whom spoke English (apart from our translator).
It was quite an interesting evening and a lesson in cultural differences. By the time they all left at about 23.00 we were exhausted and collapsed gratefully into our beds (in one of the plushest hotels I have ever stayed in).
Try to eat the rice with chopsticks!
Really to get a feel for how the Chinese eat, you should try to eat this fried rice with chopsticks.
Eating rice with chopsticks can be a bit of a challenge for those who are not used to it. However, it is common practice in many Asian cultures and the kids are taught from an early age.
The key to successfully eating rice with chopsticks is to use a scooping motion rather than trying to pick up individual grains of rice. To do this, hold the chopsticks close to the base and use the pointed end to scoop up a small amount of rice. Then, bring the chopsticks to your mouth and use them to place the rice into your mouth.
It may take a bit of practice to get the hang of it. But with patience and persistence, anyone can master the art of eating rice with chopsticks. It is not only a practical way to enjoy a meal, but it is also a cultural experience that can help to connect people to the traditions and customs of other cultures.
The language barrier
When we ate in the shipyard restaurant the language barrier remained a problem. Some of the food name translations were fantastic: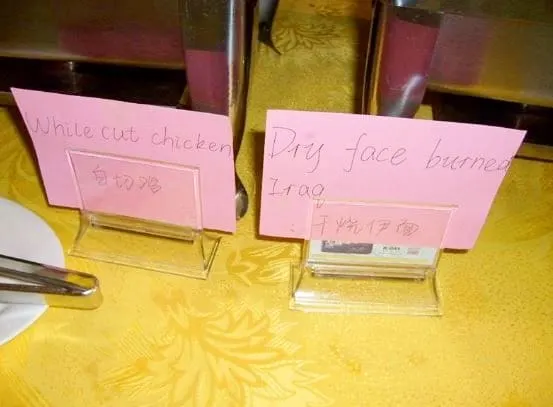 At one point they served up some 'Burned Grandma' which we declined, as you can imagine.
This was another of my favourites going up the Canton Tower in Guangzhou: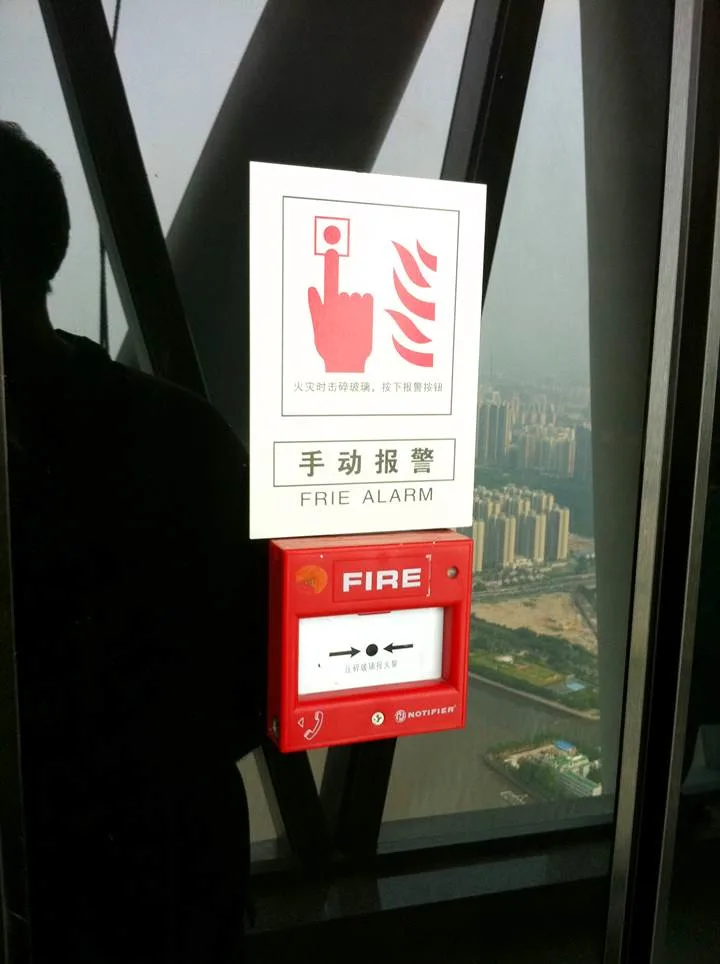 Anyhow, the evening dinner ritual was repeated every day for a week. Eventually, we politely had to tell our hosts that we would like to have a quiet evening in!
They were very hospitable but it was quite exhausting. We had discovered by then that the food in the Japanese restaurant downstairs was much tastier.
And in fact, when you ate at their teppanyaki bar I am pretty sure you got mixed fried rice like this one………so maybe I should call it Japanese fried rice?!
Whatever the origin, it is tasty and a great way to use up any remaining vegetables in the fridge. Please try it out!
You may enjoy trying it with my Chinese Marinated Pork Loin recipe.
If you do try this recipe, please let me know how you get on, in the comments section below!
How to make Fried Rice like Chinese takeaway