Sardines on Toast
There cannot be a quicker or easier snack to make than sardines on toast.
This is not really a recipe, it is more like a description of how to make an essential meal that certainly every busy student should know.
You literally just open the can of sardines, drain off the brine or oil, and place on a piece of nicely buttered toast with some black pepper garnish to taste.
What are sardines?
Sardines, or 'pilchards', are an oily fish from the herring family of which there are several different species.
Sardines are the smaller version of the pilchard, which are often put into tins.
Normally the heads and gills are removed before packing and they are cooked by frying or smoking before drying. They are then canned and tightly packed in water, oil or tomato or chilli sauce. Not surprisingly, this is where the expression 'packed like sardines' comes from.
It also makes them a readily transportable and non-perishable food. You can eat them straight out of the tin, so they are great if you are hiking or camping!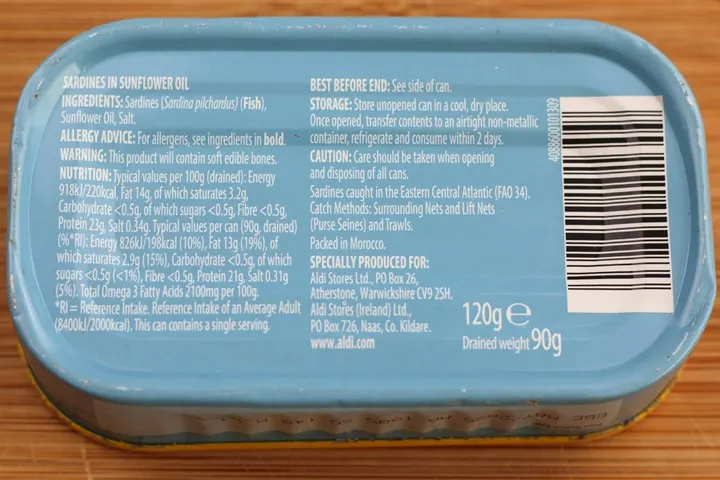 We tend to buy sardines in oil from Aldi, and these tins contain 3 small sardines, which is enough for two pieces of toast. My daughter loves all types of fish, and we often have this as a simple quick lunch.
Is sardines on toast good for you?
Sardines are fish that is packed with vitamins and minerals.
Sardines are a natural source of omega-3 fatty acids, which are good for preventing heart disease and improving brain function. They also include vitamin D, protein and calcium as well as vitamin B2 and B12. Also, they are lower in contaminants like mercury, compared to some other fish.
So yes, sardines on toast is a healthy addition to any balanced diet. The healthier the bread, the healthier the meal, of course.
To make it look a bit more exciting, why not use some sourdough bread, add some toasted garlic, some mustard and some green leaves like rocket (arugula)?
And if you were being really fancy then using some fresh grilled sardines or pilchards would also be a good alternative. But then it is no longer a student meal I suspect! 😃
It is up to you – we like it as it comes.
But certainly as a quick and easy, cheap and nutritional student meal, it is up there with the best. Try my tuna pasta for another great quick and easy student meal.
See below for some other ideas for cheap student snacks/meals.
Sardines on toast is tasty and nourishing and you can make and eat it in less than 10 minutes, which makes it a great lunch or simple snack.
Enjoy!
How to make sardines on toast
Some cheap student meal ideas: