Roast Beef and Yorkshire Pudding
A great tradition in Britain and Ireland is that of the Sunday lunch and a nice joint of roast beef and Yorkshire pudding. I have many memories as a kid of our family sitting around the table at our Sunday lunch.
Invariably we would be waiting for my late father to get back from his golf game, so we could eat our Sunday lunch. My Mum was (and still is) a great cook and would always do us proud, like most of the British Mums I know.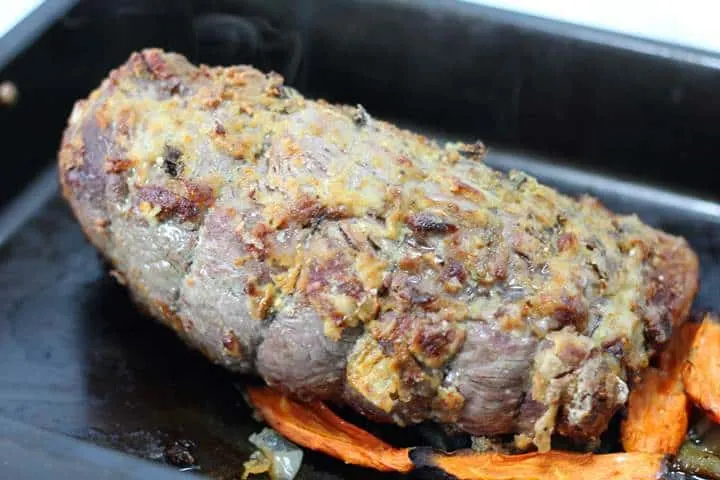 The roast meat was lamb, chicken, pork, beef or whatever that week had been on offer. And the side dishes would be a combination of roast potatoes, greens, carrots, parsnips and other vegetables.
There was normally some other strange English invention on the table like bread or mint sauce or stuffing, all depending a little bit on the meat.

Yorkshire Pudding
When it was roast beef it would of course be the Yorkshire pudding. Yorkshire pudding is not a pudding, but is in fact a sort of pancake mix that is cooked in the oven.
Traditionally it would always be served with a roast beef lunch, and is excellent with some beef gravy.
We would scoff ourselves full, a bit like at Christmas, and then relax on the couch and invariably fall asleep watching the game!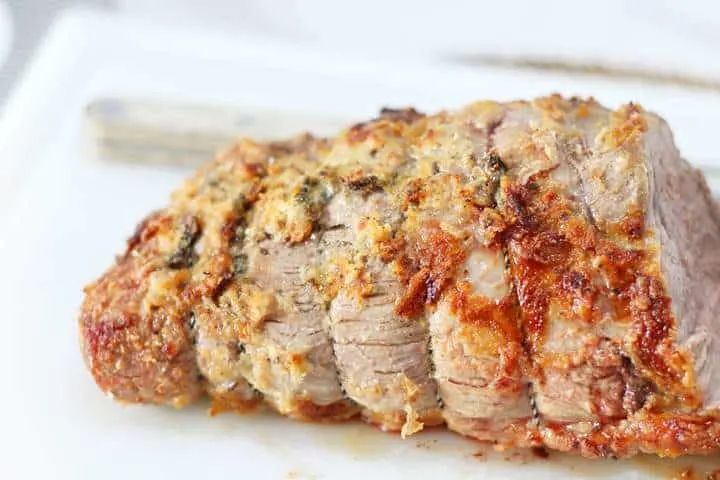 All my friends at school and University also had a similar Sunday lunch tradition and it was interesting to see how it varied from house to house. I studied in the North of England, where it seemed to be a challenge for my friend's mothers to feed us all until we popped.
Some of my friend's Mums really put on the most incredible spreads. The table top would be covered in different types of vegetables: boiled, fried, roasted, baked – everything was possible.
I have some very happy memories of those days and the long-lasting friendships that were made.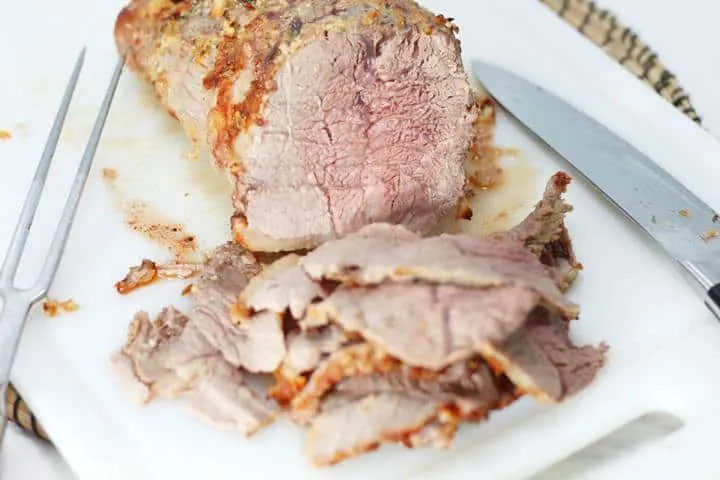 This was an important part of growing up. I remember thinking I would always like to make this a thing in my own house when I was older.
These days, when all my family is together, which is unfortunately not very often, I love to get everyone around the table and give them a roast dinner.
Dinner or lunch?
Whether you call it 'dinner' or 'lunch' depends a bit on where you are from in the UK. Northerners tend to call the meal in the middle of the day 'dinner' and the evening meal 'tea'.
Whereas down South the meal in the middle of the day is 'lunch' and 'dinner' or 'supper' would be the evening meal. Where the cut-off point for this is I do not know. But suspect it must be around the Midlands somewhere.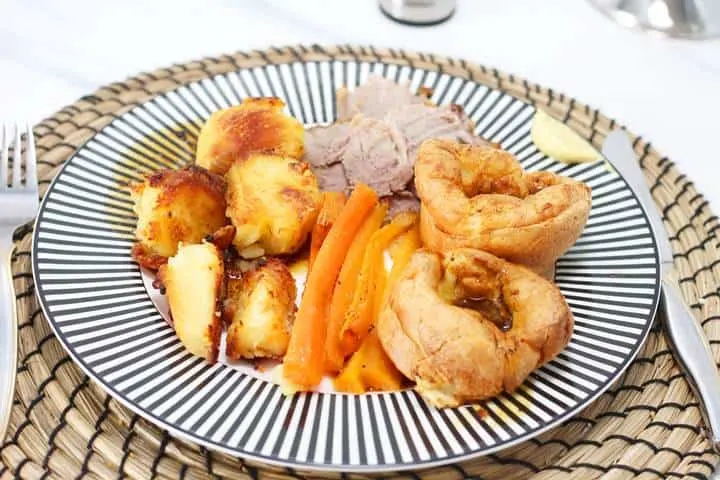 In any case, I am originally a Southerner that studied up North, so am still a bit confused. Or bilingual you might say (ie I mix everything up!)
How long to cook roast beef?
This depends on the cut of meat. In these photos, I have a 1,5 kg piece of silverside. For silverside we cook at high temperature of 220C for 20 minutes followed by 20 minutes per 500g of meat at a lower temperature of 180C.
So in this case a total of about 1hr and 20 minutes.
Silverside is maybe not the best cut to use for a Sunday Roast. It is really better suited to slow cooking, but it was a cheap cut on offer.
If you can afford the more expensive cuts, then sirloin, top rump and fillet or Prime rib is probably a better option.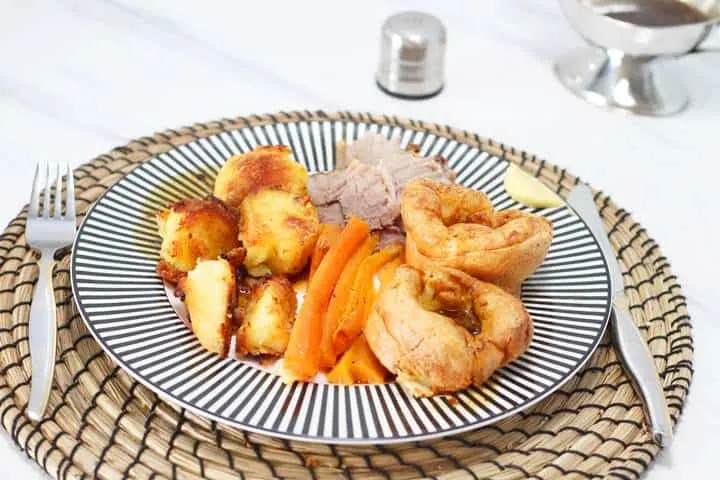 Still, this fed us for a few days and was pretty tasty.
Yorkshire Pudding Recipe
For the Yorkshires recipe, I refer to my Goose Fat Yorkshire Pudding recipe. Just read the instructions for the batter and using a 12 hole cupcake tin with the appropriate fat, heat in the oven to 220C. Then add the batter and cook for 20 minutes until brown. You need to add the batter when the oil is piping hot so it will rise.
Yorkshire puddings are sooooo good!
If you are looking to make a roast beef joint for your Christmas or Thanksgiving dinner, then why not buy your Prime Rib or Sirloin at
More than 350 Different Premium Quality meats, Hand-delivered to your door. Shop at Meat N'Bone
I hope you have some success making your own roast Sunday beef with Yorkshire Pudding.
And of course, you do not have to wait until Sunday to make this! Try it during the week as well!
And remember, with any leftover beef you can make a beef, cheddar and pickle sandwich for your packed lunch.
If you do try this, please let us know how you get on in the comments section below!
How to make roast beef
Sunday lunch ideas:
Or some accompaniments to your Sunday lunch: