Pot roast leg of lamb
This simple recipe shows you how to cook a pot roast leg of lamb. I love lamb, and this recipe will give you lamb that falls off the bone after cooking, a little bit like Turkish lamb tandir. It is so tender and succulent you will want to make this again!
It is another great alternative for a family Sunday lunch instead of a roast chicken or roast beef.
Cooking leg of lamb slowly
Many countries have traditions of cooking lamb slowly. A slow roast Greek leg of lamb is a thing of wonder.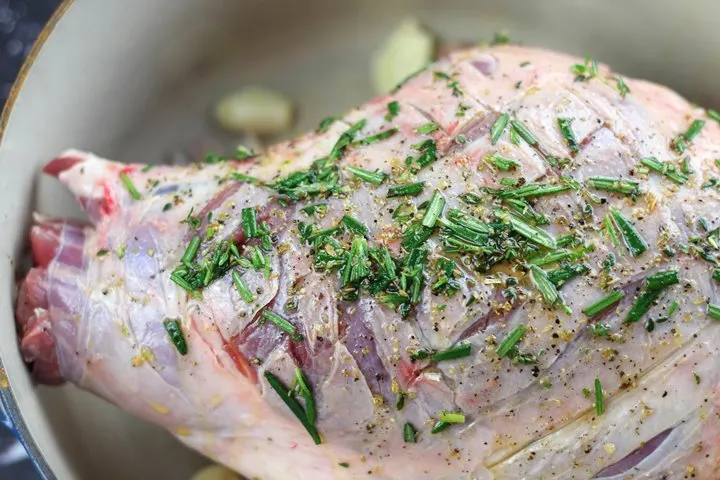 But lamb does have a strong taste, and it can dry out if you cook it too much. So this method of cooking it in a well-sealed pot with a thin layer of stock keeps the moisture in the meat and gives you a lovely succulent result.
Lamb tandir is lamb that has been slow-cooked, hanging over the coals in a clay oven, under the ground. We have eaten this before in Turkey and if you ever get the chance, you should definitely try it. Crispy and succulent it is a wonderful dish that gets the best out of the lamb.
Obviously cooking in a Dutch oven is not the same process and will not give you an identical result, but it does give you tender meat that falls off the bone and is super tasty.
What is the best pot to use for pot roast
In this recipe, I cook the lamb in one of my trusty Le Creuset enamelled cast-iron Dutch ovens (I have two, but this was the largest one).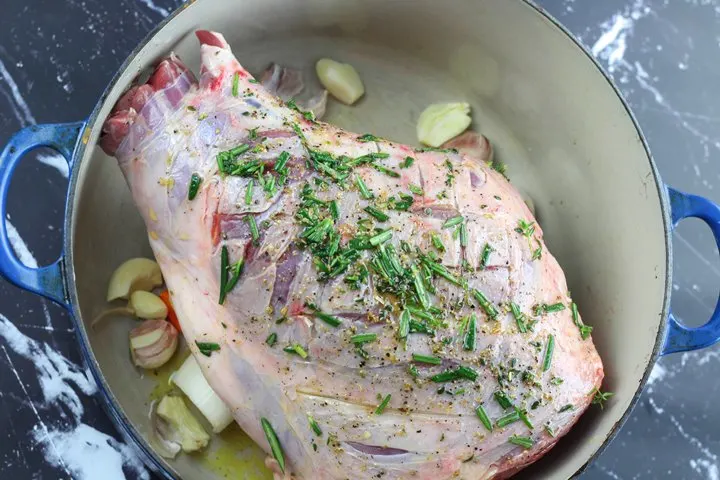 One of the important things to think about when you are procuring your meat is to make sure it will fit in your pot! The leg I bought was actually too big for my pot, and I had to use a hacksaw to cut off some of the bone so it would fit into my Le Creuset! Not good food planning!
You could of course also try this with a boneless leg of lamb or some lamb shoulder, depending on the size of your pot.
Le Creuset are quite expensive pots, but they will last you a lifetime. I have had mine for more than 25 years and I do swear by them.
The important thing is to make sure you have a pot with a well-sealing lid that will keep the goodness and moisture in while you are cooking, so you get a super tender, succulent result like this: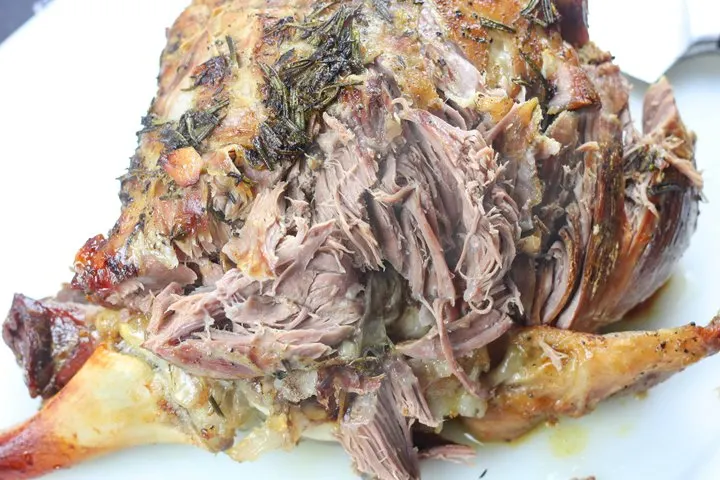 There are luckily somewhat more affordable alternatives around, like the products from Una Casa for example, who also have some great offers available, like this enamelled cast-iron casserole pot:
Or this cool camping Dutch oven:
What could be better than slow cooking some lamb on the campfire and making some delicious lamb wraps or stuffed lamb pita bread for supper?
Instant Pot Leg of Lamb
Initially, I was going to make this recipe in the Instant Pot, but as the leg I had bought did not even initially fit in my casserole pot, it was never going to fit in the Instant pot.
But I think you could use the same recipe in the Instant Pot, as long as you had a smaller piece of lamb that fitted, like a lamb shank, or half a leg of lamb maybe.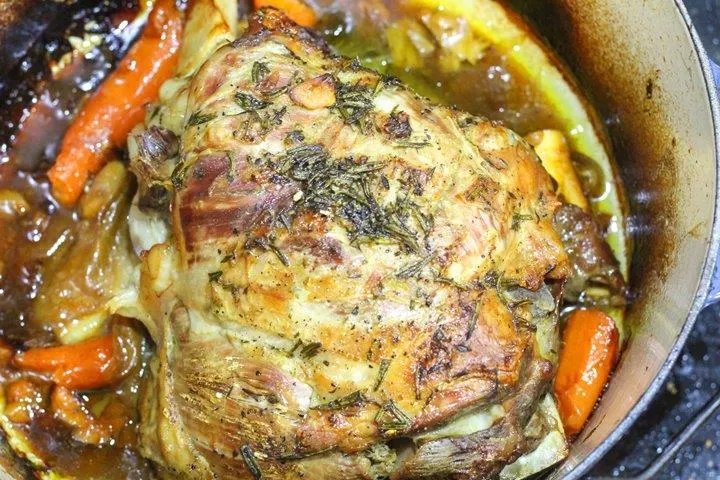 So if you were wanting to make an instant pot lamb shank, for example, you could use the same recipe, and just cook instead on high pressure for 1,5 hours and you should get the same result.
You may wish to sauté the meat first on the sauté setting of your Instant Pot to avoid having to brown the meat when the cycle is finished.
I think I will try this next time as the amount of meat on this leg was way too much for the three of us, even for two days of meals.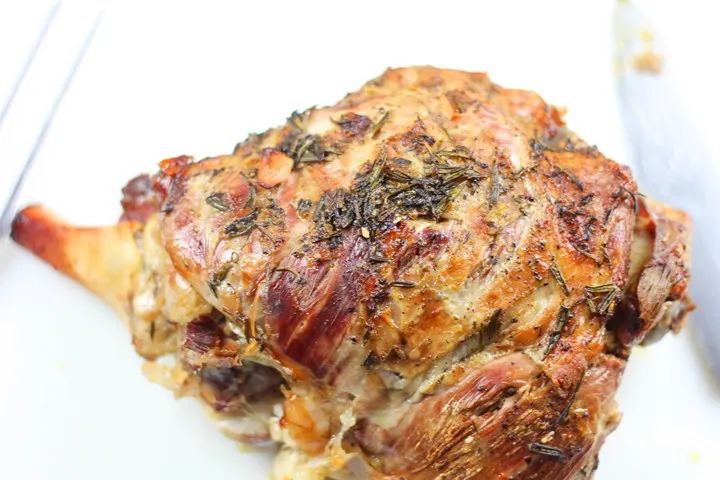 Whichever method you choose, I am sure you will end up with a delicious piece of succulent meat that you can serve up as a Sunday roast dinner or in whatever tasty invention you are planning.
We ate this on day two in pita bread and in some healthy Greek-style wraps. Absolutely wonderful!
Good luck trying this recipe. If you do try it, please let me know how you get on in the comments section below!
How to make pot roast leg of lamb