Pot-Roast Pheasant
This recipe shows you how to stove-top pot roast pheasant and how to serve it with shallots and caramelized apple pieces.
The recipe is based on a Delia Smith pot-roast pheasant recipe that I recently adapted to suit the ingredients that I had to hand. This recipe uses skinned pheasants.
This is a perfect winter recipe, as the shooting season for pheasants in the UK is between October and February. So as an alternative to a roast Turkey or Chicken, if you need something for Thanksgiving or Christmas, it is a perfect recipe. Two pheasants will feed four people well.
I was asked to cook this recently in October when one of my sisters turned up with a brace of pheasant from a shoot. The other sister provided the modified ingredients and Delia's very good recipe.
My Mum provided the kitchen and utensils, where these pictures were taken (on my phone).
How to prepare your pheasant
I had never cooked pheasant before I had cooked these ones. I have eaten them many times and enjoy the taste of the game bird enormously.
The taste differs depending on how long your pheasant has been hung. They say you should hang your pheasant for at least three days, depending on the temperature. You should hang the bird intact with innards from its neck.
The longer you hang them the gamier they will taste. The hens had been hung for about 3-4 days.
We decided to skin our pheasants before cooking them. I had never done this before either but was helped a lot by watching this video which showed me how to do it.
Delia, I believe, uses whole, plucked pheasants in her recipe, which hence includes the skin. This version of the recipe does not.
This original recipe reminds me of the well-known tongue twister:
I'm not a pheasant plucker, I'm a pheasant plucker's son,
But I'll be plucking pheasants till the pheasant plucker comes……
Try saying that quickly, after a few Brandies (and make sure there are no kiddies around!)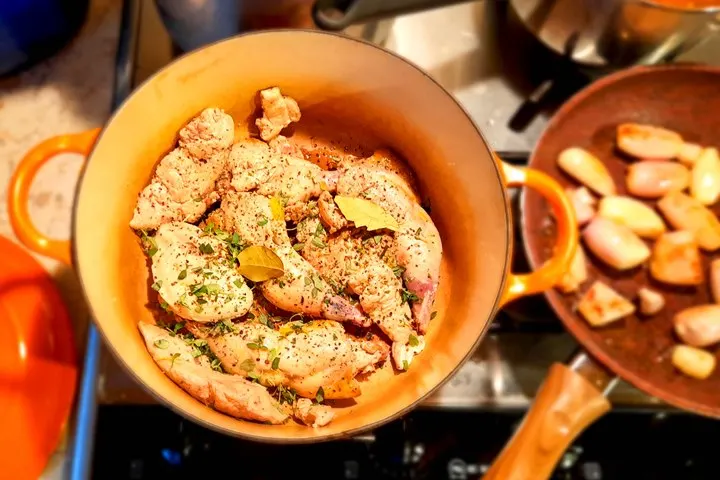 I believe it is easier to completely skin than to dry pluck the pheasant, which takes more time (I have no tongue twister for skinning a pheasant though!).
It is also easier to serve the pheasant up in pieces, rather than carving the bird later.
It only took us 5 minutes to skin each bird. After skinning you then remove the innards and clean the bird. We then separated the legs and breasts into manageable pieces that would fit into our casserole dish.
The meat of the legs was still on the bone.
Cooking with cider
Using cider as the main liquid for the braising of the bird is pure brilliance. It perfectly complements the taste of the meat and tenderizes it further during cooking. I used Brandy in this recipe, but Armagnac is also fine.
Delia uses Calvados in her recipe, which is an Apple Brandy only produced in Normandy. You may have some trouble procuring Calvados, depending on where you are.
But if you do not have any, do not fret, brandy does the job just fine. The cider will do its work with the apple taste as well as the caramelised apples.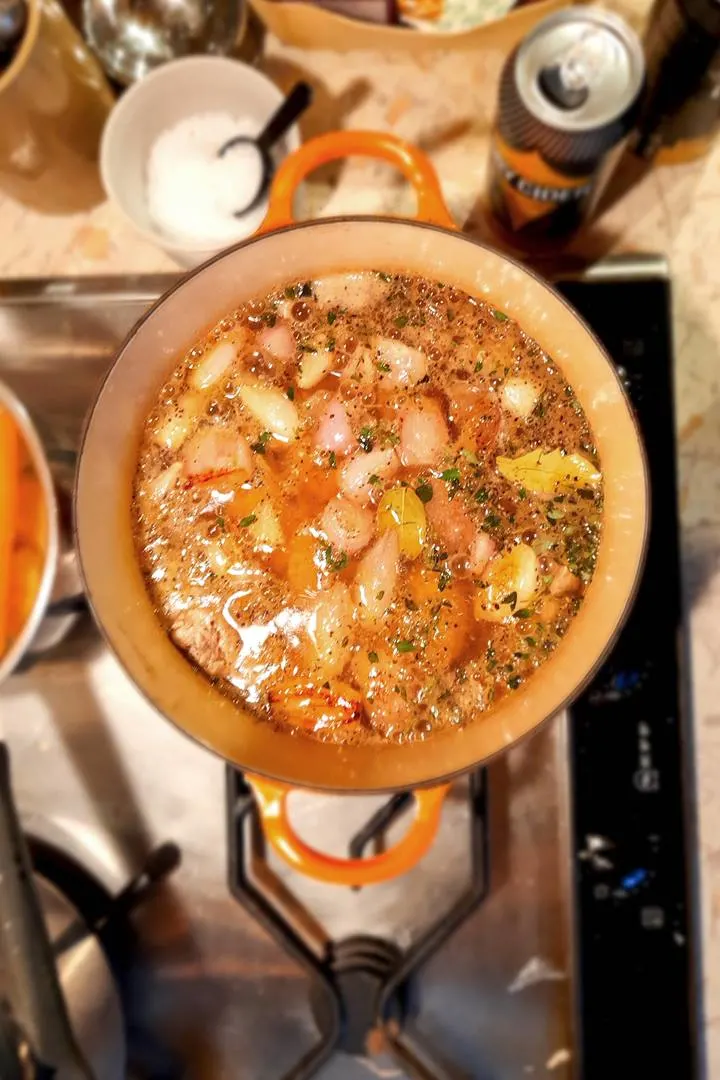 Recipe Pheasant Casserole
Once you have prepared this recipe it is easy to just let it simmer away on the hob, while you prepare the vegetables to go with it. I served up here with some simply boiled carrots, that I boiled together in the same pan as the potatoes for the mashed potato.
The sweet caramelized apples complement the taste of the pheasant perfectly and together with the shallots and cider gravy the combination is delicious.
There are many ways you can cook a pheasant, but this pot-roasted pheasant recipe casserole is a delight, and to be recommended if you can get your hands on a nice brace of pheasant.
If you need a good pot to cook this in, why not try Uno Casa? They have some great affordable cast iron casserole pots like this one below:
I hope you enjoy trying out this recipe. If you do, please let me know how you get on in the comments section below!
Hot to pot-roast pheasant
Some accompaniments:
And some other roast dinners for Christmas or Thanksgiving:
Or some other main dishes using apples: