Best Crispy Oven Roasted Potatoes Recipe
This post includes some tips to show you how to produce the best crispy oven-roasted potatoes ever!
Roasted potatoes are one of the most common accompaniments to a typical British Sunday dinner.
A Sunday roast is not a Sunday roast without some delicious roasted potatoes. The best crispy oven-roasted potatoes are crunchy on the outside and fluffy on the inside.
In Britain, we have an age-old tradition of having a roast meal on a Sunday. This might be a leg of lamb, a roast chicken, roast pork or a roast beef which is roasted in the oven.
Whatever the meat is, there is always something common amongst all of these meals, and that is the presence of crispy roast potatoes on the plate.
This is because the potatoes can be cooked along with the meat in the same oven, and maybe even in the same pan, depending on the size of your oven.
People have their own ways of making crispy roasted potatoes, and over the years I have tried many alternatives.
Now, however, I am a convert and will use the same method, and tools each time to obtain the tastiest 'roast tatties' you will ever have sampled.
This roast potatoes recipe will show you how to make roast potatoes crispy.
Potato variety
First of all, select your best local potato. I could go on here for pages about the different types available here in Ireland, but everywhere is different.
I like using 'Maris Pipers' as I can get them easily here, they taste great and they give a slightly rough surface after parboiling.
This helps to give a nice crunchy outer layer when roasted. Try and find a floury variety that will remain fluffy inside after roasting.
Anyway, with Maris Pipers I have found you cannot go wrong.
Follow the link for a bit more about Maris Pipers. You will probably have other varieties where you live.
The right equipment
Next, make sure you have the right baking tin to roast your potatoes in. I have tried all sorts of pans over the years, but I always come back to using my trusted Le Creuset cast iron roasting dish.
This equipment retains heat when it is removed from the oven and just browns and crisps the potatoes better. It may be heavier, but that also means it is pretty much indestructible (and the enamelled cast iron products come with a lifetime guarantee!)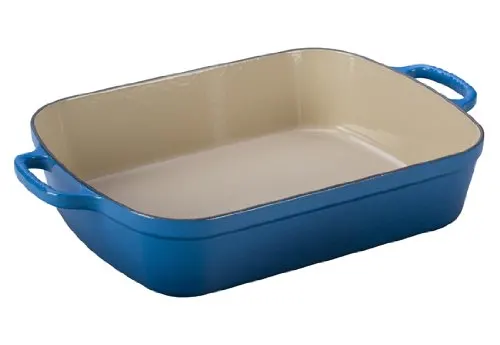 You may wish to cook your potatoes in the same pan as the meat, so that they take on the juices of the meat. But beware when cooking chicken as they do produce a large amount of fat when you roast them. Though this may taste wonderful, this is not so good for your arteries…..😃
And remember you may wish to retain some of the chicken juices for your gravy…..
Size is everything…
Then you need to make sure you cut the potatoes to the correct size. I have realised now that the key to good crispy roasted potatoes (roasties) every time is to cut them quite small (say about 5cm / 2 inches max.)
I used to cut them larger, but not only do they take longer to cook, but for some reason, they are harder to crisp up. The smaller they are the easier they crisp.
The best fat for oven roasted potatoes
The type of fat you use is also important to get the best taste in your roasted crispy potatoes. I like to use goose fat or duck fat, as it imparts a wonderful taste to the potatoes as it creates a crispy external layer.
But some people swear by beef dripping to make their roasties. It does also work well and gives a good taste. But I like to use beef dripping to make french fries.
You can also use vegetable oil or sunflower oil, but they will not taste quite as good.
The temperature of the oven for your roast potatoes
The final trick is to get the temperature right. This depends on many factors :
what is your roast meat?
is it in the same oven?
your roasting dish
the size of your potatoes
type of roasting fat etc.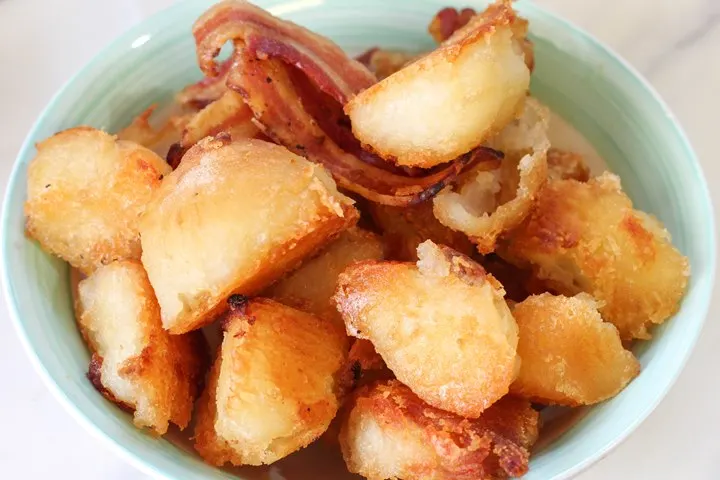 But you may need to vary this depending on these factors. You can always check how you are getting on by checking your potatoes in the oven and regularly basting and turning them.
I will normally jack the temperature up to about 200C at the end of the roasting process while the roast meat is resting before serving.
Make sure you serve these potatoes with some tasty gravy, and I guarantee they will all get eaten. All my kids love them!
You can find out how to make a gravy recipe in my roast chicken recipe.
Enjoy!
How to make Crispy Oven Roasted Potatoes
Roasties are obviously a perfect accompaniment for roast beef, pork, chicken or lamb:
Below you will find some other fine accompaniments for any roast dinner:
Hope you find some inspiration!