Goose Fat Yorkshire Pudding
This easy recipe gives you some traditional British Goose Fat Yorkshire puddings. These are a perfect side dish when served up with a traditional roast beef dinner or your Christmas lunch.
The trick to this recipe is to use a mix of vegetable oil and goose fat to create the 'Yorkies'. They are known as Yorkies in the UK.
The goose fat adds some extra taste to the Yorkies, and is a super ingredient. I also often use goose fat to make crispy roast potatoes, which are also an essential part of any roast dinner.
What is Yorkshire Pudding?
Yorkshire Pudding is a traditional side dish to any roast dinner.
Traditionally it is served mainly with roast beef, but you can also serve it with a roast chicken dinner if you like.
If you order a roast dinner in a British Pub on a Sunday, you are likely to get some Yorkshire pudding served up on your plate.
How it is served may differ. Sometimes Yorkshires are made in a large pudding bowl shape and cut into pieces. But more often they will be served in individual servings that come out of a muffin or cupcake-sized tray.
They are actually a very simple dish. You make a simple batter with three basic ingredients and then cause it to rise in fat under a high temperature in the oven.
The batter is also used in other traditional British dishes like toad in the hole. In toad in the hole, it is used to surround some tasty sausages.
Using Goose Fat for your Yorkshire Puddings
I think that it is actually quite unusual to use goose fat to make Yorkshire Puddings.
This is because the smoking temperature of goose fat (190C) is lower than that of vegetable oil (220C). People generally try to cook Yorkshire Puddings at the highest temperature they can in their ovens, so as to get the oil nice and hot. This produces the crispiest Yorkies.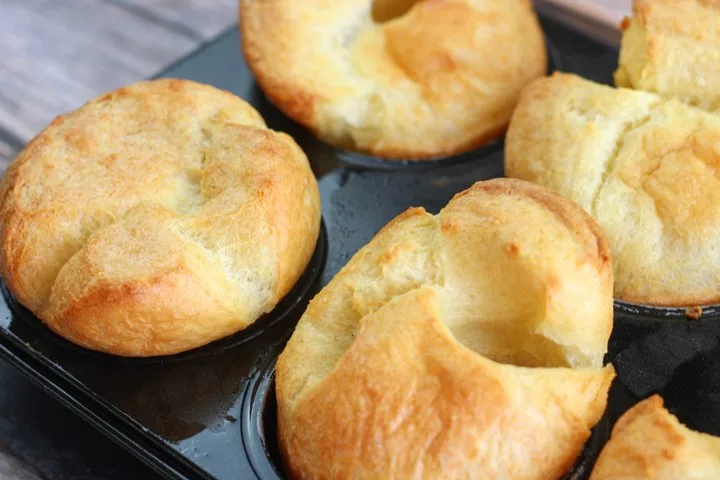 However, I find that when I am cooking a roast dinner, I will never have the oven at 220C for the meat. I am not even sure that my oven even reaches that temperature! So I just find it easier to cook the Yorkshires at a slightly lower temperature in a mix of goose fat and vegetable oil, while I am still cooking the meat.
Then if need be I can still crank up the temperature to finish off the Yorkshires and the roast potatoes in the last 10 minutes while the meat is resting. By that time the goose fat has been absorbed into the batter and will no longer smoke.
The mix of goose fat and vegetable oil helps to stop the goose fat from smoking at higher temperatures. It also gives the advantage that some of the delicious goose fat taste is added to the Yorkies. And of course, if you do not have goose fat, you can also use duck fat to bake your Yorkies.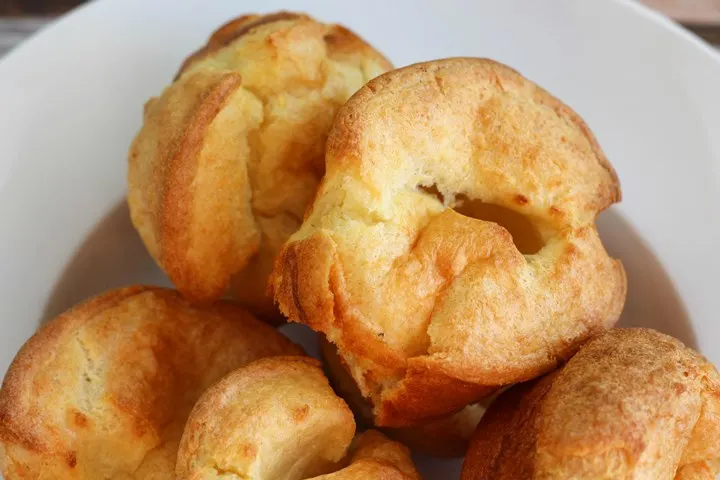 Which tin to use for Goose Fat Yorkshire Puddings?
I have tried making Yorkshire puddings in both a silicone muffin tray and a metal one. I found the results were slightly better with the metal tray.
Firstly I found that the metal tray was just easier to handle in and out of the oven. And secondly, it seemed to retain the temperature better and made for a crispier Yorkshire Pudding.
So if you have a metal one, try using that first and see how you get on. Non-stick is also definitely an advantage as otherwise, they will stick, so make sure you grease the tin well with your oils.
If you want to make one large Yorkshire pudding then I would try and find a metal dish that just fits the size you want to make. Then make a quantity of batter to suit.
Here you can see what happens if your oven temperature distribution is not equal front to back, like mine is:
The trick is then to turn the muffin tin now and again. I was too late with these!
Good luck making your Yorkies, I hope they all turn out well.
If you do, please let me know how you get on in the comments section below!
How to make the best Yorkshire Puddings