Vegan Smashed Potatoes
This easy recipe gives you some delicious vegan smashed potatoes. A super side dish that you can serve up with all kinds of main course.
This is such an easy recipe, and the fact that it is actually vegan is an added bonus for those of you eating a plant-based diet.
These crushed spuds are really tasty and a great accompaniment to all sorts of food, vegetarian or not.
Which potatoes to use for smashed potatoes?
I used some small new potatoes in these photos to make these smashed potatoes. Really you need to use potatoes where you are happy to eat the skin, and which will keep their shape when boiled, but will spread out when you crush them, without collapsing.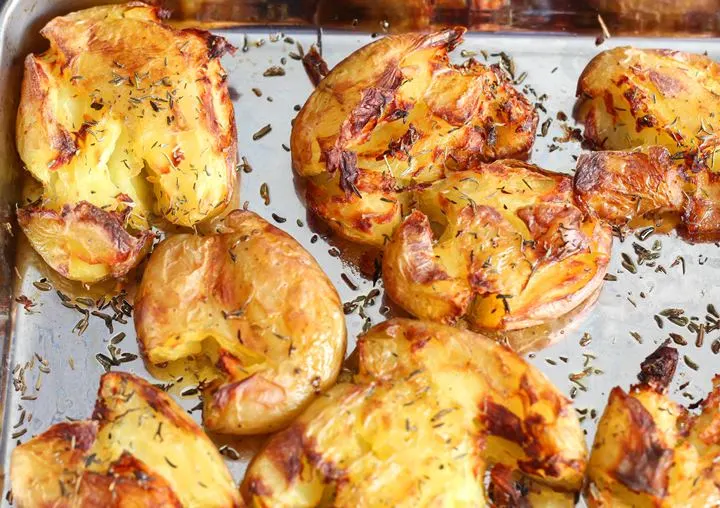 But you should always check the skin for damage and get rid of any eyes or sprouts you may see.
New or baby potatoes are perfect for this recipe. But you could also use fingerling potatoes, for example, and make some smashed fingerling potatoes using precisely the same process.
Smashing them and then adding the olive oil, salt and thyme allow the potatoes to absorb the other ingredients, which enhances the taste.
And the fact that they are then baked to crunchy perfection makes them a perfect side dish.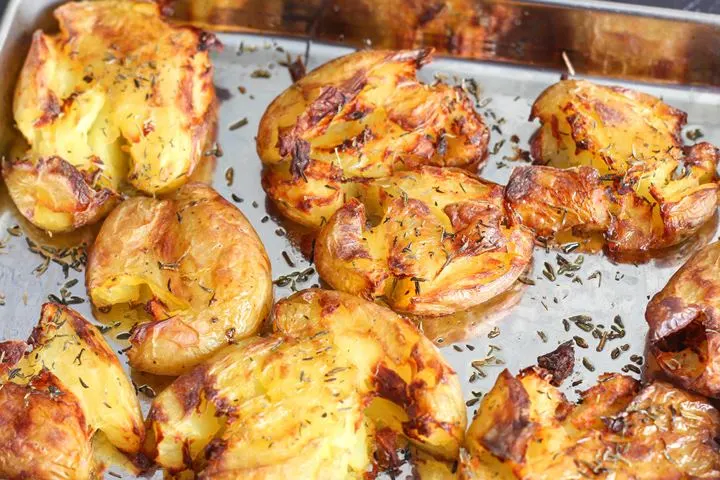 Air fryer smashed potatoes
This recipe calls for the potatoes to be cooked in the oven. But the reason for this was that I ate these potatoes with some roast chicken which I was also cooking in the oven, so it was easy to do.
I have since made them in our New Wave oven (shown below) which also worked a treat.
You can also make these smashed potatoes in the air fryer, which is quicker and gives you some even crispier smashed potatoes.
I hope you enjoy trying this easy and satisfying recipe. If you do, please let me know how you get on in the comments section below!
How to make Vegan Smashed Potatoes