Roasted Breaded Cauliflower
This baked breaded cauliflower recipe is, I think, one of the best ways to eat cauliflower.
The butter, parmesan and garlic add all the flavours to perfectly complement the taste of the cauliflower. You do not need any salt and pepper. They also give a lovely crunchy exterior.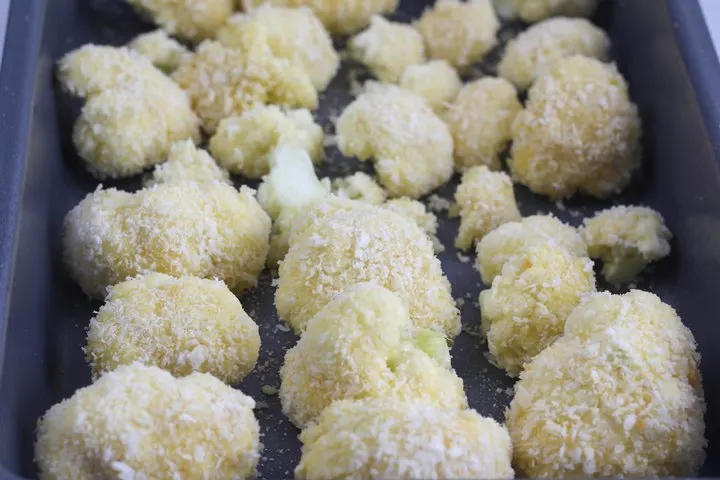 It only takes about 5-10 minutes to prepare and is perfect to cook together with your roast dinner as you can add it to the oven at the appropriate time in the cooking cycle.
Panko Crusted Cauliflower
In this recipe, I like to use Panko breadcrumbs as they are crispy and light and do give the crispiness you want on the outside of the floret head, without absorbing all of the butter.
Much of the butter stays in the head of the cauliflower, giving it a great taste and helping to cook it thoroughly. I think using butter is better than trying to make this with olive oil.
However, I suppose you could always use other breadcrumbs if you cannot get the Panko type. It may look and taste a bit different though, and the cauliflower bites may not be as light.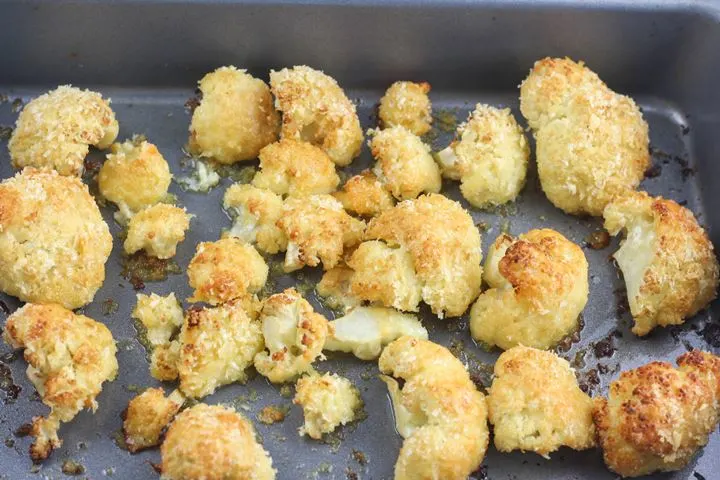 Roasted Breaded Cauliflower with Parmesan and Garlic
I think the taste of the roasted cauliflower florets, together with the butter, parmesan and garlic combination is perfect.
This dish is, therefore, a super lighter alternative to a cauliflower cheese side as an accompaniment to a roast dinner.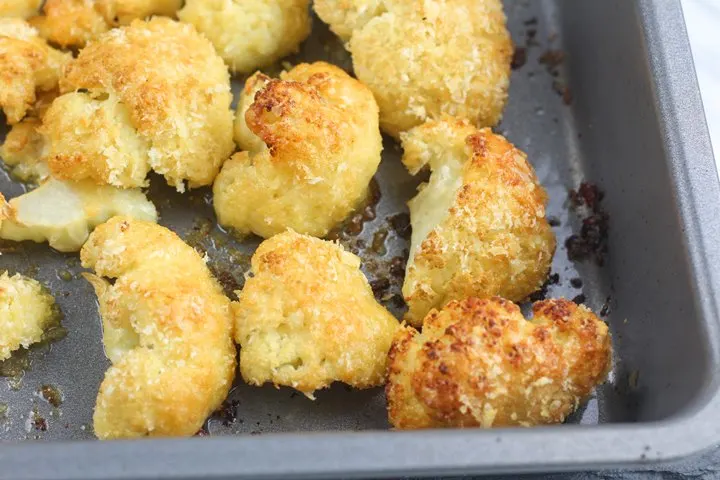 We munched our way through the entire crispy cauliflower between the three of us when I made these photographs, together with a delicious piece of baked ham and some baked potatoes.
It was a lovely roast meal, all cooked in the oven with minimum preparation. Very easy and super tasty – the family loved it.
This cauliflower recipe is now definitely a firm family favourite in our household and I strongly recommend you try it as soon as you can. You will not regret it.
If you do try to make this, please let me know how you get on in the comments section below!
How to make crispy baked cauliflower