Pork Rack and Crackling
This easy pork recipe will show you how to cook a roast rack of pork and make the crispiest, crunchiest crackling.
For these photos, I used a Frenched pork rack that weighed about 1.6 kg from our local butcher, Kelly's, with the pork rind still attached.
What is a rack of pork?
Well, as the name rather suggests, a rack of pork is a cut of pork with the bone still in it. It is also known as a pork rib roast and comes from the rib area of the loin, making it quite tender and tasty.
The piece I had was already 'Frenched', meaning that the meat had been cut away from the bone, exposing the ribs. It was quite a small joint, but more than enough for the three of us.
My butcher told me this cut had come from quite close to the shoulder area of the pig.
In some ways, it is the pork equivalent of a rack of lamb or a beef rack.
The joint I bought had a thick rind of skin on it, which was just what I wanted as I was itching to make some delicious crackling.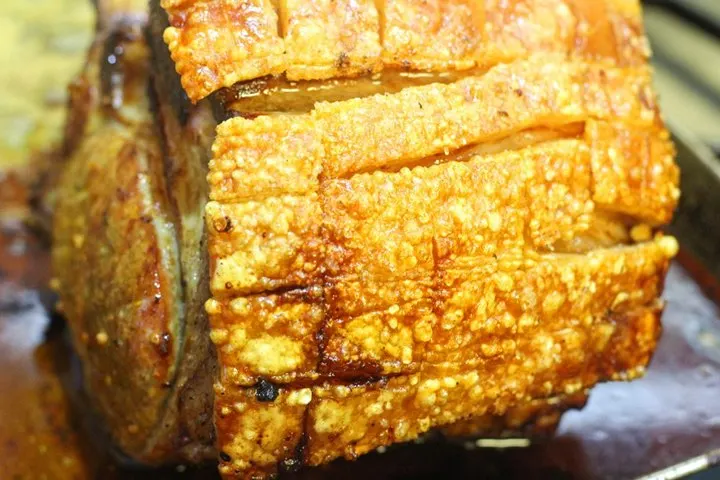 Tricks to making the perfect crackling
I suddenly realised that I had not had any pork crackling for several years. I used to love my Mum's crispy crackling that we would all fight over when we were little.
We were lucky if any crackling ever got to the dinner table the way it would be pinched from the serving plate!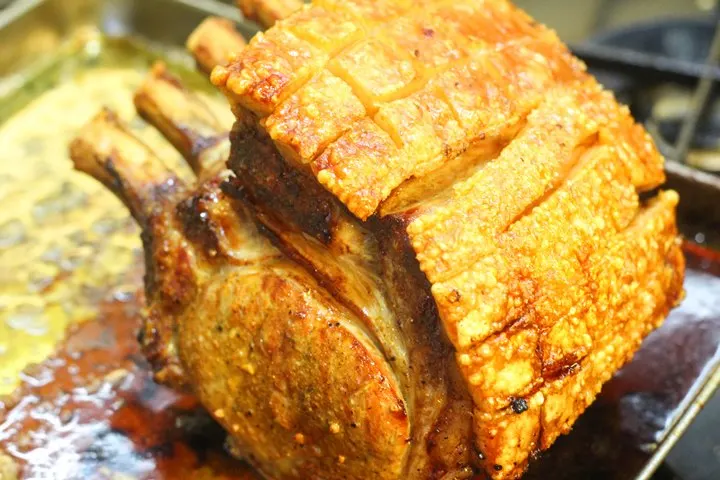 Crackling is the pig rind and layer of fat attached to it, that has been heated at high temperature so that the fat is rendered away and you are left with crispy pork crackling.
The crackling should be hard and crunchy and such that it breaks under your teeth, which is why it is called crackling I suppose. If it is still elastic or bendy it has not been cooked properly. Be careful it does not break your teeth though!
Perfect crackling should look something like this:
Hard, crunchy, brittle, salty and absolutely delicious.
There are a few simple tricks to making the perfect crackling crispy.
Tips to make crunchy pork crackling
Score lines in the rind so that the fat renders properly and can flow onto your baking sheet.
Make sure the skin is dry before you cook it and the meat is at room temperature.
Rub the skin with olive oil and salt before cooking.
Cook the joint skin side up.
Cook at a very high heat when you start cooking to render the fat and ensure the skin blisters.
Do not cover the crackling in the oven or it may get rubbery.
If when you have cooked the meat and the crackling is not yet crisp, then remove it from the meat and cook separately in the oven or under the grill on your highest heat until crisp, watching to make sure it does not burn.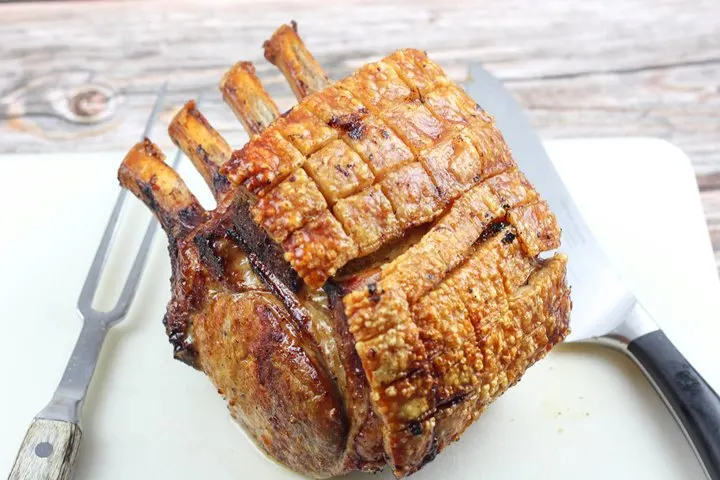 How long to cook rack of pork
Well, this depends on several factors, like the temperature gradient and consistency of your oven, the cut of meat, and how you want your meat done.
Some people cook pork for 20 minutes per pound, but this depends on all of the above. For example, a cut of meat with the crackling rind still on it will take longer to cook than without. And the fat will baste the meat nicely.
The length of the roast rack of pork joint will also affect the cooking time for example. Some people say to cook for 1 minute per mm of length. In this case, I found that to be fairly accurate. I cooked a 130mm long joint for about 130 minutes in total and it was perfect.
We like to have pork well cooked – we do not like to eat pink pork meat. The recommendation by the USDA is that pork should be heated to an internal temperature of about 63C (145F) to make it safe to eat. But I tend to cook the meat to at least 68C (155F). This ensures that it is properly cooked, and still moist and tender.
In this case for a 1,6 kg rack of pork joint, it worked out at about 35 minutes per pound (with different temperatures).
My recommendation would be to keep an eye on the internal temperature of the meat. Use a meat thermometer, and the above guidelines to make sure you get it right.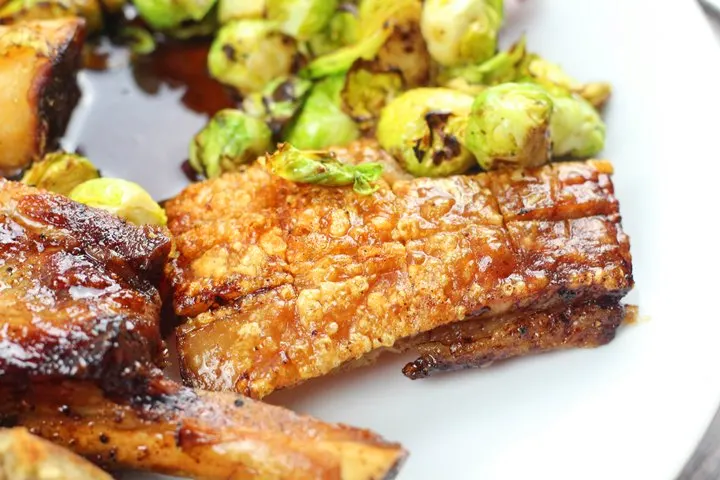 What to serve with rack of pork?
Well, as with any roast dinner, there are some essentials I would say.
A rich gravy is obviously essential to go with your roast potatoes (some tips in the recipe card below).
Here I served the roast pork and crackling with some sauteed Brussel sprouts, some baked carrots and honey roasted parsnips that can cook in the oven with the roast and the potatoes, and some orange and cranberry stuffing. What a treat!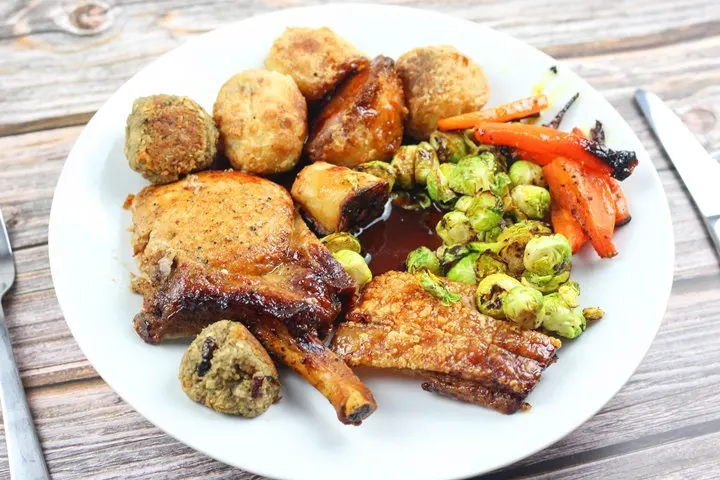 Good luck cooking your first roast rack or pork and crackling. I hope it works out well.
If you do try this recipe, please let me know how you get on in the comments section below!
How to cook a rack of pork in the oven