Irish Rib Roast on the Bone
This blog post shows you how to cook an Irish Rib Roast on the bone. This cut is also sometimes also known as a Prime Rib or a standing rib roast.
This is a very tender cut of beef from between the 6th and 12th rib of the animal. It has a certain amount of marbling which improves the flavour, especially when roasted in the oven. And it really is VERY tasty!
The term "prime" refers to the grade of the beef, with prime being the highest grade and indicating that the meat is from younger cattle and has abundant marbling. However, not all prime rib is necessarily graded as prime.
Rib roast or prime rib is a perfect cut to serve as an alternative to Turkey at Christmas or Thanksgiving if you are looking for something different.
We actually ate Irish Rib roast last year for our Christmas dinner. It is now one of my favourite beef recipes.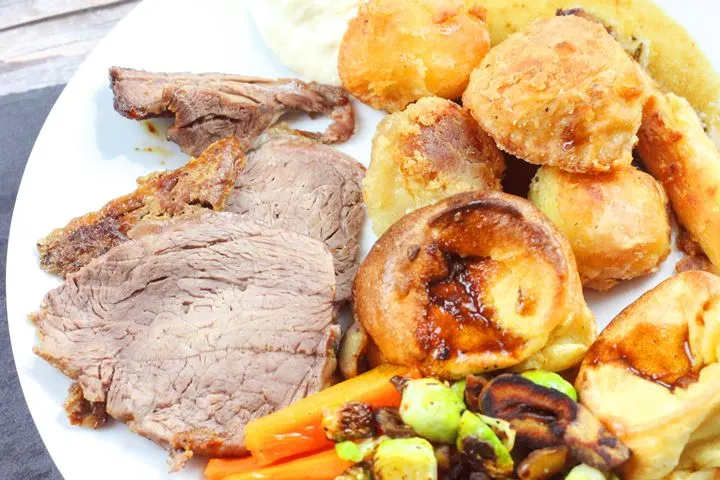 And of course, if you are looking to do it properly, you should serve it up with some good old Yorkshire Puddings and gravy! But more on the trimmings later on.
How to cook a rib of beef
The cooking times depend of course on how you want your rib roast to end up; rare, medium or well done.
We bought our Irish Rib roast from Aldi, bought along the Wild Atlantic Way in the West of Ireland.
It was actually a Bord Bia-approved Irish Black Angus Beef rib roast on the bone and came looking like this: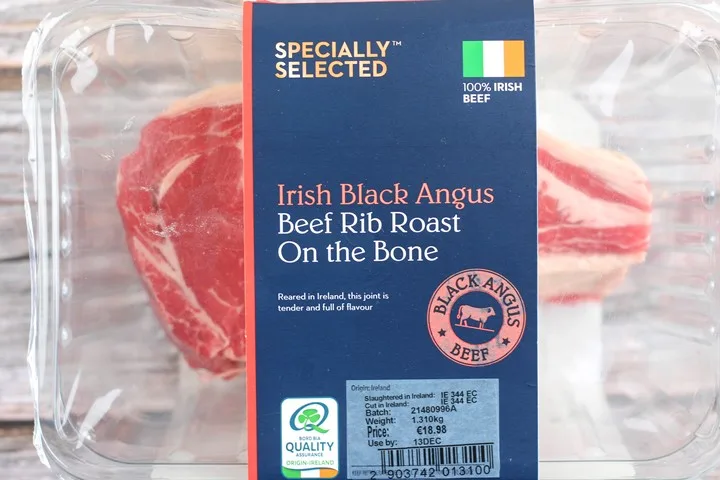 This was one we tried out a bit before Xmas, and decided it was SO good we would have it again on Xmas day instead of the standard roast Turkey!
It was big enough to feed the three of us for two days and we had some delicious roast beef sandwiches on day two.
Prime rib cooking times
The cooking times for prime rib as recommended by Aldi were as follows:
Rare: 20 minutes per 500g plus an extra 20 minutes
Medium: 25 minutes per 500g plus an extra 25 minutes
Well Done: 30 minutes per 500g plus an extra 30 minutes
But I found in practice that the times stated above were perhaps a little bit more than necessary in my oven. This was, for example, the one I made before Xmas using the medium times above:
For me, this could have been a little bit redder inside. So on Christmas day I used the 'rare' times above and this was the result (excuse the poor carving marks – it was Christmas day and we start early!!):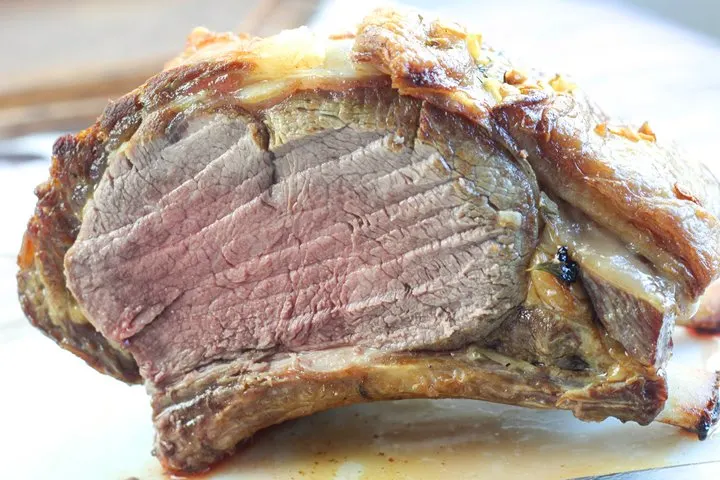 As you can see, a lot pinker inside, but I would still call this more medium-rare, than rare. Still, both were delicious and extremely tender.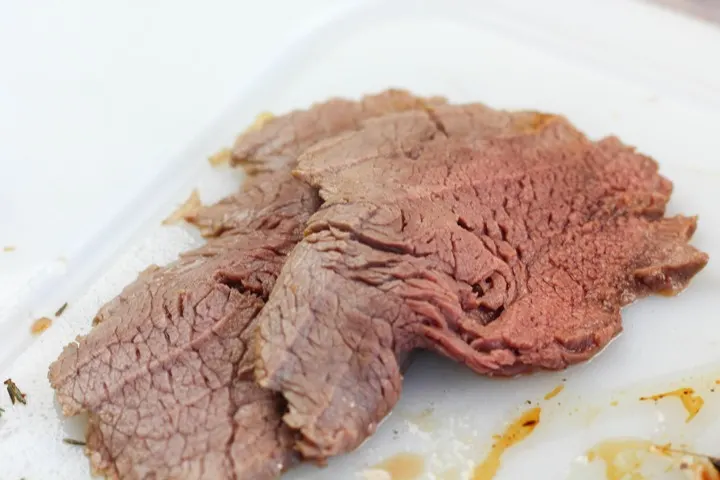 Of course, the difference could also be down to the variation in my own oven temperature. My oven is not entirely even and accurate and something you may also need to take into account.
Another way of checking is by measuring the temperature of the meat with a meat thermometer to achieve what you want. This temperature guide for roasting meat can give you an indication of what temperatures you need to look for when you remove the meat from the oven.
You need to be aware that the temperature of the meat will rise while it is resting, so do not leave it too long before you remove it from the oven to avoid overcooking it.
Maybe using a combination of both is the way to get the result you want in your own oven.
What to serve with rib roast
You can of course serve a rib roast or standing rib roast with all sorts of vegetable trimmings.
But there are a number of veggies that I always serve with a roast dinner, whether it is chicken, turkey, beef or lamb.
These vegetables are my crispy roast potatoes, honey roasted parsnips and my baked garlic carrots recipes. The reason is that these will all cook in the oven with the meat and all with minimum fuss. And of course, a tasty beef gravy or Irish Whiskey gravy is a must.
And in the UK roast beef should never be without its Yorkshire Pudding, and we find that some delicious Brussels Sprouts sauteed with chestnuts is also a superlative side dish.
So this is what my Christmas dinner plate looked like last year, before I added some Horseradish to the side of my plate: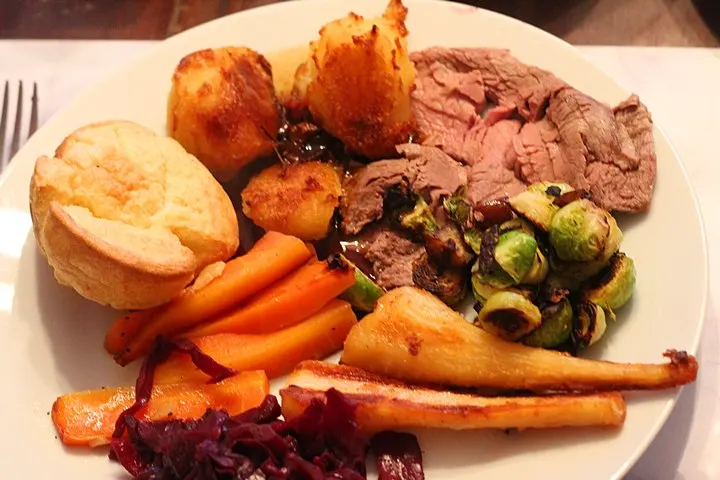 But some cauliflower cheese, pan-fried asparagus or tender stem broccoli also all go very well with this delicious dish.
I hope you enjoy trying this easy recipe and appreciate it as much as we did. If you do please let us know how you get on in the comments section below!
Enjoy!
How to cook Irish rib roast on the bone
Some side dishes to accompany your Prime Rib: