Baked Carrots with garlic in the oven
This is a very simple baked carrots with garlic recipe that takes no time to prepare and you do not have to watch it while it is cooking.
You can cook it in the oven along with your Sunday roast or Christmas or Thanksgiving Turkey, for which it is the perfect accompaniment.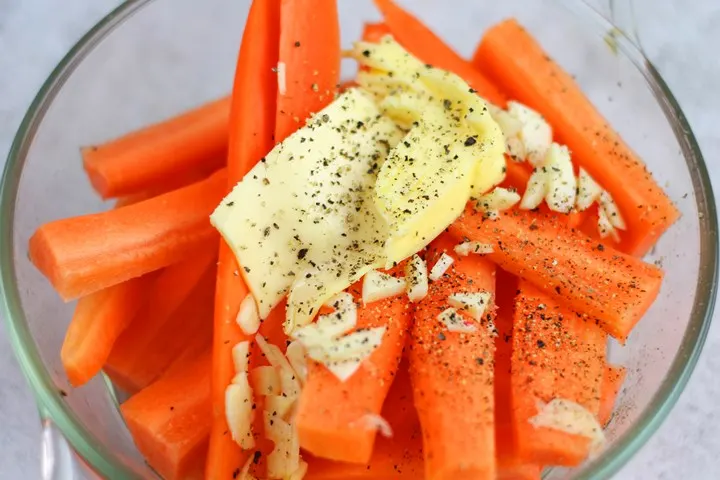 Steamed carrots in the oven with garlic and butter
I think this is one of the best ways to make oven-roasted carrots. Although in effect they are actually steamed carrots in butter and garlic.
With some other roasted carrots recipes, you can easily dry the carrots out if you do not watch them and take them out of the oven in time.
How long do you steam carrots?
This recipe calls for cooking the carrots for about an hour in the oven. But of course, how long it takes depends on how you are going to steam them. For example, if you were going to make the same recipe in an Instant Pot or in the microwave, it would be much quicker to steam your carrots.
But this cooked carrots recipe is based on cooking in the oven, because you already have your oven hot for your roast dinner (I always make these with a roast). And I have found that, generally speaking, if you ever go over the specified cooking time of an hour, even going up to 2 hours, the carrots do not seem to burn.
The combination of garlic, butter and steaming gives the carrots a nice sweet taste. Also, the carrots soften up during the process, making them easier to eat. The longer you cook them, the softer they get. Even my kids will eat them now, and they are fussy!
I think carrots are an essential part of the Sunday roast and have tried all sorts of carrot recipes. But this is still for me the easiest and the best as it is tasty and requires almost zero work.
Types of carrot
There are lots of different types of carrots and what you can get will vary in the country you happen to live in. These days there are some pretty colourful varieties available. See this link on local carrot varieties for some ideas.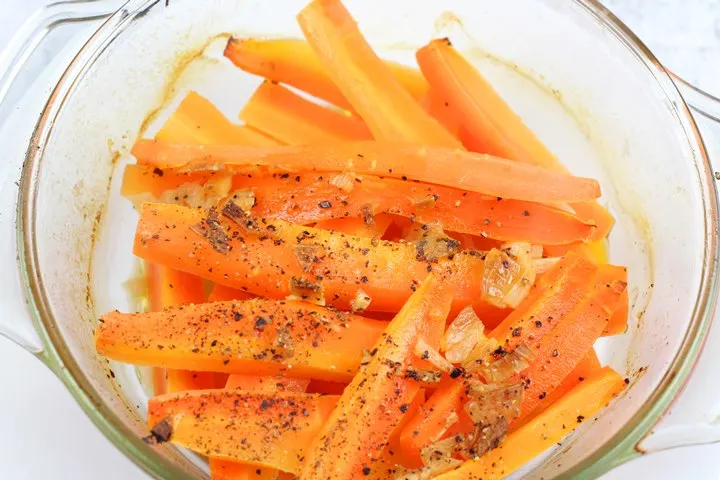 Here I have just used some locally available organic carrots that I sliced to suit my dish. But I suppose you can cook most carrot types in this way.
The best way to steam carrots in the oven
I use a glass Pyrex dish to make this dish as it is exactly the right size for the quantities I normally make.
I also like the fact that I can see what is going on inside the dish. Also, the lid on a Pyrex dish seals perfectly, meaning all the goodness is retained in the carrots.
But you may find another make of dish is more available where you live. The important thing is that the lid is tight-fitting to retain all the juices.
You could also make this dish in suitable ceramic cookware, for example. These guys at Xtrema make some good stuff!
In my family, everyone loves these carrots and they complement a roast dinner perfectly.
If there are any leftovers you can always use them in a fried rice or a stir-fried noodle dish the next day. And if you have leftovers from the entire roast dinner then why not try my leftover pie recipe?
I hope you enjoy making these oven steamed carrots. If you do, please let me know how you get on in the comments section below!
How to make the best oven-cooked steamed carrots