Instant Pot Potato Leek Soup
This post gives you an easy recipe for Instant Pot Potato Leek soup.
This soup is also known as Vichysoisse when eaten cold. This was the first food ever to inspire the late American chef Anthony Bourdain, according to his book Kitchen Confidential.
Instant Pot Vichysoisse
I decided to make this soup in the Instant Pot as it just seemed the logical thing to do, as I would only need the single pot to make it.
The Instant Pot does make it easy as you can sauté and pressure cook in the same pot, and this recipe calls for some of the ingredients to be sautéed before the cooking in stock.
The Instant Pot really is a great invention. If you do not already have one, I do recommend that you consider purchasing one. They are great for speeding up meals as well as making pressure cooking a bit safer as well. I list some other Instant Pot recipes at the end of this post.
You could of course also just boil these ingredients on the hob or in a slow cooker, but it would just take a little bit longer. You just need to cook until all the ingredients are properly cooked.
Vickysoisse is the soup that Anthony Bourdain first tasted on a Cunard liner on a trip to France as a kid, which he recalled as being such a shock to find a soup that was 'cold', and yet the 'first food he enjoyed, and remembered enjoying'.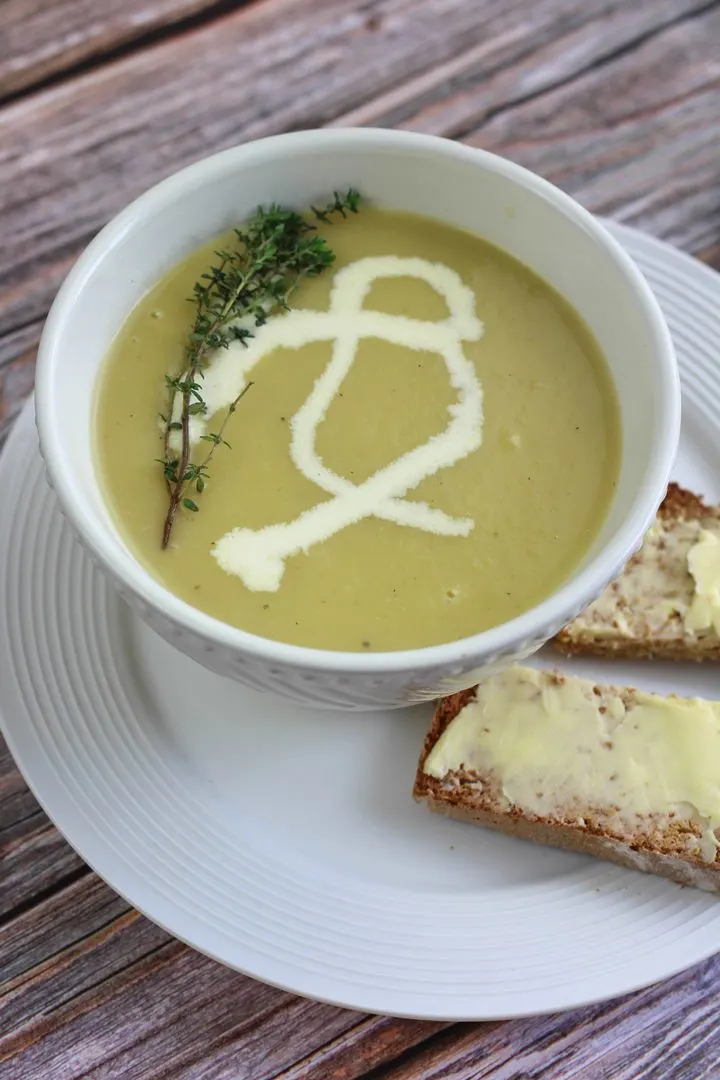 The thought of eating soup cold is not something I thought I would enjoy. But I found this soup much tastier cold than hot.
The creamy taste of the potatoes and leeks really does come out well, just as Bourdain described in his book.
How to make real chicken stock
In this recipe I used real chicken stock in the recipe, as opposed to an OXO cube. I made the stock from the remains of our roast chicken Sunday dinner.
I boiled the chicken bones and the meat that was still on the bone in a pan of water with a bay leaf and an onion, for about 3 hours. All the goodness from the chicken is absorbed into the stock.
I then sieved out the liquid and stored it in the fridge overnight until I needed to use it in this recipe.
Any signs of fat in the liquid that had floated to the top, I removed with a lapel before use. There was not much, as most of it had been rendered during the roasting of the chicken, or gone into the gravy.
I think using real fresh chicken broth definitely added to the tastiness of this dish.
But if you wanted to make a vegetarian potato and leek soup, you just replace the chicken stock with some vegetable stock.
And if you wish to make a vegan potato and leek soup then sauté in vegetable oil instead of butter and avoid the cream, of course.
Potatoes and leeks have always gone well together, and I hope you enjoy trying out this recipe.
If you do, then please let me know how you get on in the comments section below!
And don't forget to try it out when cold!
Enjoy!
How to make Instant Pot Potato Leek Soup
And here are some other soup recipes to try: