Instant Pot Chicken Biryani
In our family we all love eating Indian food. As we have recently acquired an Instant Pot we decided we had to try and use it to make a chicken biryani. This post will describe the process and the method we used to make an Instant Pot Chicken Biryani.
What is Biryani?
Biryani is a mixed rice dish that originated in India. It is now eaten in several other countries in the far east. The meat may be chicken, goat, beef, lamb, fish or prawns so there are clearly many different variations to imagine.
This link will tell you more about the different types of biryani and their origins and varieties.
Instant Pot or Pressure cooker Biryani?
What is the best way to cook biryani? Well, really I do not think it matters that much. It is more down to which cooking methods you have at your disposal. We are now lucky enough to have the instant pot that is quick and efficient.
Traditionally people would use a pressure cooker to speed up the cooking on the hob, if you did not want to slow cook the meal.
As the Instant Pot pressure cooker has the ability to slow cook, saute, or pressure cook it seemed a shame not to try the pressure cook function and see how quickly we could actually cook this meal, considering much of the preparation can be done beforehand.
I could also have cooked it on the slow cook function, which would have given a similar result.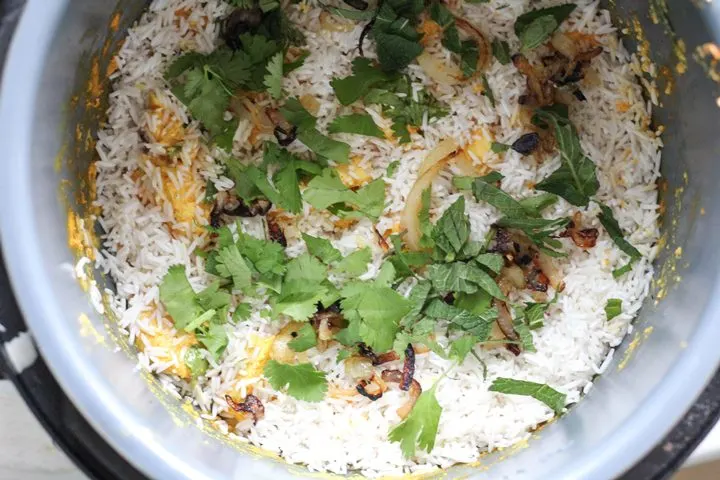 I would say that this attempt was very successful and produced the meal in a very short time. Also, the kitchen smelled like a real curry house afterwards!
I am beginning to love my Instant Pot!
What are the main Biryani Ingredients?
Firstly, of course, there is the meat. Often chicken thighs are used in a chicken biryani recipe. But I chose to use chicken breast as it cooks a bit quicker when cut into chunks and is easy to marinade.
You could, of course, also choose any other type of meat, as mentioned earlier.
This instant pot biryani recipe does call for a variety of spices, some of which you may or may not have in your pantry.
As we often cook spicy food, most of the spices we already had, but I did buy a few new ones just to see how close I could get to an authentic biryani.
So the basic ingredients we have in our pantry anyway were: natural full yoghurt, ginger paste, garlic paste, turmeric, chillis, lemon juice, onion, hot red chilli powder, basmati rice, ghee, coriander leaves, mint leaves, cinnamon, cloves, cardamom pods, bay leaves, cumin seeds, salt, milk and saffron.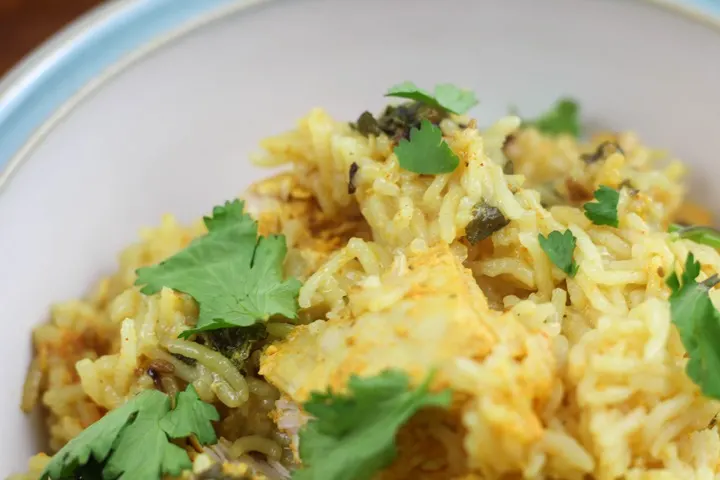 The only ingredients I had to buy especially were biryani masala powder, green cardamom powder and star anise. But I suppose I could probably have replaced these with garam masala, ground cardamoms and fennel seeds if necessary.
What to do with the whole spices after cooking?
If you were to make biryani in the traditional way you would partially cook the rice before adding to the pot to finish off. You can then more easily remove the spices used to cook the rice like the cinnamon, cloves, cardamoms and star anise, when you sieve the rice.
However, in this method everything is thrown into the instant pot together, so you are left with these whole spices in the food. Really it is up to you whether you want to fish them out.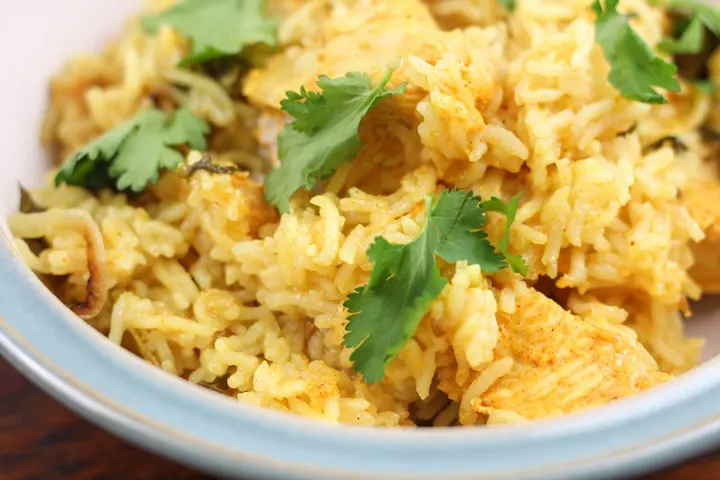 My wife hates biting into cloves and cardamoms, so I tend to pick them out before serving. But believe me, you will want them in there when cooking, for the aroma and taste that is imparted to the rice.
Let me know how you get on in the comments section below. Any improvement suggestions are welcome.
How to Make Instant Pot Biryani Chicken