Homemade Mushroom Soup.
This homemade healthy cream of mushroom soup will make you fall in love with soups again. In the winter time there is nothing quite like a good soup to warm you up.
In the good old days you could warm up a tin of Campbell's cream of mushroom soup and you would be fine. You still can.
But we all know that tinned soups are NEVER as good as the real thing, made with fresh vegetables.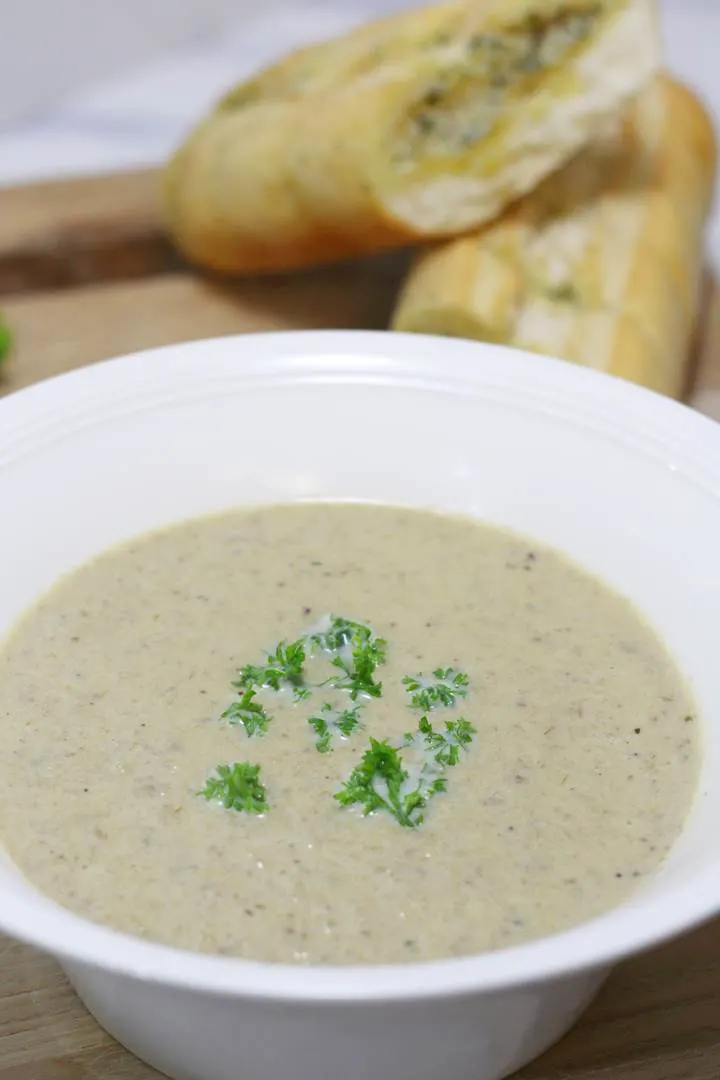 Many countries have their own national soups. In Holland, where I lived for 30 years, they have 'snert'. This is the name of their famous Dutch Pea Soup (Erwtensoup) which is traditionally served when everyone is out skating on the natural ice.
Snert is a soup made from split peas, potatoes and vegetables and sausage. It can be good, very good. But it can also be awful (I once got food poisoning from a bad batch of the stuff at work and was badly ill for a week).
During the ice-skating season, it is traditionally served together with hot chocolate (snert en warme chocolademelk).
But honestly, what a combination?! 😃 It does keep you warm though.
Anyway back to the main subject of this post:
Healthy Mushroom Soup
In the British Isles, we like a bowl of good homemade mushroom soup.
I have been dying to make this again since my late Dad had some at the Dorset Arms in Withyham, UK in this fantastic old pub that serves wonderful food. It just looked so wholesome and earthy, and tasted wonderful.
This basic cream of mushroom soup recipe is a very simple one using button mushrooms. But really you can use any type of mushroom for this soup, depending on what you can get locally and cheaply.
Cremini, shiitake or Portobello mushrooms are also fine. In fact, try mixing them together for an even more intense taste experience.
Here is one I made using a mix of different types of mushrooms and leaving out the cream. Slightly darker and more wholesome. It was fantastic, and very filling! Served with some buttered Irish bread – delicious!
Lumpy soups? Yes or No?
Some people like to present their mushroom soups with chopped and cooked mushrooms floating in them.
I think this is wrong. I do not think that soups should be too lumpy and full of big bits of food like snert. (In Holland you cannot even get a basic tomato soup without meatballs in it!)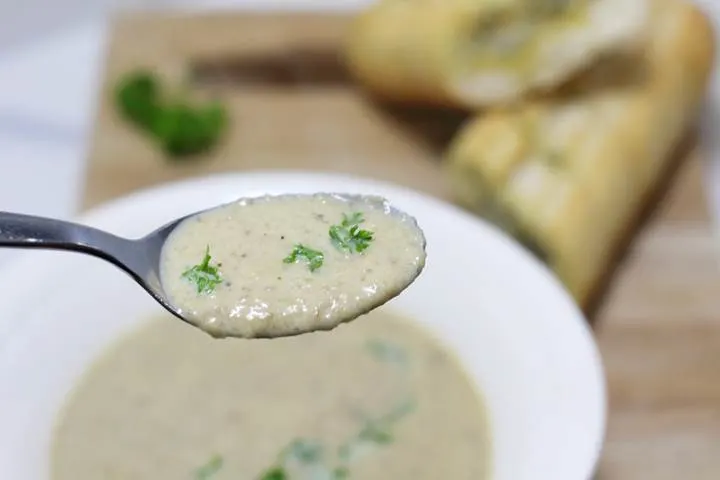 I think vegetable soups should be smooth and creamy. And that is just what this creamy mushroom soup is.
This is a simple homemade cream of mushroom soup that is ready in about 30 minutes. It should be served with the best fresh wholesome bread you can find. Try some Irish Wheaten bread. Garlic bread is also a good accompaniment.
If you want to make it a healthy vegan mushroom soup, then just leave out the butter and cream.
I hope you enjoy it as much as we did.
My wife says she does not like mushroom soup. But she finished this one off and at her request, we have had this several times since!!!!
If you try this recipe, let me know how you get on in the comments section below!
How to make homemade cream of mushroom soup
If you enjoyed this recipe, you may also enjoy these: