French Crème Brûlée
This easy recipe is for a delicious French crème brûlée dessert. Crème brûlée is a traditional French dessert consisting of a delicious rich vanilla flavoured custard with a brittle caramelized sugar topping.
There appears to be some discussion as to the origins of crème brûlée, with the French, British, and Spanish all claiming some role in its invention.
But let's face it, it is so good, like a French Chocolate Mousse, it has to be French! And why else would it be called 'crème brûlée', one wonders, meaning 'burnt cream' in French?
Having said that it is also known as Trinity Cream (Trinity College Cambridge) and Crema Catalana, so who really knows?
Although I have never actually knowingly tried a Trinity Cream I assume it is similar to this recipe.
But recently I was super surprised when I ordered a Crème Catalana in a good restaurant in Portugal. It looked the same as a Crème Brûlée, but the cream was actually iced, like ice cream. It was very tasty, but I was just not expecting it to be like that.
So you may find this dessert with several varieties, with flavoured creme brulee, like passion fruit, lemon or caramel for example – and they are all good. But this original recipe, with a vanilla-flavoured custard, is just the true classic.
Crème Brûlée
Crème brûlée is made unique by the layer of hard brittle caramelized sugar that coats it. Indeed it is one of Amélie's small pleasures (from the wonderful French film Amélie, from 2001) – 'to break the top of the crème brûlée with the tip of your teaspoon'.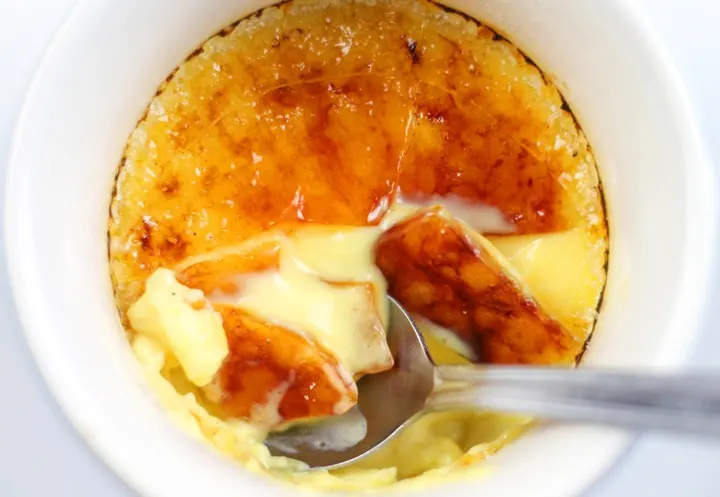 While the custard is relatively easy to make, the art is in the creation of the sugary top. It is possible to create this under a grill, but you have to keep a good eye on it to stop it burning. Finishing under the grill may also heat up your custard too much, which you do not want to do.
The best way to caramelize the sugar, and the most common, is to use a kitchen blow torch. These butane-fueled items are relatively cheap to buy and have the advantage of concentrating the heat where you need it.
A kitchen blow torch is also a great present for someone who does not have one already in their kitchen. (I had to buy my own!!)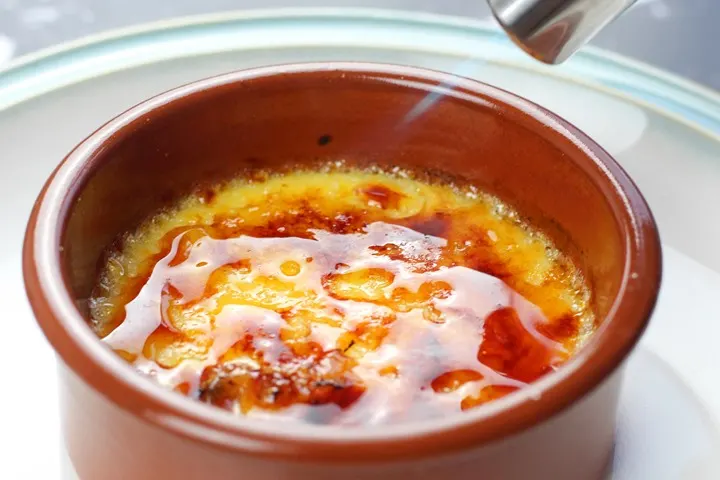 Torching Creme Brulee
I find the best way to melt the sugar is to move around in circles, using a butane kitchen torch on fairly high heat, but not too close to the sugar.
Then the sugar starts to melt in droplets that slowly get bigger and melt into the droplets next to them, forming a golden melted layer as you can see in the photos below.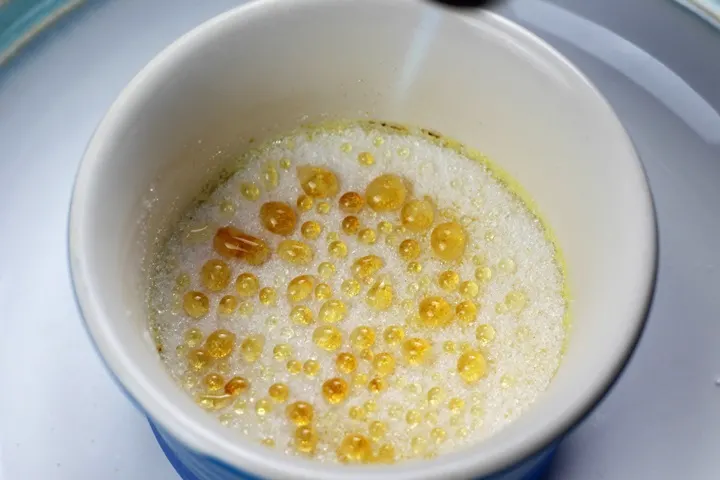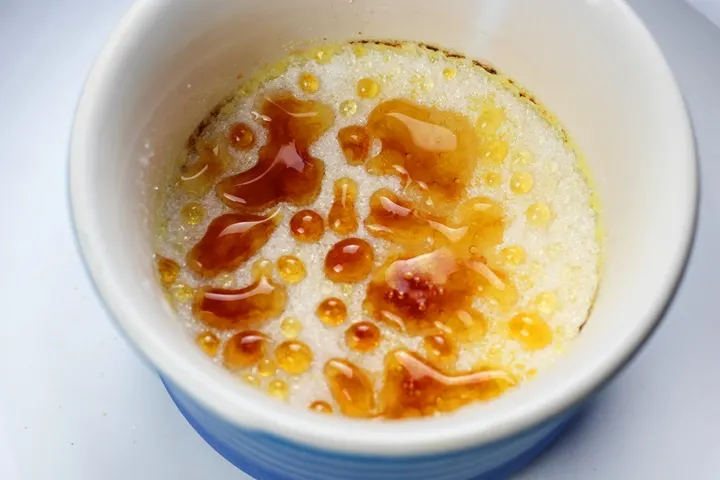 The layer solidifies quite quickly after you remove the heat, forming a glass-like surface.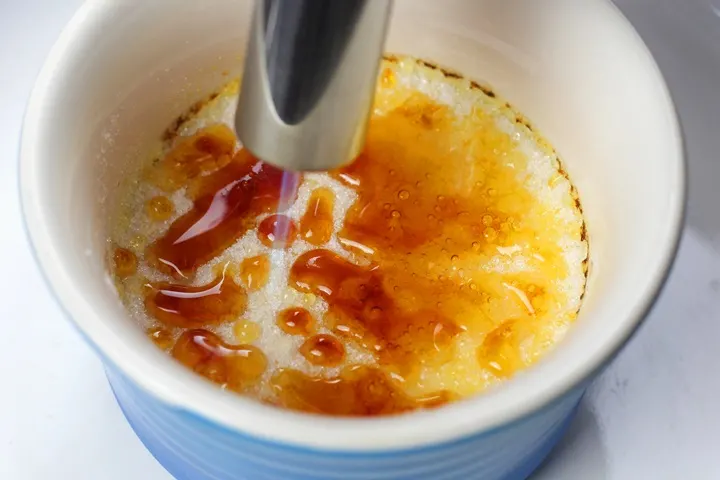 Be careful not to get too close to the sugar when you are torching creme brulee or it may actually catch fire itself and burn.
I use normal granulated white sugar to make this topping, although you can also use castor sugar or even demerara sugar if you prefer. I find the white sugar melts well.
You should make sure you completely cover the custard with the sugar, so as to not burn the custard when you are torching it.
You will find that the top layer of custard is slightly warmed by the process, but this improves the effect, of having the delicious cold custard below.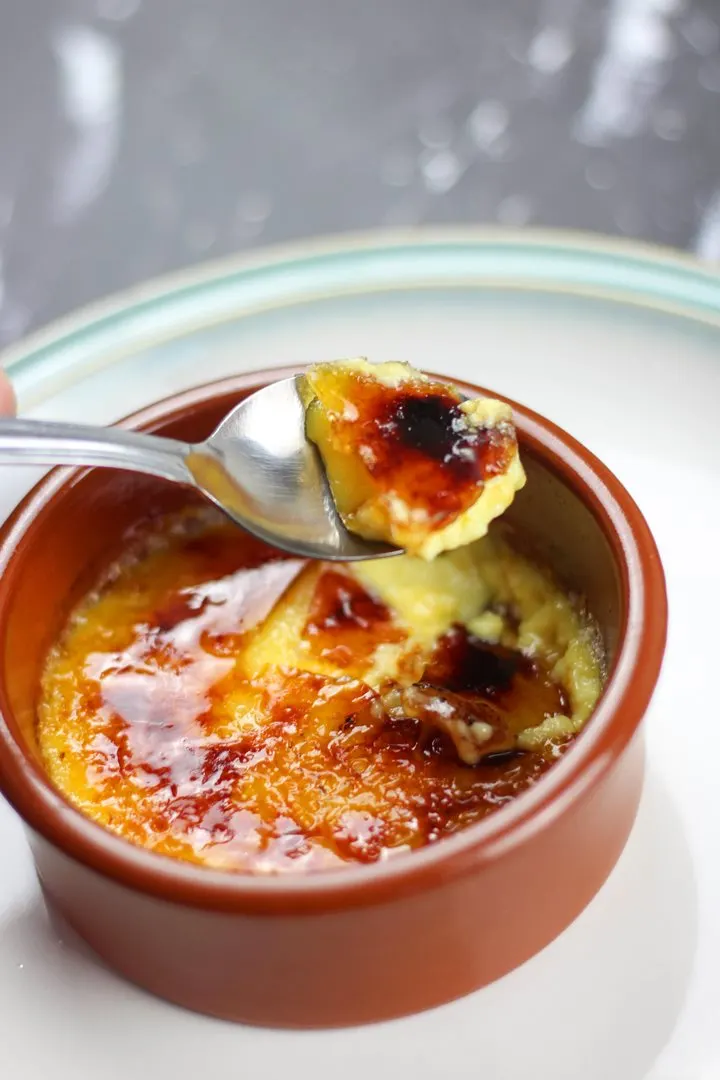 The thinner you make the sugar layer on top, the better, as the thinner the caramelized topping will be. If you make it too thick, it may become too hard and difficult to break. It could also become a hazard for your teeth!
Remember, breaking the surface is one of life's small pleasures!
I hope you enjoy this simple recipe. If you do make it, please let me know how you got on in the comments section below!
How to make French Crème Brûlée
Use the egg whites to make some meringue – read how in this recipe for Eton Mess:
Some other desserts that may be of interest: