Sweet potato and red pepper soup
This sweet potato and red pepper soup recipe is full of taste and goodness. This soup contains a lot of different types of healthy vegetables.
Some of these, namely the carrots, sweet potato and peas impart an unusual sweetness to the soup that makes it quite special, and VERY tasty.
It is a perfect warming soup for a cold bleak winter's day, like today. As I write this we are in the middle of storm Eunice, which is wreaking havoc outside, downing trees and laying waste to everything in its path.
This soup is a great way to take one's mind off it.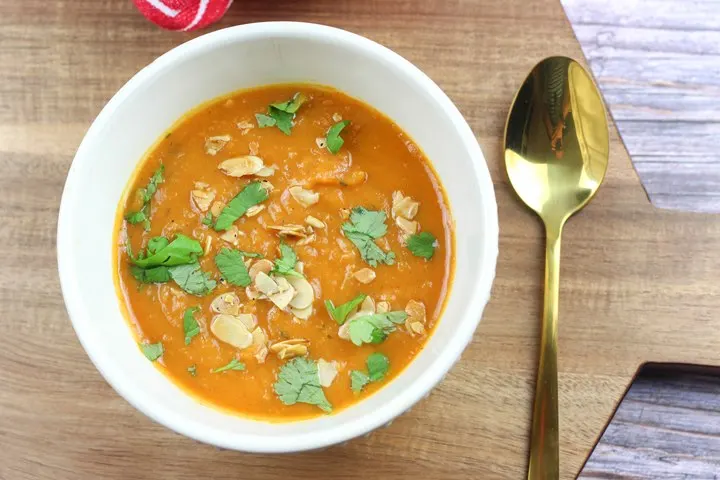 Vegan Soups
This vegan soup recipe is one of several vegan soups I have on my site. If you like this recipe, at the end of this post there are some links to some other vegan soup recipes.
But I must say that this vegan soup recipe is now one of my favourites. I shall definitely be making this one again.
The vegetables complement each other perfectly, and the almonds add that roasted nutty flavour to create a really interesting soup.
The advantage of vegetarian soups is that they are a great way of getting rid of vegetables you may have leftover. In this case it was perfect for using up the sweet red pepper and the one courgette I had in the fridge, as well as some leftover baby potatoes and the sweet potato that I was wondering what to do with.
The onion, garlic, carrots and peas are all present in my pantry anyway as some of my staple ingredients.
You can of course vary the quantities as you wish, and depending on what you need to use up. But I found the combination as described worked just fine. Even my rather fussy daughter liked it!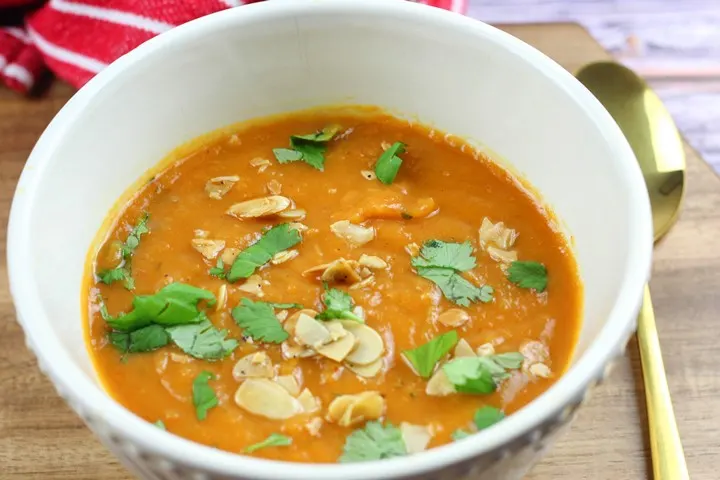 Roasted Red pepper and Sweet potato soup
If you were wanting to vary the recipe a little bit, apart from using different proportions of each vegetable, you could try roasting the red peppers or sweet potatoes before adding them to the soup. This would probably impart a bit more of a smokey taste to the soup which might make it even better.
Or you could add some chilli peppers to add a bit of a kick and create a spicy soup.
Or you could just leave it as it is. I think it is actually just fine as it is. I hope you do too.
If you do try and make it, please let me know how you get on in the comments section below.
How to make sweet potato and red pepper soup
Or some more vegan soups: