Instant Pot Lamb Curry
This Indian lamb curry Instant Pot recipe will show you how to make a delicious lamb curry in the Instant Pot.
The recipe is very easy to prepare, and you can do the preparation upfront and set the timer of the Instant Pot to cook it when you wish.
I used some lean leg of lamb meat to make this dish, but you could use lamb shoulder as well if you prefer.
How to control the spiciness of this dish
The curry I made in these pictures was quite hot and spicy as I had used 3 fresh bird's-eye chillies in the recipe.
But you can control the spiciness by being a little bit less liberal with the amount of chilli powder and fresh chillies that you use. This recipe is really a lamb madras recipe, which is traditionally a medium-hot curry, say one notch below a vindaloo.
But this curry does not need to be hot and spicy. You can either use less chilli in the recipe or use some raita or mango chutney to cool it down.
You can adjust the spiciness to suit your pallet when you are doing the final taste adjustment after the high-pressure cooking cycle.
With this recipe, I am trying to reproduce my favourite lamb madras meal that I always used to order at my favourite Indian restaurant, the New Tandoor in Gouda, the Netherlands. Their curries are superb and their naan bread is second to none.
I have not quite cracked it yet with this recipe, but I am getting close. They use a secret ingredient I think. I am almost there, but still missing something to make it a perfect copy. We will persevere until we have found it!!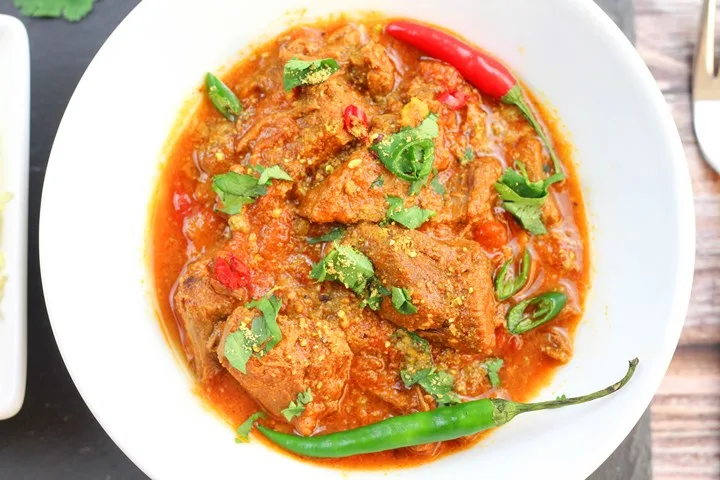 Lamb Curry in the Instant Pot
Using the Instant Pot to cook a curry is inspired. Using a pressure cooker is just a quicker way to cook the meat and ensure that the meat is tender and falls apart.
There is nothing worse than a chewy piece of lamb or mutton. Quite often mutton is used in curries in British Indian restaurants. Using the pressure cooked just makes sure that it is nice and tender.
The leg of lamb meat in this curry melted in the mouth.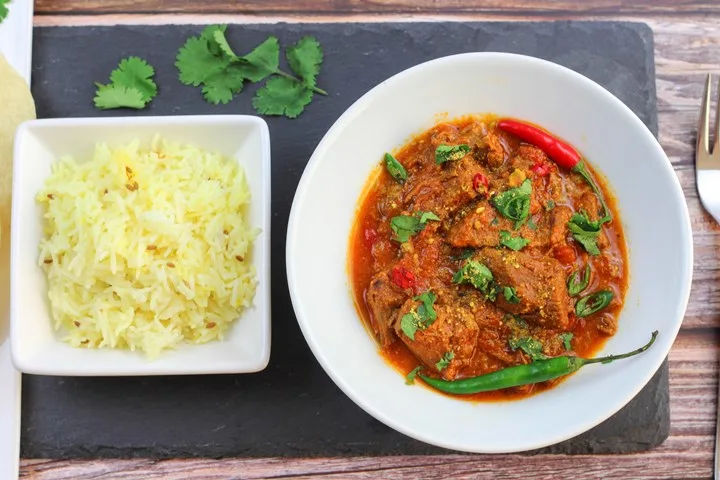 In this recipe, the meat is not marinated for any period of time. But if you do have the time, you could prepare the meat earlier and marinate it in the onion purée and spice mix overnight to add some more spice flavour to the meat. It is up to you.
Equally, if you have plenty of time, you may want to slow-cook this instead of using the Instant Pot. Again do what fits your schedule and inclination.
Certainly, I found this very easy to make in the Instant Pot. The preparation was quick and the cooking time in the pot allows you to prepare the accompaniments, like raita, chapatis or naan bread.
I hope you have a go at making this recipe. If you manage to improve it, please let me know how you did in the comments section below!
Enjoy!
How to cook lamb curry in Instant Pot
Serve up with:
Some other curry dishes to try:
Or some other Lamb dishes: