Instant Pot Chicken Stroganoff
This easy recipe shows you how to make a tasty chicken stroganoff in the Instant Pot. It does not take very long to make and using the Instant Pot makes life a lot easier as it can all be done in the one pot from the Instapot. Less work and washing up.
During this recipe, I do use the sauté and the high-pressure functions of the Instant Pot to cook this meal. It is fairly straightforward and is not much work to prepare, so it is fairly quick to make. You can do the preparation work beforehand to speed up the process if you are getting back from a long day at work and need to cook a quick family meal.
Just cook your pasta or rice separately while the Instant Pot is doing its work.
What is Stroganoff?
Stroganoff is traditionally a Russian meal originating in 19th century Russia, made with sautéed beef, onions and mushrooms cooked in a creamy sauce made with sour cream. I also have a recipe for beef stroganoff on my site, made on the hob, rather than the Instant Pot, where I use double cream instead. It is also very tasty.
There are many other variations of stroganoff now worldwide. My wife makes a Brazilian stroganoff which is very different, which I shall add to this site at some point.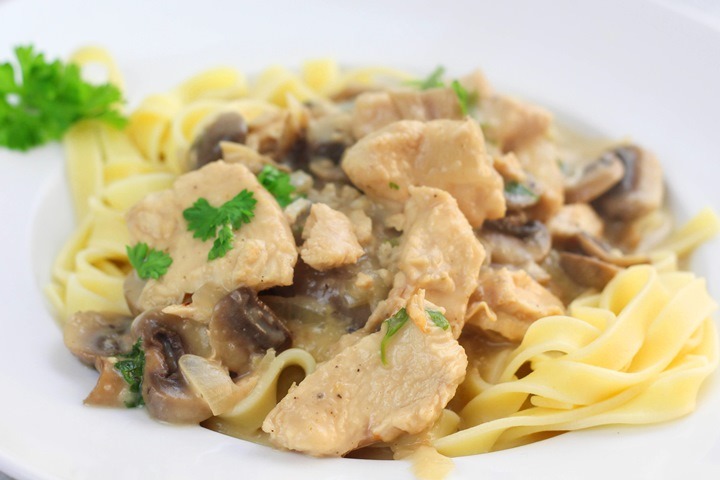 This Instant Pot creamy chicken stroganoff recipe is a stroganoff variation, of which there are many worldwide, except using chicken as the main ingredient.
Why use an Instant Pot to cook Chicken Stroganoff?
Well, to be fair you can also cook this meal on the hob if you prefer. But the main advantage of using the Instant Pot for this meal, and others that I use the Instant Pot for, is that you can just let it do its work during the cooking phase, and only have to supervise when you are using the sauté function.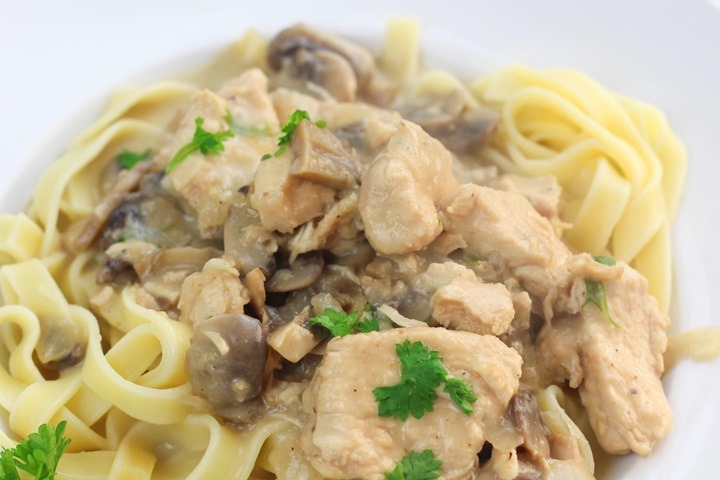 So as pasta does not need much attention while it is cooking, apart from a single stir halfway through, or if you are doing your rice in the microwave, as I do, it gives you time to crack open a bottle of white wine to go with the meal.
If you are not cooking for kids, you may be tempted to add a splash of white wine to the stock before cooking, to give it a bit more of a continental feel. I know my favourite chef, the late
Keith Floyd
probably would. (I don't think he would be impressed with the Instant Pot though – I think he was more of a slow cooker or on the hob man than a pressure cooker man! 😂)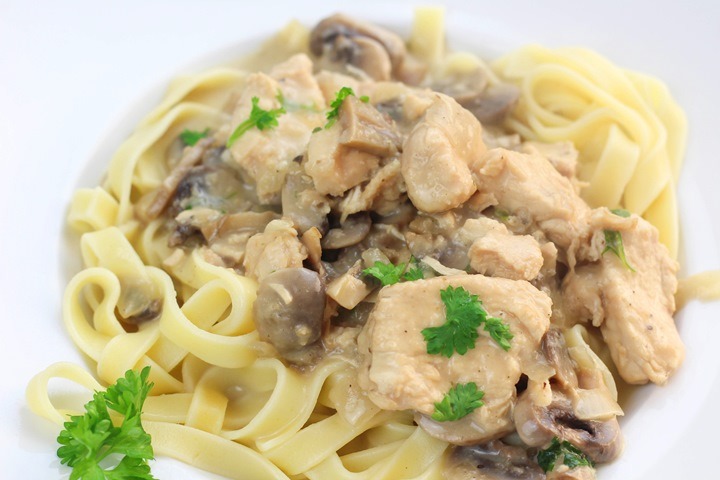 We like it though, as it does get meals on the table quicker.
I hope you enjoy making this recipe. If you do try it, please let me know how you got on in the comments section below!
How to make Instant Pot Chicken Stroganoff
Or a traditional beef stroganoff recipe:
Here are some more Instant Pot recipes for you to try: