Instant Pot Sausage Casserole
This is a recipe for a sausage casserole made in the Instant Pot.
W recently acquired an Instant Pot. We thought we would try it out on one of my proven slow-cooked Dutch oven recipes.
So this Instant Pot Sausage casserole recipe is another slightly different version of my original sausage casserole recipe. Although this time, made in the Instant Pot.
You could of course also make this in any other make of pressure cooker, like a Ninja Foodi for example, if that is what you have.

How to use your leftover vegetables
In this version, I used the sausages I had in the fridge, which were hand-tied Irish pork sausages from Aldi. But really any nice-tasting sausage will do. Some Italian sausage or some German sausage – either would probably taste great.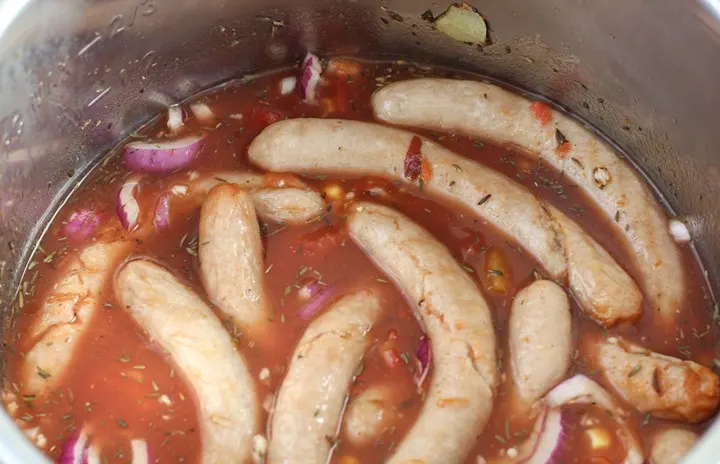 This recipe is about the combination of food tastes. And it is a great way to get rid of any vegetable leftovers you may have in the fridge.
So the ingredients in the recipe are not really fixed. The beans and tomatoes do add some body to the sauce, but there is nothing to stop you adding any other vegetables you may fancy like scallions, green beans, sweet potatoes, tomatoes, peas or whatever need using up.
Just throw it all in together and let the instant pot make something of it all.
Cooking under pressure did seem to have an effect on these sausages, in that some of them cracked and split, as you can see from the photos. But this did not affect the taste at all and was probably specific to this make of sausage.
It probably saved about half an hour cooking this in the Instant Pot compared to the Dutch oven, not to mention the energy savings.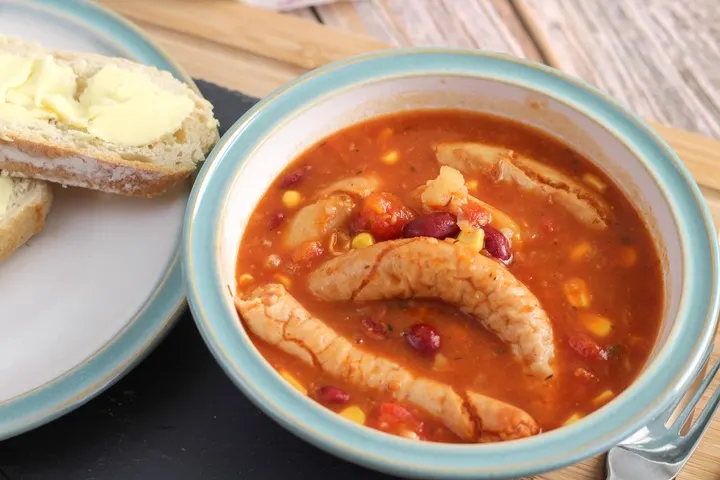 I had actually tried to brown these sausages in the oven beforehand, but they did not brown very well. You can see this from the photos.
I think it would have been better to have sauteed them either in the Instant Pot or in a separate pan, just to give them a bit of a brown appearance. But I am sure you do not need to brown them if you do not want to.
Sauce Thickening
Whether you want to thicken the sauce at the end is really up to you. I like to have a thickened sauce but my wife likes it as it comes. So we served up her food before I added the diluted flour and simmered for 5 minutes, just to thicken it up a bit.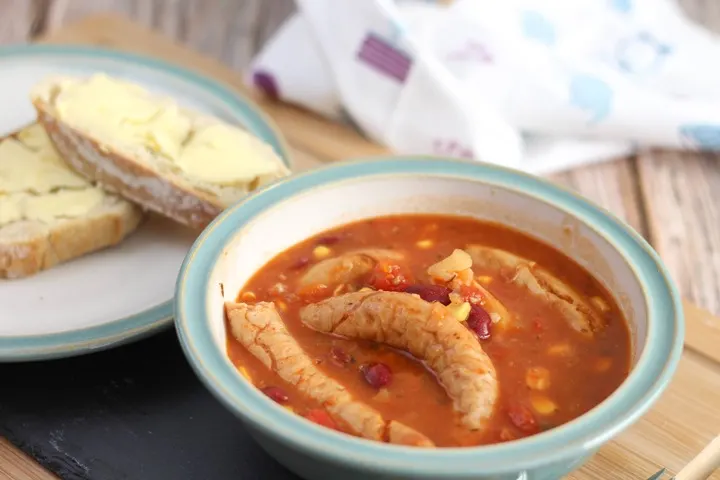 We had some leftovers after this one meal which was great because we then had a ready-made Instant Pot breakfast casserole for breakfast the next morning.
What to serve with Instant Pot Sausage Casserole?
The best way to eat this meal is with a nice piece of buttered crusty bread, or two, which serves perfectly to mop up any juices that may be leftover.
Enjoy!
How to cook this sausage stew recipe