Hungarian Goulash Recipe in the Instant Pot
This is a simple recipe for a Hungarian beef goulash that you can make in the Instant Pot. Goulash is a meat and vegetable stew that originated in Hungary. Goulash is now eaten in many parts of the world. You may find it called gulyás, gulaš, guláš, or gulasz, depending on where you are.
Some people may even call it a soup, as the sauce is in fact quite watery. In this recipe, I do not thicken the sauce.
It is one of Hungary's national dishes and is traditionally seasoned with Hungarian paprika.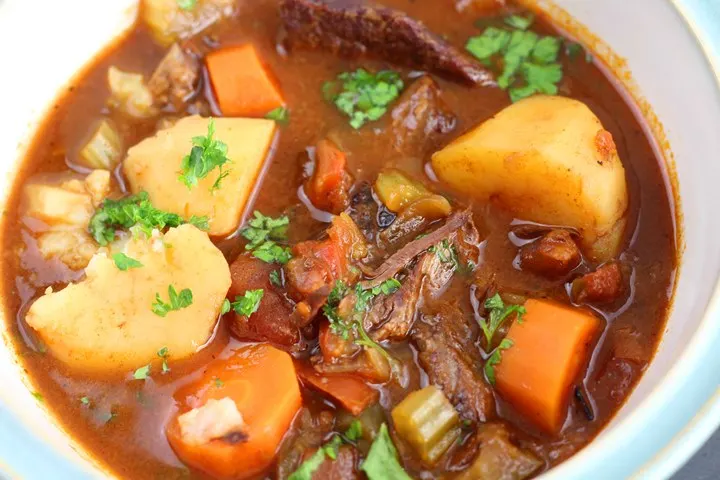 Real Hungarian Goulash
In 2017 we were lucky enough to visit Budapest in Hungary for a few days to experience the city and Hungarian food, both of which are just wonderful. The inspiration for this dish came from what we discovered in Budapest during our visit.
Click on the link at the end of this sentence if you wish to read more about our visit and what to do in Budapest.
One of the sights in Budapest is Buda castle at the top of Buda hill with a wonderful view over the city. When we were there, we found this place:
This little hut resembles many of the food huts you see in the lovely Christmas markets around Europe, but this little one specialized in serving traditional Hungarian Goulash, amongst other things (like mulled wine, hot dogs etc).
It was lunchtime when we got there and the local goulash was something, of course, that we had to try.
This was one of the plates we ordered. It was absolutely fabulous.
I think my recipe is pretty close to what we ate that day, both in content and in taste.
In some countries, you may find goulash served with dumplings. And sometimes it is made with pork, venison, boar or even mutton. There are many varieties than you can imagine.
In some places, like the USA for example, they even put noodles in their goulash, which I suppose is yet another way to eat pasta.
Using the Instant Pot to make Hungarian Goulash
This recipe, however, is a traditional Hungarian beef Goulash, just like the one we ate at Buda castle. The only difference is that we used the Instant Pot to make it.
The advantage of the Instant Pot is that it saves cooking time, as normally this would take several hours to slow cook to get the meat as tender as it needs to be. The pressure cooker part of the Instant Pot just speeds this up hugely.
The Instant Pot makes it easier all round. I did however use a separate wok to fry the beef. This meant I could prepare and throw all the other ingredients into the Instant Pot while I was browning the beef. Easy peasy.
What makes a good Goulash?
A good goulash is defined by the paprika you use, the cut of beef and the vegetables you include. I have used a simple piece of lean chuck steak with bell peppers, carrots, onion, celery and potatoes.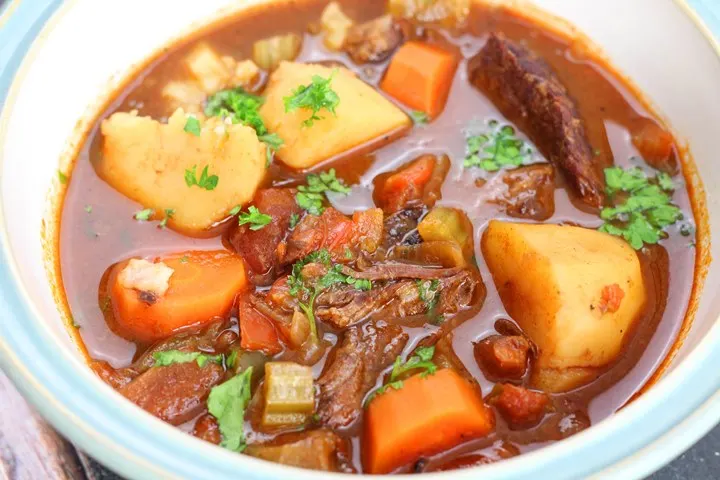 This dish traditionally uses Hungarian Paprika to spice it up. But in Hungary, there are many types of paprika that vary in strength and taste, so what you choose defines your dish.
You can make this dish as spicy as you wish, depending on how much paprika, and what type of paprika you use. You may be limited in what you can purchase locally.
It may be difficult for you to find real Hungarian paprika, although outside Hungary often a 'sweet' Hungarian paprika is normally available.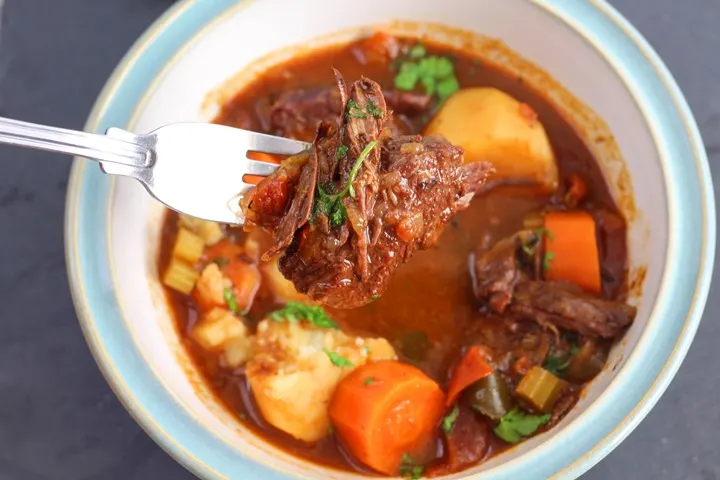 I would say use whatever type of paprika you can get your hands on that will suit your taste profile.
But if you are not used to cooking with paprika, it is probably best to limit the amount of paprika you use during the cooking process. Then, if you taste the sauce after cooking and find it is not spicy enough, you can always add some more before serving up.
However, if it is already too spicy, it is difficult to change! You might then have to cool it down with some sour cream or crème fraîche.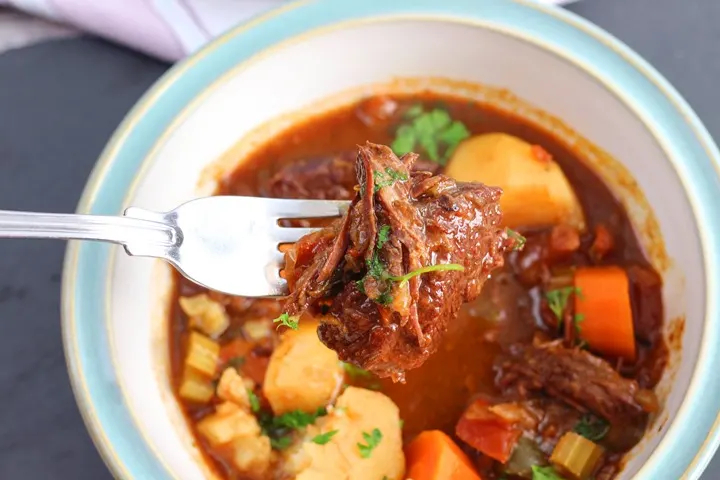 You can see from the photos that the sauce is quite thin. Do not worry, this is how it is meant to be. The potatoes will soak it up, and the bread is for what is left.
You may wish to serve the goulash with mashed potatoes instead. As always it is up to you!
Finally, I hope you enjoy trying this recipe. If you do, please let me know how you get on in the comments section below!
Enjoy!
How do you make the perfect Hungarian Goulash?