Instant Pot Shredded Beef Recipe
These instant pot shredded beef sandwiches are easy to make and will give you a sandwich with contents of pulled beef, and whatever else you want to add to it. In this recipe, I also add some caramelized onions just like in my steak and onion sandwich.
Is it worth getting an Instant Pot ?
I had this question myself for a while as I am lucky enough to own a full le Creuset set of enameled cast iron pots that I use for my slow cooking recipes. I love this top-quality French brand, and have had them for more than 25 years. However, the problem with slow cooking is that it is what it says – 'slow cooking'.
That is, it takes a while. And certainly, for some recipes, you do not want to be waiting hours for something to cook. Especially a simple sandwich like this one!
The advantage of the Instant Pot is that it combines the advantages of a pressure cooker with that of an oven, and speeds up the cooking process as well as using less power. It is also fairly multifunctional, as you can saute, slow cook, pressure cook, rice cook, heat, steam or even make yoghurt in this wonderful piece of kit.
We have been converted after recently buying our Instapot, and now use it quite regularly for different recipes which would otherwise take hours.
Best Beef for Shredding
Well, I suppose there will be a lot of different opinions about this, but I must say that my experience is that chuck steak is super, if you have a good cut.
Chuck steak comes from the neck and shoulder area, above the brisket (which is of course also good to shred). But of course, they both need to be slow-cooked or cooked in a pressure cooker to get the meat in the right fall apart state.
Using the Instant Pot with the right level of cooking fluids will ensure that you do not overcook your meat and it will be nice and succulent when you stuff your sandwich.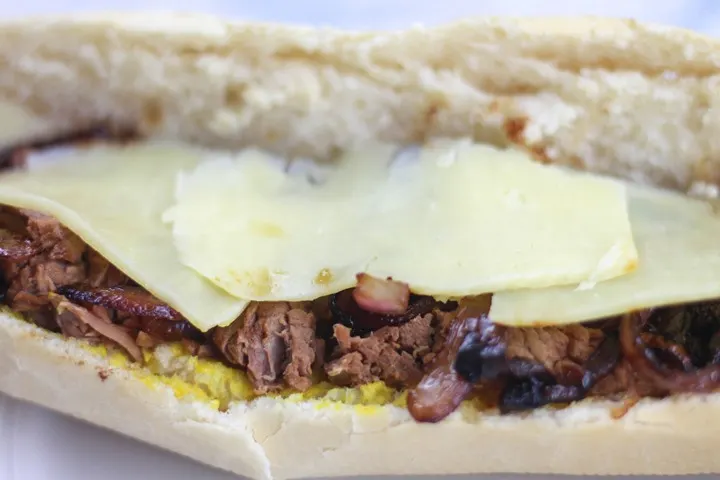 I used some half-cooked French baguettes for this recipe as they are great warm and easy to finish off in ten minutes in my Nuwave oven.
The caramelized onion I think is essential in a steak sandwich, but you may want to replace it with something else if you are not an onion fan. How about some good old fashioned gherkins? It's up to you what you put in your sandwich. Maybe a dab of Hellmann's Real Mayonnaise?
Go for it!
I hope you enjoy it! Let me know how you get on!
How to make an Instant Pot steak sandwich
Or here some more Instant Pot Recipes: