The easiest tuna pasta recipe around
We love this Quick and Easy Tuna Pasta recipe – it is cheap, easy, tasty and very quick to make. It has lots of return for little input (just what I like in a recipe!)
It is ready in less than 15 minutes. In fact, this pasta recipe is so good we probably eat it in our house at least once a fortnight.
This recipe was one of my first recipe inventions when I shared a house in Headington, Oxford many years ago. We would often take it in turns to cook.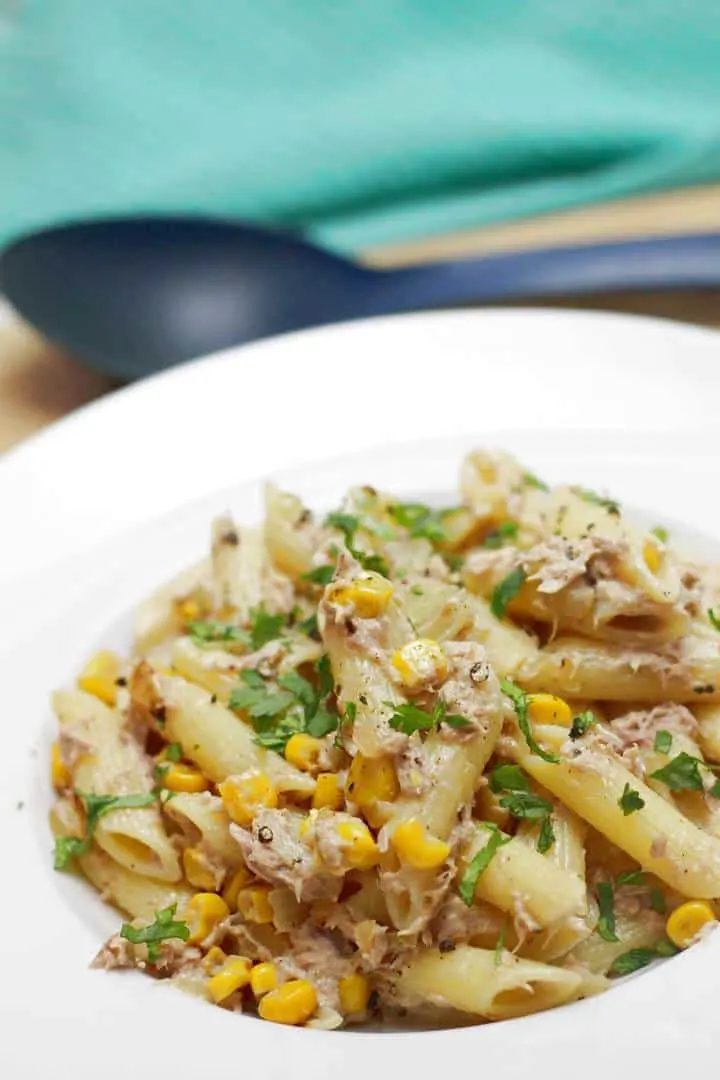 On a late shift in the tool design offices of the then Austin Rover, I needed a quick meal for three that could be produced in 15 minutes. All so that we could get to the pub before last orders 😃 (in the days when the pubs closed at 23.00)!
So this was the one! Born out of necessity! No real preparation and everything was already in the pantry.
I have never looked back. This super easy tuna pasta recipe has been in my recipe repertoire ever since.
At home, we always have the ingredients for this dish in the cupboard, so we can make it without having to shop. And for those of us (e.g. my daughter) who do not like onions or sweetcorn, you can selectively add these separately at the end of cooking if you need to.
Then everyone gets the ingredients they like.
As this is such a quick and cheap recipe made with non-perishable ingredients (dried pasta, tinned sweetcorn, Hellmann's mayo, canned tuna). This makes it a very good recipe for busy students and workers.
It is also good to eat cold if you have any leftovers (like when you get back from the pub!).
The best Mayonnaise
Hellmann's Real Mayonnaise is the key ingredient to this dish as it provides the perfect accompaniment to the fish. Hellmann's also combines brilliantly with tuna in my tuna salad recipe.
As you will see in many of my other recipes, we love Hellmann's in this house (and before you ask, no, I am not sponsored by them. Although I wish I was – as we do get through quite a lot of it 😃 )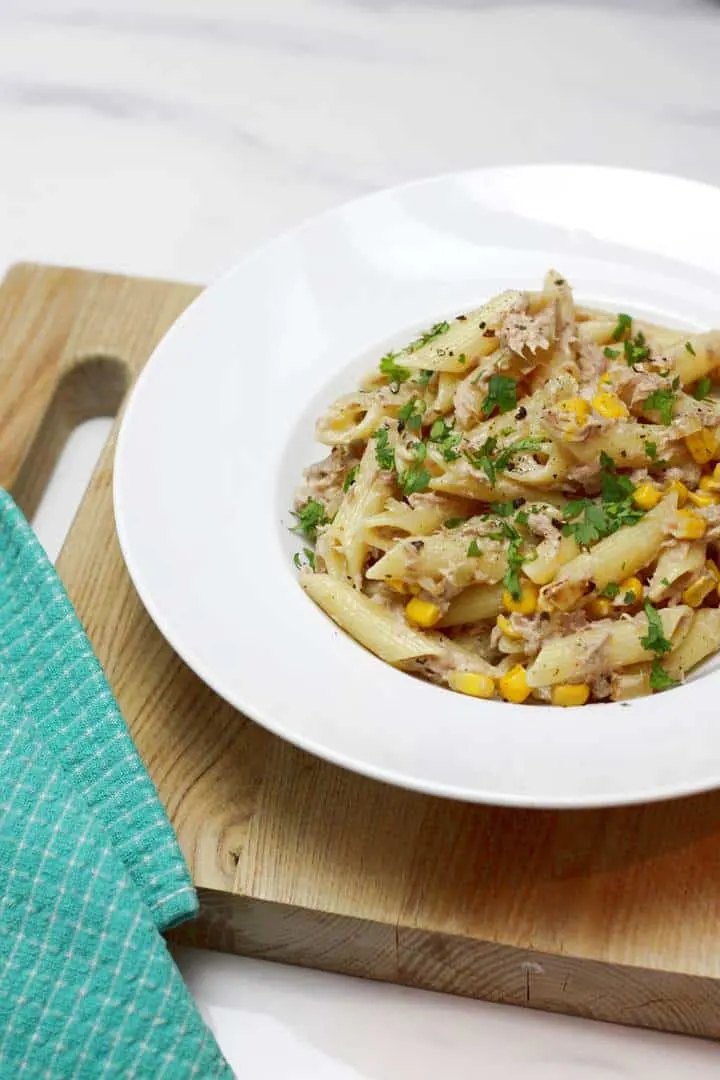 You can of course use almost any type of pasta for this dish and it is a super yummy way to enjoy tuna. I often use penne for this dish, but also like it with farfalle, conchiglie or even spaghetti.
You can just keep it even more simple with just tuna, mayo and some freshly ground pepper if you want. Here is one I made with conchiglie pasta but without the sweetcorn and onion. Also good!!!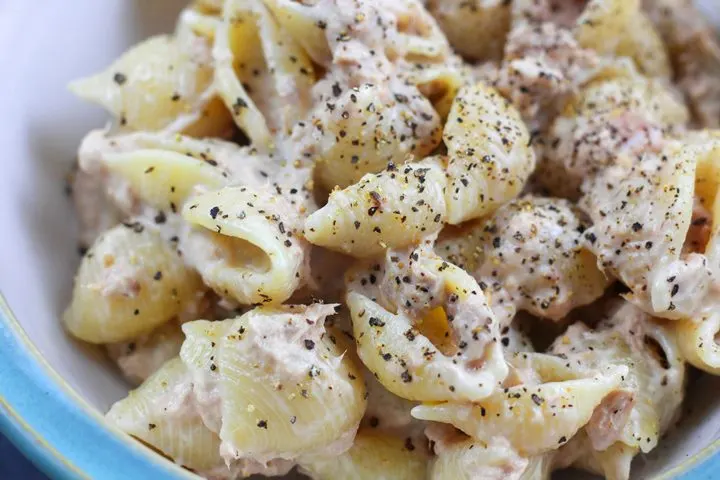 I think that tuna is one of the tastiest of fish, and the fact it can be stored in tins makes it an easy ingredient for many pasta dishes.
Make sure when you choose your tuna you choose sustainable tuna. Follow the link for a bit more information on the subject.
I hope you enjoy trying this recipe. If you do, please let me know how you get on in the comments section below.
How to make tuna pasta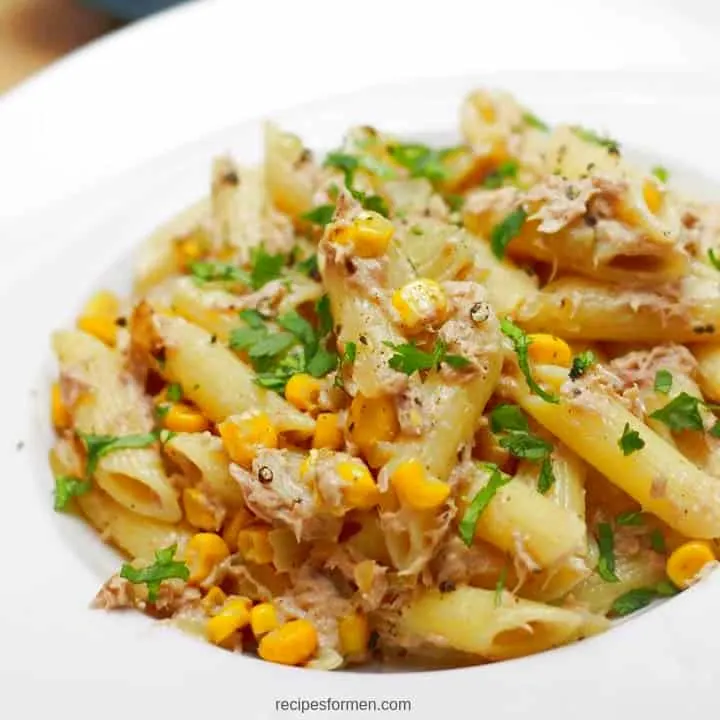 If you enjoyed this dish you may also enjoy these recipes: