Blue Cheese Sauce for pasta
This recipe shows you how to make a delicious blue cheese pasta dish. You do this by combining some delicious fresh egg spaghetti pasta with a blue cheese sauce.
In this recipe, I have used some Fresh Egg pasta from our local Aldi, which has the advantage of a shorter cooking time than dried spaghetti.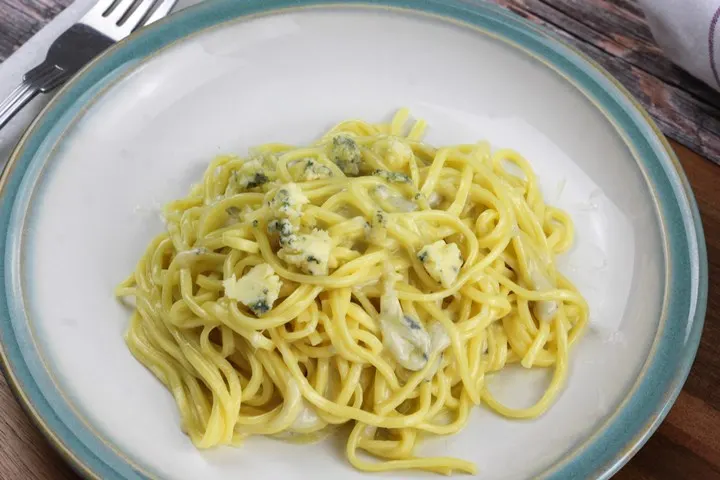 Fresh pasta cooks in 4-5 minutes, as opposed to 10-11 minutes with dried spaghetti. As you can make the sauce very quickly, it means you can make this dish in less than 10 minutes!
Fresh spaghetti I think also tastes a bit better than dried spaghetti.
But of course, you can use dried spaghetti as well if you prefer.
What type of blue cheese to use for a blue cheese sauce?
In this recipe, I have used some Blue Stilton for the Blue Cheese element, but feel free to use any other creamy blue cheese you like. You may have some blue cheese leftover that needs to be used up – this is a perfect way to do that.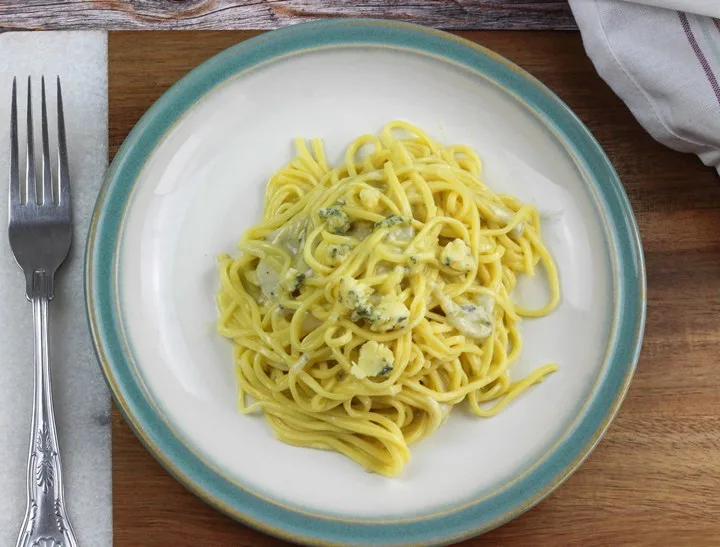 Gorgonzola, Roquefort, Danish Blue or Cashel Blue are all examples of types of cheeses that you can use. The cheese needs to be able to melt in the simmering white wine to create a sauce.
As all of these cheeses are slightly different, the taste will differ depending on which one you use.
I added some Swiss Gruyère cheese to this recipe, as not only does it melt well (it is often used in Swiss fondue recipes) but it adds a certain taste to the dish, which makes it special.
As with Swiss fondue, the mix of cheeses with the White Wine gives a certain deliciousness, which goes very well with the pasta.
How to garnish this dish
In these photos, I only used some simple crumbled Blue Stilton to garnish. But you may wish to use some freshly ground pepper, some grated parmesan or chopped parsley, before you serve your dish. It is up to you.
If you are America, some blue cheeses are banned by the FDA, so you may have trouble trying to find something suitable to make this dish. Shame.
Be aware that all Blue cheeses tend to have a very strong taste, which not everyone enjoys. Certainly, Blue Cheese is really a taste for a more developed palate, so this is not really a dish that many children will like.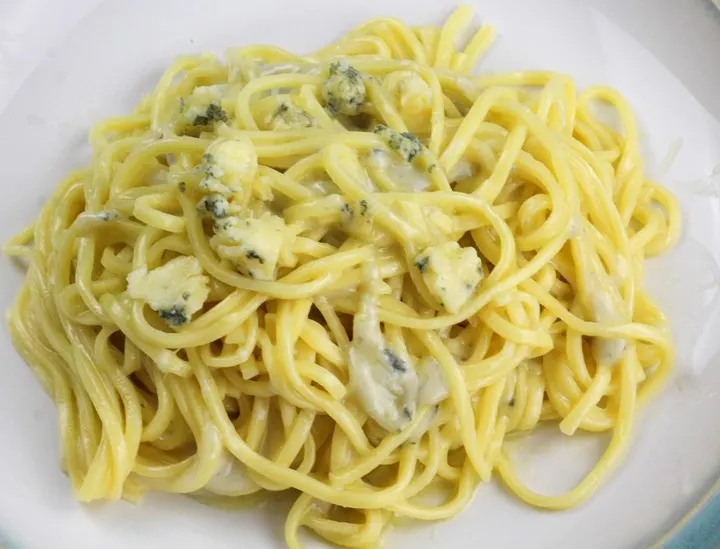 But hey, there are always some kids that will try anything!
I love blue cheese. This is a quick and tasty meal that you can knock up in less than 10 minutes. That makes this Stilton pasta a great recipe for during the week when no-one has much time.
If you do try this recipe, please let me know how you get on in the comments section below!
How to make Blue Cheese pasta sauce