Cheesy Bolognese Pasta Bake
This recipe is a cheesy bolognese pasta bake that does not take long to make. It will give a satisfying result that your guests or family will love.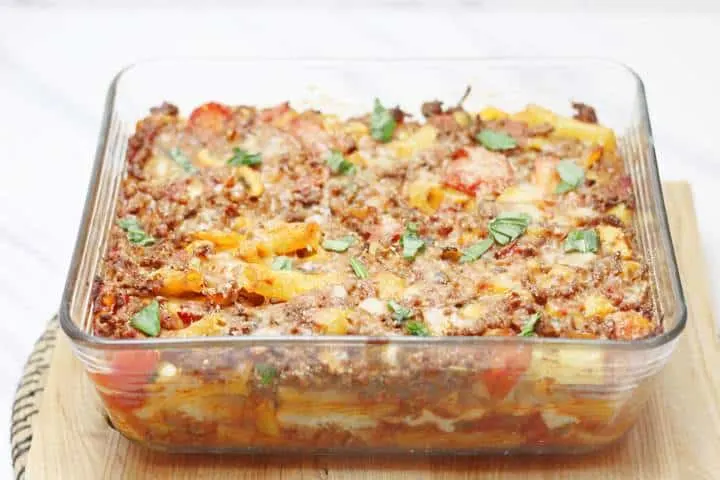 The ingredients are really a little bit up to you. The recipe below has a few elements that we always like in our Bolognese sauce.
But you may wish to leave some out, or perhaps you would like to add some other ingredients.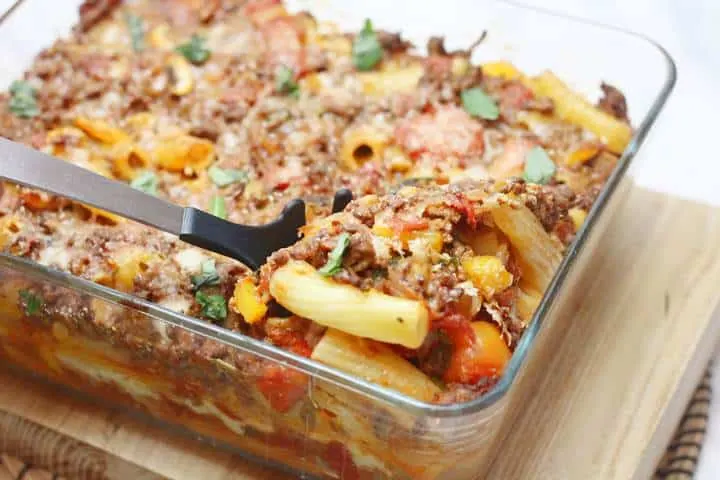 In any case, I decided to cook this last night. Because I already had most of the ingredients, most of which I needed to use up anyway.
I only need to buy some minced beef in order to make it. It is also another of those meals that you can make in advance and put into the oven when you need it, which makes it great when you have guests around for dinner.
Sopranos Baked Ziti Recipe
The inspiration for this recipe came from the hit television series The Sopranos and the Ziti Al Forno (baked ziti) dish. The famous Sopranos baked ziti recipe. There were several references to ziti during the Sopranos series.
Ziti al forno played a significant role in the show's culinary narrative. The dish was a favourite of the main character, Tony Soprano. It was frequently featured in scenes where the family gathered for meals.
One iconic moment involving ziti al forno was during a family dinner where Tony's sister Janice made the dish for the first time, and it didn't quite live up to Tony's expectations.
The dish's significance in the show's plot highlighted the importance of family and tradition in Italian-American culture, as well as the importance of food as a way to bring people together.
But my inspiration came from the fact that Bobby Baccallieri's wife Karen made a baked ziti which Bobby still had in his fridge a long time after her demise. This was pretty sad.
Baked Ziti with Rigatoni
I could not find any ziti pasta in Ireland so I used some Rigatoni.
Ziti is a smooth hollow pasta, making it a little different to the ridged rigatoni pasta, but it is otherwise pretty similar.
You could also use penne (also hollow and ridged) or any other type of short-tube pasta for this recipe. The point is that the chunky sauce gets trapped in the hollow pasta.
The recipe is based on a tasty bolognese sauce and includes a layered pasta bake with cheese layered into the pasta layers.
I always think it is time to re-watch the entire Sopranos box set whenever I make this 😃. The theme music at the start is just sooooo brilliant.
We do so love Italian food (even though this recipe is an American/Italian invention).
The good thing about using tubular pasta is that it retains the sauce nicely.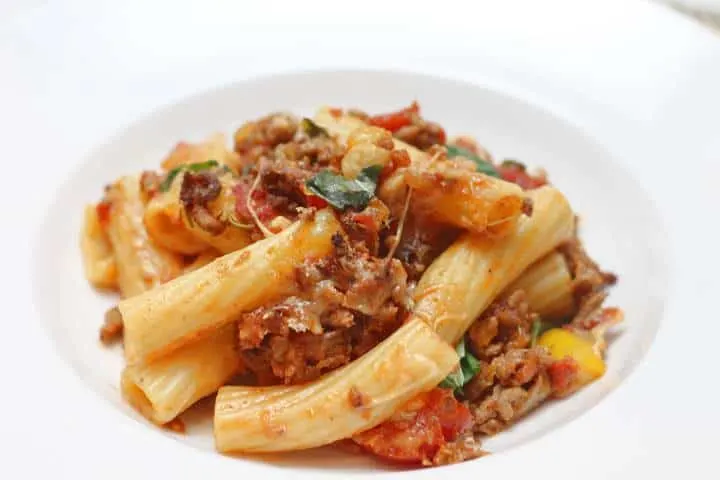 The ingredients below are enough to feed 4-6 people and to fit a 3-litre oven dish. Although I am sure Tony could have polished it off in one or two sittings (RIP James Gandolfini 😢).
I hope you enjoy trying this recipe and please give me some feedback at the bottom of the page in the comments section if you do!
How to make a Soprano's baked Ziti
If you enjoyed this recipe you may want to try:
all Italian classics!
Or if you are into pasta bakes you may like these: