West of Ireland Seafood Chowder
We live on the West coast of Ireland. Around here Irish seafood chowder is a very common meal to be found in the local pubs and restaurants. This is my own simple Irish seafood chowder recipe based on some ingredients I can easily purchase at my local Irish Aldi or Tesco stores.
What is in Irish Seafood Chowder?
For this Irish chowder recipe, I used two fresh 'seafood pie mixes' from Tesco's. They consisted of 320 grams each of mixed fresh fish containing 50% white fish, 25% salmon and 25% smoked white fish.
Aldi's also sells a seafood mix, which is a slightly smaller package (250g). But this is also perfectly suitable and contains a mix of fish like Haddock, Cod, Pollack and Hake with some salmon, also with some smoked fish in it. The smoked fish imparts a lovely smokey flavour to the chowder.
I have used both ingredient mixes in the past to make this dish. Just adjust the milk quantities pro-rata to suit the fish amounts, depending how chunky you like your fish stew.
Variations to Irish Chowder Soup
Fresh fish is obviously better if you can get it – just make sure you use a nice mixture of fish that complement each other. Mackerel, being a very oily and strong-tasting fish, would not really fit very well in this dish, for example.
I also used some frozen King prawns and some Irish crab meat, to fill the dish out. But really you can use pretty much what you want, as long as the tastes go together. Atlantic prawns, mussels or clams ould all complement this meal nicely.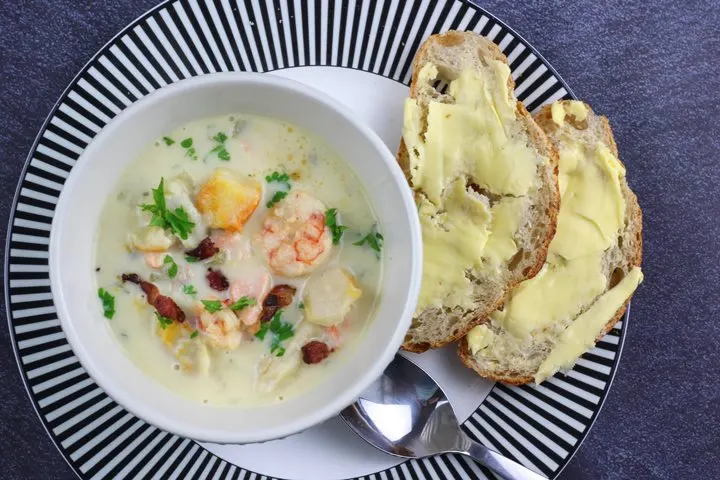 Seafood chowder in Ireland can consist of many varieties of seafood. But commonly you will find that restaurants will use the fresh fish and shellfish that they can get locally. Hence salmon, haddock, hake, cod and pollock will often be found in an Irish chowder.
But really you can use whatever you can get your hands on locally. If using fresh fish, just try and make sure all the fish has been properly de-boned. There is nothing worse than a fishbone stuck in the back of your throat!
My point is that a Galway seafood chowder recipe may be very different to a Dingle seafood chowder recipe or even a Donegal seafood chowder recipe. The recipe will follow the fish, but they all taste great and are super creamy.
Just make sure the fish is the kind with nice meaty type flesh, like haddock or salmon that does not need lots of cooking until it falls apart. Some of the farm-fished white fish out there today are also less suited to be used in a chowder I think, because of this.
Irish Soda Bread
In the West of Ireland, chowder is nearly always served with soda or wheaten bread to mop up the juices. Ideally, a good Irish salted butter like Kerrygold would be used to butter the bread. We are so very lucky to have such superb quality dairy products in Ireland.
If you ever travel the Wild Atlantic Way in Ireland you will definitely find chowder and brown Irish bread in the pubs you stop at along the way. If you like fish and seafood, you will love this recipe.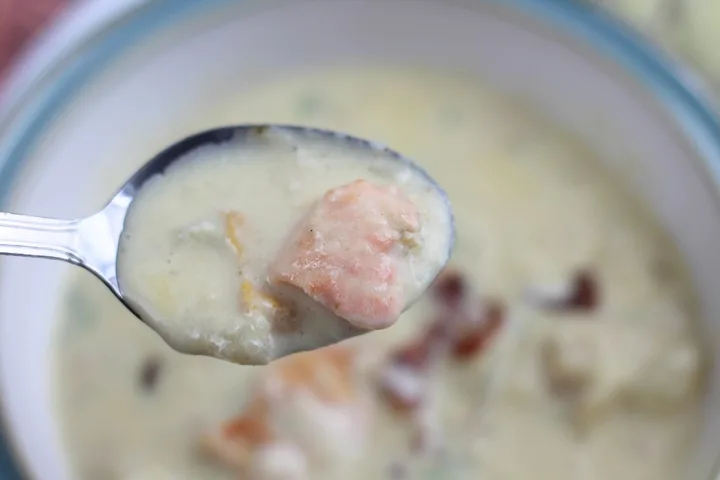 This is a really tasty recipe, and if you have any leftovers you can keep it in the fridge for a day and reheat it. It tastes even better a day later.
I hope you enjoy this simple recipe and try and make it at home. It is a perfect family treat for St. Patrick's Day!
If you do try it, please let me know how you get on in the comments section below, and how you improved it. What seafood did you use?
How to make Irish Seafood Chowder