Creamy Salmon Pasta
This easy recipe gives you a delicious creamy salmon pasta, which is great for anyone who loves fish, and especially the gorgeous opulent taste of fresh salmon.
Some people like to make pasta with smoked salmon, but I like to use a single fresh salmon fillet, which, with some wonderful fresh egg pasta, is sufficient to feed two people.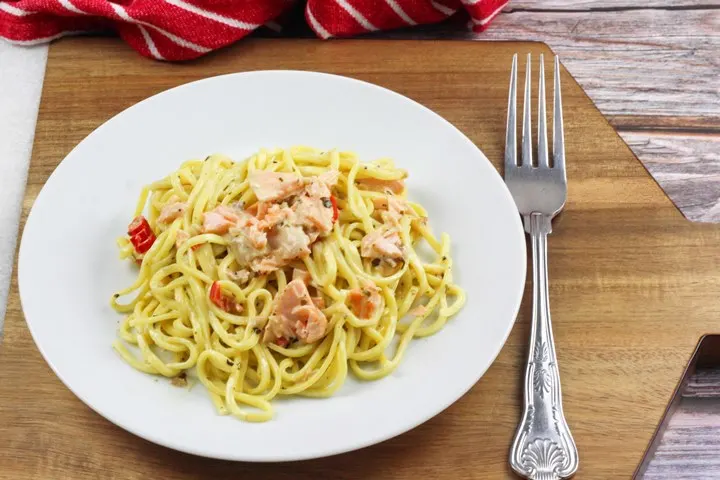 Adding the red chili just gives a bit of a bite to the dish, and goes so well with the taste of the salmon and the hint of lemon. I did not add any freshly grated parmesan to this sauce, but you could do it if you wanted to make it even more creamy.
How to cook the salmon fillet
In this recipe, I cook the salmon fillet in the oven, because I did not want the pieces to be too crispy. In some of my other salmon recipes, like my creamy mustard sauce for salmon recipe, for example, I deliberately fried the salmon, as I wanted a crispy outside layer.
But in this recipe I wanted the salmon to be soft and flakey, so I baked it in the oven. It does take a little longer to cook, but does not need watching, so you can get on with the other activities like boiling the pasta and making the sauce.
When the salmon was cooked it flaked beautifully using two forks to pull it apart.
You could, of course, also use left-over salmon to make this dish, if you have some leftovers from a party or buffet.
Which pasta to use with salmon
I used some fresh egg spaghetti pasta in this dish. It was quick to cook (4-5 minutes), and tastes wonderful.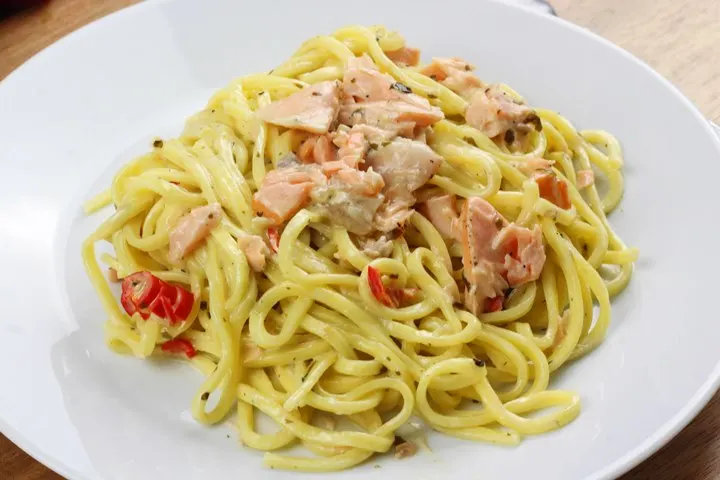 But you could use any pasta you like. Salmon Fettuccine, salmon linguine, creamy salmon penne…..all of these would be good.
The process would be exactly the same, just time the cooking of the pasta so that the timing coincides with the cooking of the salmon and finishing of the sauce.
I am sure that as long as you like salmon, you will enjoy this dish.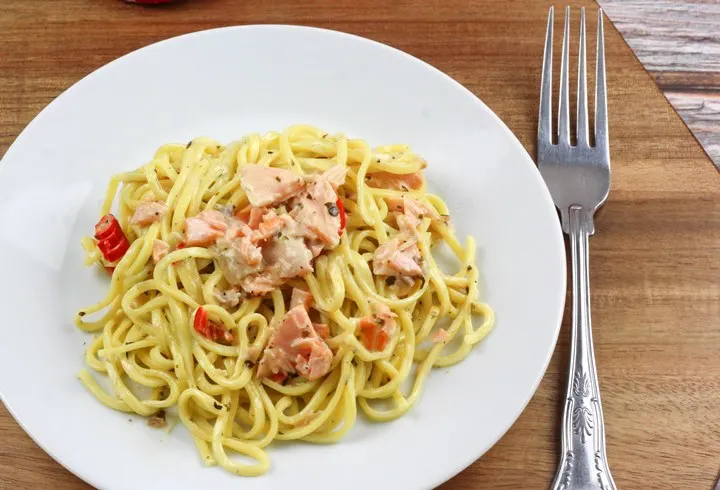 Just make sure you use sustainable salmon.
Our salmon came from Aldi, and was responsibly sourced from Norwegian fish farms.
If you try this recipe please let me know how you get on in the comments section below!
How to make a delicious creamy salmon pasta
Some other of my pasta recipes:
And some other salmon recipes: