Classic Lasagna Recipe
This Classic Lasagna Recipe is real comfort food. It is really easy to make, and great if you have dinner guests – you really can't go wrong.
You can prepare this dish up front, or even the day before, and keep it covered in the fridge until you want to cook it. This makes it so easy when you have guests as you then just add the cheese on the top and put it in the oven 50 minutes before eating.
In some places, this meal is called lasagna bolognese, as the meat sauce is similar to that used in spaghetti bolognese.
This is a basic version, and the amount of ingredients you use depends obviously on the size of the dish you use in the oven and the number of guests you have.
To make changes to this basic lasagna recipe, you can add things like carrots, mushrooms, celery and even paprika. This can add a bit of variety to suit your own taste if you wish.
I also have an Alfredo chicken lasagna recipe on this site that uses spinach. I am pretty sure a spinach and beef lasagna would also go down well. We may try that some day.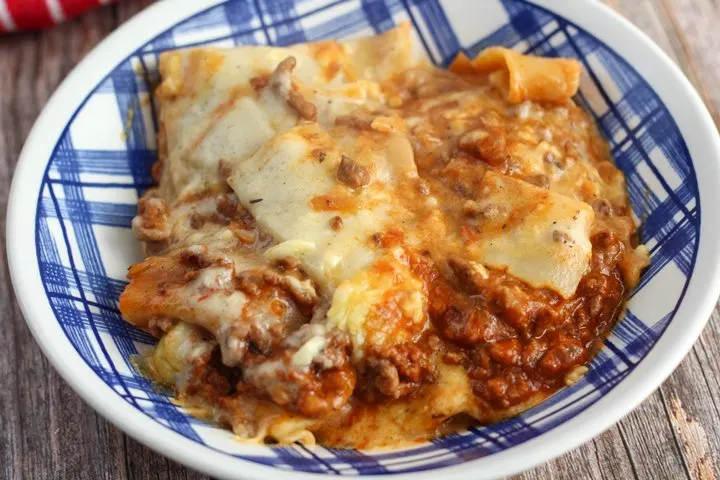 Just add other ingredients to the meat mix at a suitable time, depending on what it is. But really, this version is just fine on its own and is the ultimate classic Italian lasagna.
It didn't need the ketchup, we just added that for colour in the photo below!
Origins of lasagna
Lasagna is an Italian dish that has been enjoyed for centuries. Its origins can be traced back to ancient Greece and Rome.
It is a type of sheet pasta that is layered with a variety of ingredients, including tomato sauce, meat, cheese, and vegetables and is baked in the oven.
So how do you spell lasagna?
So I have spelt Lasagna in the title of this post with an 'a' and not an 'e'.
In Italian 'Lasagne' is the plural of 'Lasagna', and is apparently normally how the English would spell it.
But I am pretty sure I have seen 'Lasagna' used more often in restaurants so hope no-one is offended. Either way, it does not change the taste!
Read a bit more in this Wikipedia link if you are interested in the origins of this dish.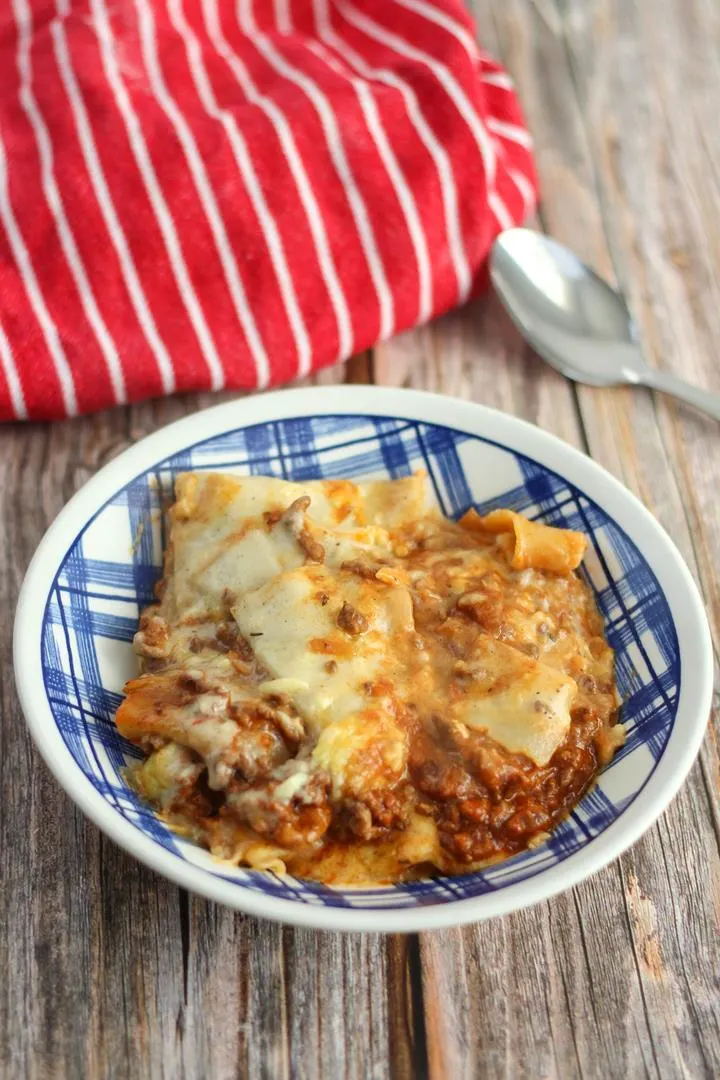 Cooking the pasta noodles
The important thing with all lasagna is to make sure the pasta gets properly cooked. The trick is to make sure all the pasta sheets are immersed in sauce, otherwise you may get some hard crispy bits.
If you really want to be sure, then you can pre-soak the pasta sheets in hot water, but be careful as the sheets will stick together.
The best way is to let the lasagna sit in the fridge for a bit before you put it in the oven, so that all the pasta sheets get properly wetted with sauce. And make sure you make enough bechamel sauce!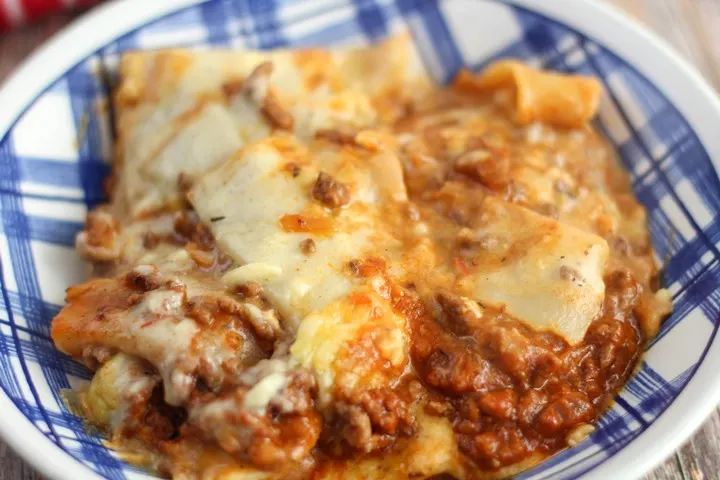 I also sometimes use a glass dish as my lasagna dish so you can see what is happening and the different layers of sauces bubbling away.
But then you do not have to – here is one I made recently in a normal square ceramic lasagna dish. This dish is a bit less deep than my other lasagna dishes and there was only room for two layers of lasagna and sauces. But I did not notice the difference.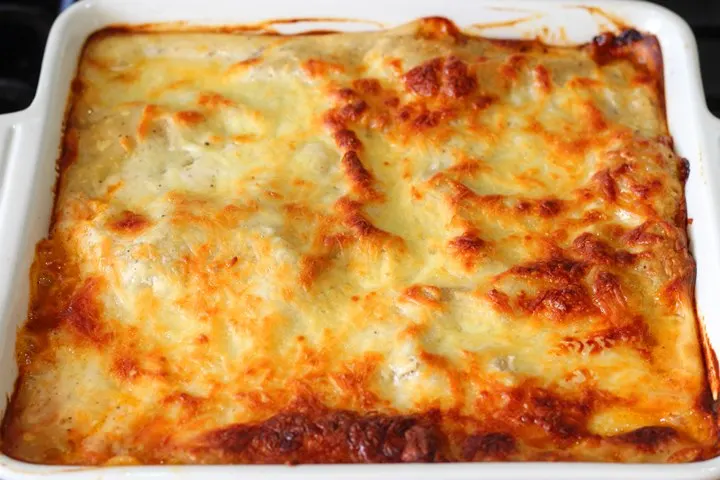 I hope you try making this recipe. It is really good. If you do, please let me know how you get on in the comments sections below!
Thanks!
How to make Classic Beef Lasagna
If you enjoyed this recipe you may also wish to try these: