Smoked Mackerel Salad
In this recipe, I show you how to use some smoked mackerel fillets to make this delicious smoked mackerel pasta salad.
Smoked mackerel is an ingredient we often keep in the fridge as it has a long shelf life in the vacuum-packed state in which we buy it from our local Aldi store.
It can also be eaten on its own or used to make a nice mackerel pâté.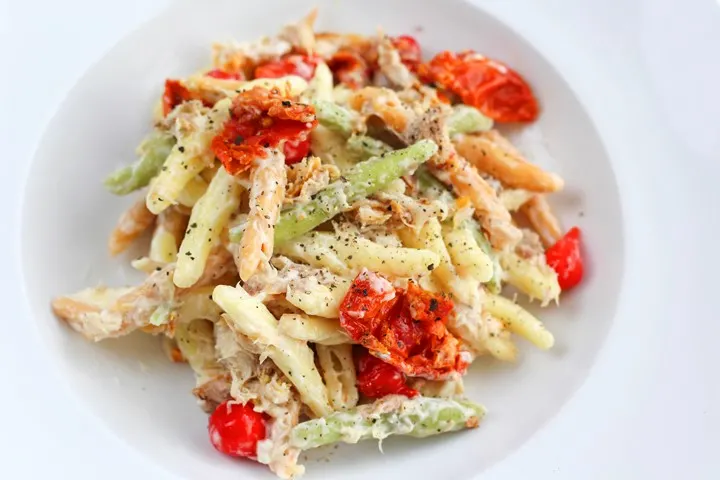 This dish is really one where I wonder why I had not thought of this combination earlier. The smokey taste of the mackerel and the creamy mayo really goes well together with the pasta.
If you like fish, you will love this pasta combination.
We very often make tuna pasta as our go-to meal when we have run out of food in the pantry (we always have tuna, pasta and mayo available). And we like to eat that hot.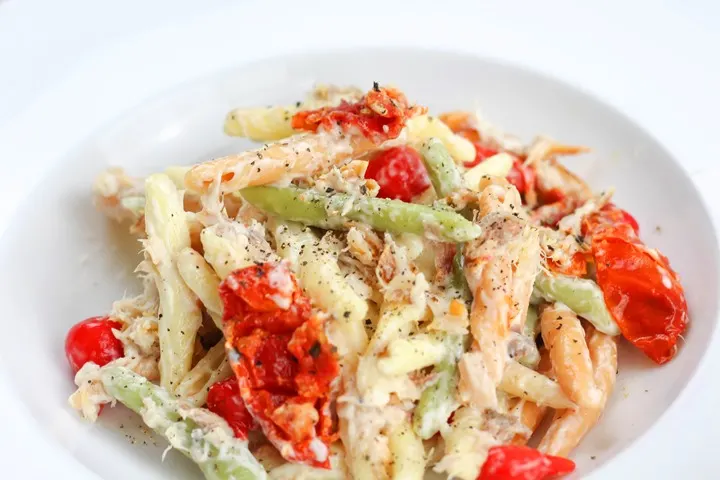 But this pasta dish is even better with the delicious smokey taste of the smoked mackerel. It is also perfectly good to eat cold as a salad. You can serve it as a main dish, a starter, a side dish or just as a snack in the middle of the day.
It is great to make upfront and keep cool in your fridge for when you need it.
Atlantic Mackerel
Atlantic mackerel, scientifically known as Scomber scombrus, is a highly prized fish found in the North Atlantic Ocean. It is a species that is loved by seafood connoisseurs and health-conscious individuals due to its delectable taste and numerous health benefits.
With its streamlined body and vibrant silver color, Atlantic mackerel is a visually striking fish. It is known for its distinctive vertical stripes. These appear as dark bands along its back and sides. Mackerel are known for their migratory behavior, traveling in large schools across vast distances.
When it comes to flavour, Atlantic mackerel offers a rich, oily, and distinctively savoury taste. This sets it apart from other fish. Its flesh is tender and succulent, with a pronounced flavour that is often described as robust and full-bodied.
Smoking is a very popular method of preparing Atlantic mackerel. Cold smoking or hot smoking the fish infuses it with a delightful smokiness while retaining its natural oils and tenderness.
Which ingredients to use for this mackerel pasta salad?
Well, I just used ingredients I had to hand to make this dish. I had a few products from the Aldi Deli which went into this meal.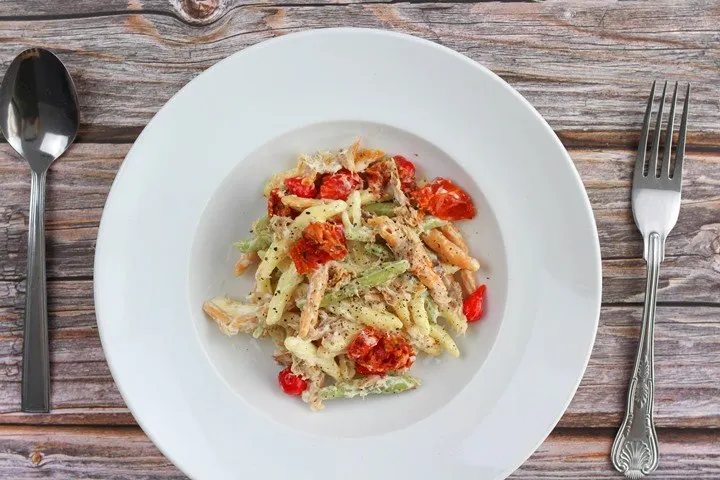 The sweety drop red peppers added a bit of sweetness and tanginess to the dish and the garlic and oregano marinated dried tomatoes added a bit of class and colour.
The tri-colour fusilli pugliesi, coloured with tomatoes, beetroot and spinach, just looked and tasted great and the Hellmann's brought it all together perfectly (as it always does).
But of course, you could add whatever you want to this pasta salad to accompany the wonderful flavour of the smoked mackerel, which is the star of this meal.
Most pasta types would go fine in this dish, and any light vegetable that complements the fish would go well (maybe some beetroot or cucumber for example).
See how you get on.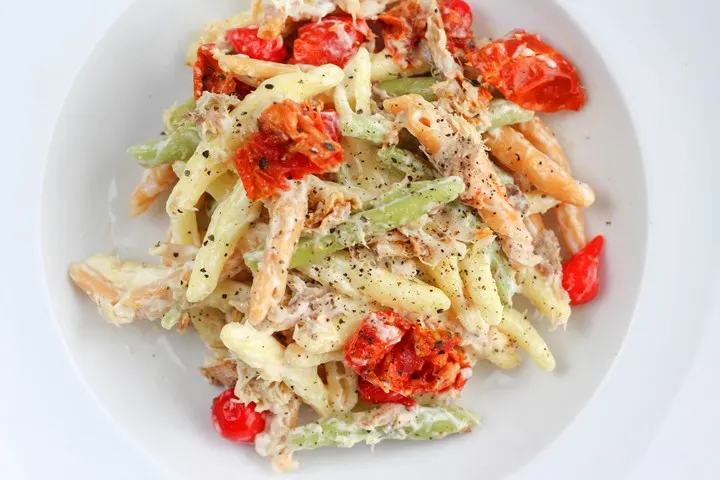 I hope this has given you some inspiration to make this dish. (As I am writing this I do actually want to go and make this again already, it was so good!!)
If you do try this recipe, please let me know how you get on in the comment section below!
How to make Smoked Mackerel Pasta Salad