Steak and Ale Pie
This tasty recipe shows you how to make mini steak and Guinness pies, a very typical Irish meat pie.
There are not many comfort foods more satisfying than a good old steak and ale pie.
The steak is slow-cooked so that you have a deliciously tender steak that melts in your mouth, and the Guinness adds the traditional and excellent porter ingredient that gives these pies a special taste.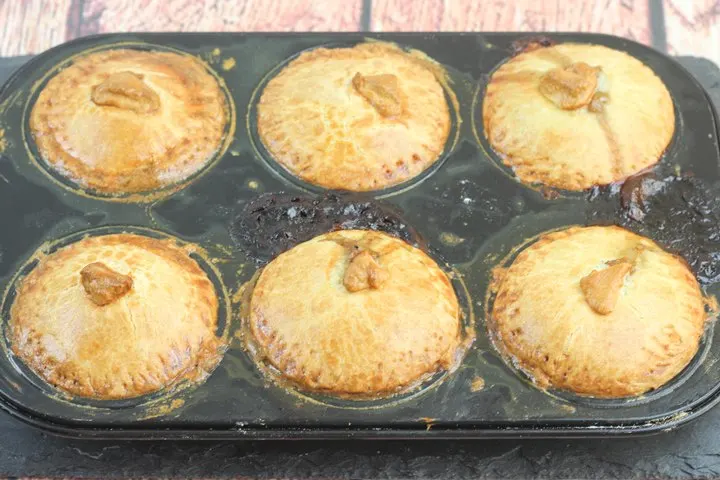 Of course, you can always use a traditional ale if you cannot get hold of any Guinness. The beer you use will affect the taste of your meat. I am based in Ireland so for me, there is no real issue to get a Guinness 8-pack down at our local Aldi.
Freezing steak pies
These individual beef pot pies are easy to make and are great to freeze. You can just make them upfront and freeze them after you have cooked them.
Then you just need to take them out of the freezer and cook them at 180C for 30 minutes in the oven or 20 minutes in the air fryer to reheat them from frozen.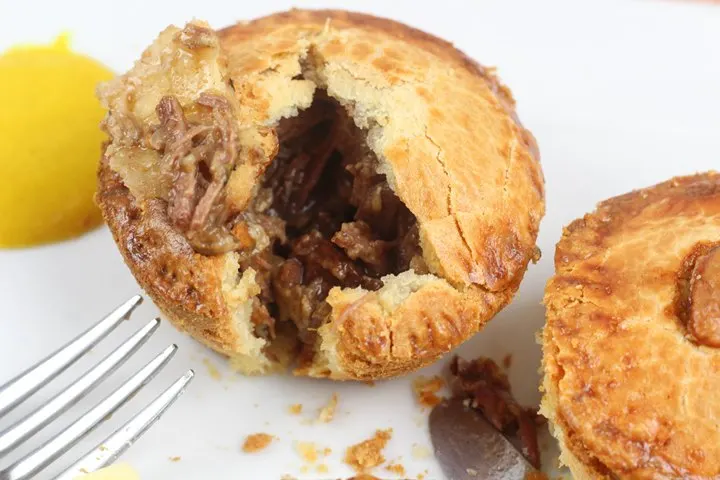 These mini Guinness pies are ideal as a quick and easy lunch idea or can even be eaten cold in a lunchbox (make sure you defrost them first! 😄 )
Individual Steak and Ale Pies
The advantage of making small individual beef pot pies is that you can eat them as snacks rather than as a main meal.
If I was making something similar as a main meal, I would probably be tempted to make a steak and ale pie with mushrooms, beef in beer stew, or a full-sized steak and onion pie.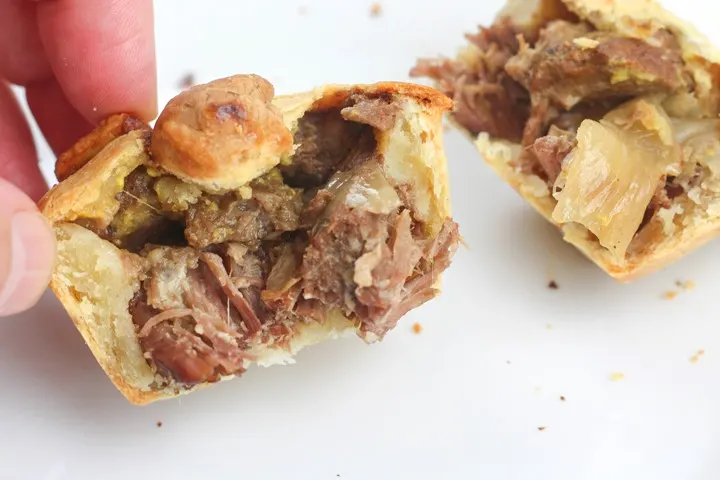 But these nice little small ones are just handy, if you make enough of them, to create some snack meals upfront. With the quantities of ingredients mentioned in the recipe I made 15 mini beef pot pies. That is quite a few snacks, that you can enjoy at any time, especially if you freeze them.
Some cooking tips for mini steak and Guinness pies
How you slow cook your meat is up to you, either in the Instapot, as I did, or in a casserole dish or Dutch oven. But you need to braise the steak well to make it soft and tender.
The onion adds some taste to the sauce, and if you do not chop the shallot you will find some lovely pieces of shallot in the sauce that you can put into the individual pies. You can even experiment by adding a touch of mustard to the pies if you wish, to give a bit of extra kick. I tried with a few of these pies and they were really tasty.
I recommend using a silicone muffin tray as the pies seem to stick less in the oven than if you use a metal tray.
Of course, if you did not want the hassle of making your own pastry you can always choose some ready-made pastry. But this is a shortcrust pastry that I do believe you will enjoy the taste of. It complements the beef rather well and is easy to make.
I hope you enjoy making these individual steak and ale pies. Please let me know how you get on in the comments section below!
How to make mini steak and Guinness pies