Easy Chicken and Mushroom pot pie
This is a recipe for a simple British Chicken and Mushroom pie.
There is nothing more satisfying than a good old British pie. This Chicken and Mushroom Pot Pie recipes is one of my favourite chicken pies and is really quite delicious.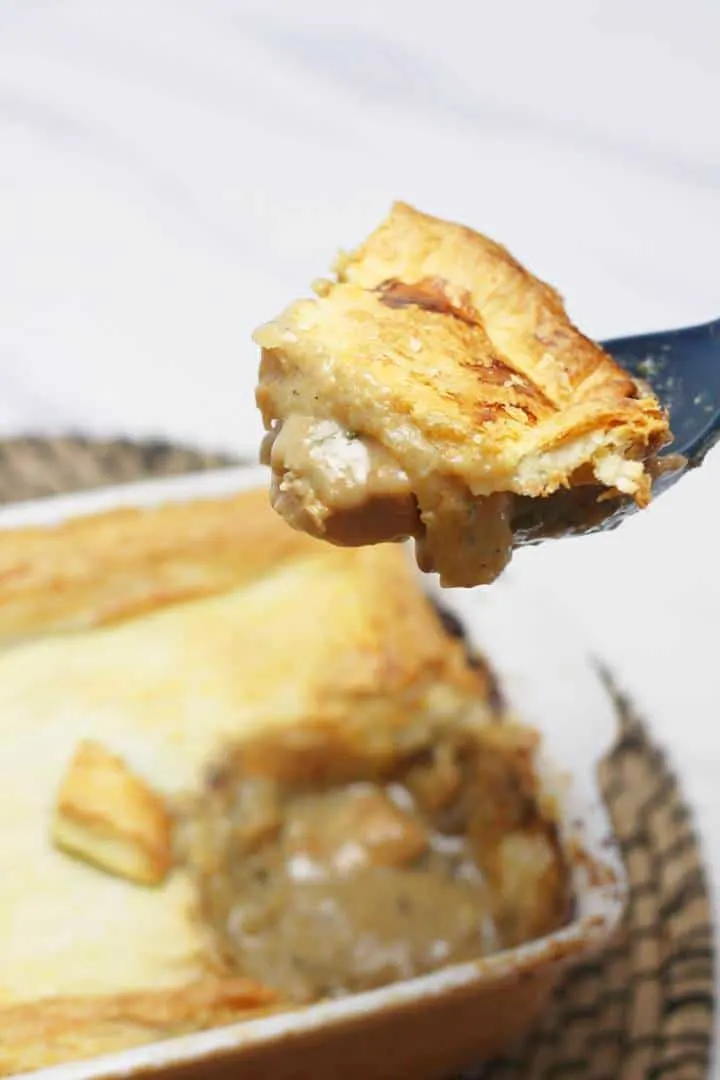 Chicken and mushrooms have always gone well together.
My daughter is a bit fussy about the mushrooms but I cut them large enough so we can fish them off her plate before serving up.
Chicken and Mushroom Pot Pie Casserole
I made this chicken recipe this week as it is British Pie week between the 4th and 10th of March this year (2019).
It is a really easy homemade chicken pot pie to make. The recipe uses a chicken pot pie filling which is a very good chicken mushroom casserole in its own right.
So if you do not want to serve up as a pie, you can serve up the filling as a casserole instead and save the hassle with the pastry.
We Brits do love a bit of pastry though! Pies are in our blood.
We have savoury pies and sweet pies. Some examples of the former are: Shepherd's Pie, Steak and Kidney Pie, Chicken and Ham pie, Pork Pie, Fish Pie, Steak and Onion Pie and Steak and Ale Pie, to name but a few. There are many more, and not all use pastry as a topping.
Some of the latter are: Apple and blackberry pie, apple pie, apple and cherry pie, as well as many other pudding or desserts in the form of pies.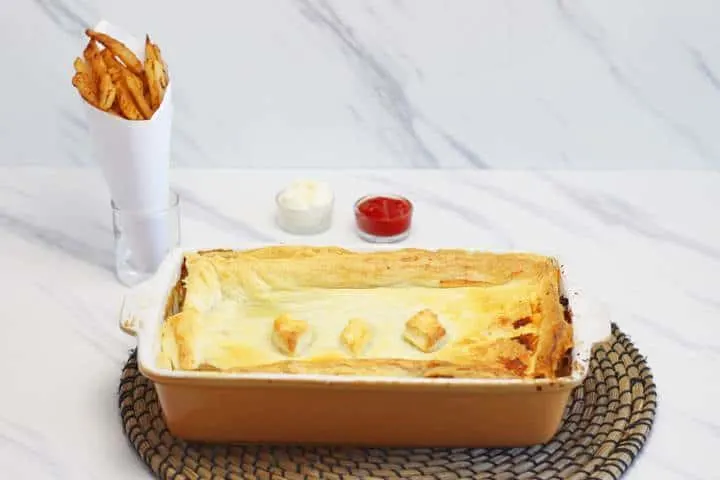 Campbell's chicken soup
When I was little, my Granny used to make a chicken casserole with Campbell's chicken soup, which I loved. It was so easy to make and really very tasty. We used to eat it with boiled rice.
However, if you were to compare it to this homemade chicken and mushroom pie recipe, I think you would find this is vastly superior. Sorry Gran, wish you were here to try mine xx 😊
There are many ways to make a chicken and mushroom pie. Quite often people will vary them by adding peas or leeks, which can be a great addition.
But I think that this is simple and tasty, it does not need any extras. You can always serve up with peas on the side of course if you wish.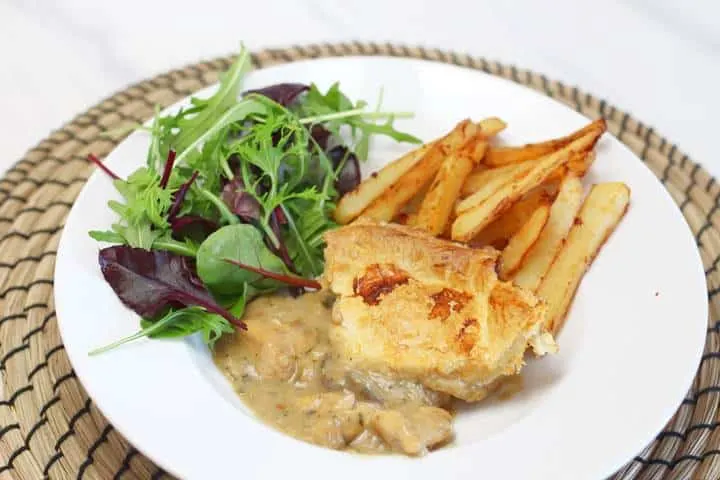 The trick is to get the sauce to the right consistency and taste. Follow this recipe to do this.
You can also make it creamier by adding some cream to the sauce at the end, but I did not do this, and I do not think it is necessary. The sauce is creamy enough.
Pastry type
I have cheated here by using a ready-made puff pastry for the chicken pot pie crust, but of course, you can always make your own. You could also use a shortcrust pastry if you prefer, but I like the lightness of the puff pastry.
Here I have served up together with some delicious Belgian French Fries, but you could also serve it with mashed potatoes and some carrots.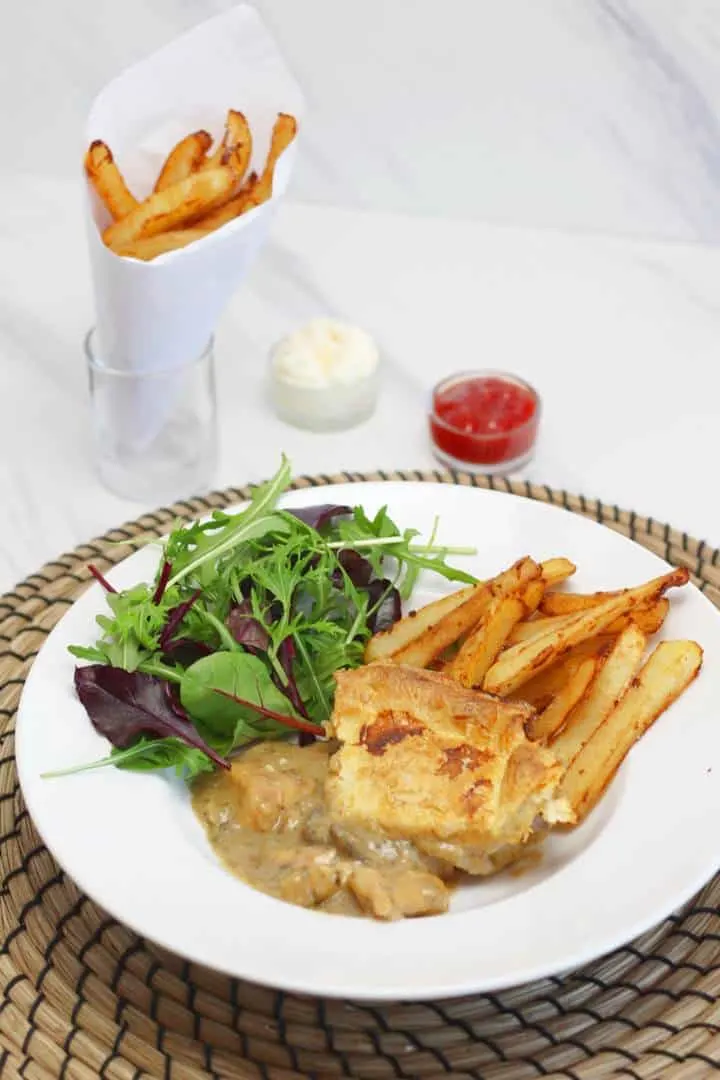 If you like you can also make lots of individual chicken pot pies with this recipe and freeze them for later use. Or make some mini chicken pot pies.
And you can also make this recipe to use up any leftover chicken you may have from a roast chicken for example.
Note you can, of course, use dried herbs if you do not have fresh ones. I just happen to have fresh parsley and Rosemary in my garden so it always says 'fresh' in the recipe card!
I hope you enjoy this recipe and I challenge you to leave some for later 😊!
If you do try this recipe, please let me know how you get on in the comments section below!
How to make creamy chicken and mushroom pie
What to serve with chicken and mushroom pie? How about trying one or more of these?:
or maybe
and for dessert?
Or maybe you prefer another type of pie?: