Steak and onion pie recipe
The recipe shows you how to make a traditional British steak and onion pie. You will find these types of pies, with some variation in quality, all over Britain and Ireland in the pubs. It is very popular pub food.
This easy steak and onion pie recipe is very similar to my recipe for steak and ale pie. But this recipe is without the mushrooms and has potatoes instead. Also, the sauce tastes different as I make it with red wine rather than beer, which changes the taste significantly, making it more rounded and less bitter.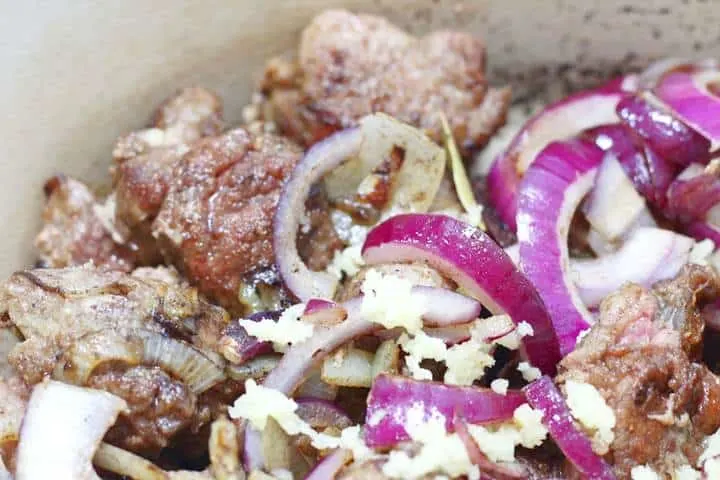 This is a slow-cook recipe, where you prepare the steak pie filling beforehand. You just prepare the pie lid or crust when you are ready to heat it up.
It is a very good meal for freezing. You can make a larger batch to freeze in pie-sized batches. Then just defrost it during the day in the fridge when you know you want to eat it for dinner.
I normally make this meal the day before eating. You can leave it in the fridge overnight as for some reason it always seems to taste better the next day.
Which Red Wine to Use for the sauce?
Some people say you have to use a Burgundy wine as this is basically a beef bourguignon recipe. But NO, I say.
Use whatever red wine is handy. Chilean, Argentinian, Portuguese, Italian, Spanish – it should not matter. It should be drinkable though, as Keith Floyd would say 😃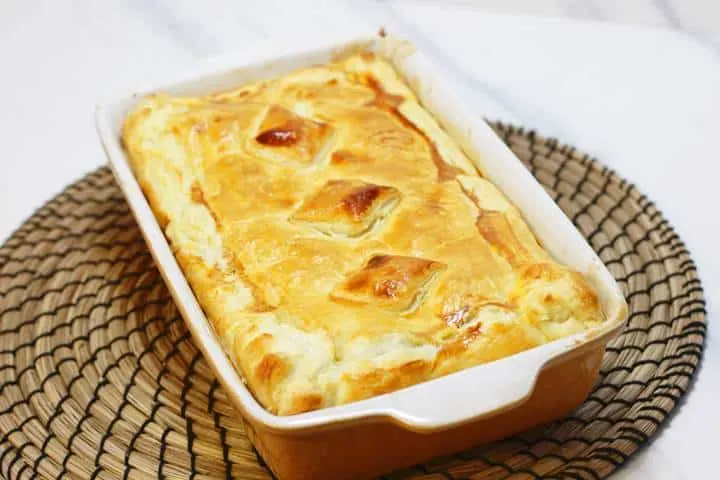 I happen to make my own red wine (as well as beer), which is a very quaffable Cabernet Sauvignon, so I used some of this and it was wonderful.
The taste is great – it is not as rich as the beef in beer recipe, but it is different. More subtle, perhaps, as you would expect from the French.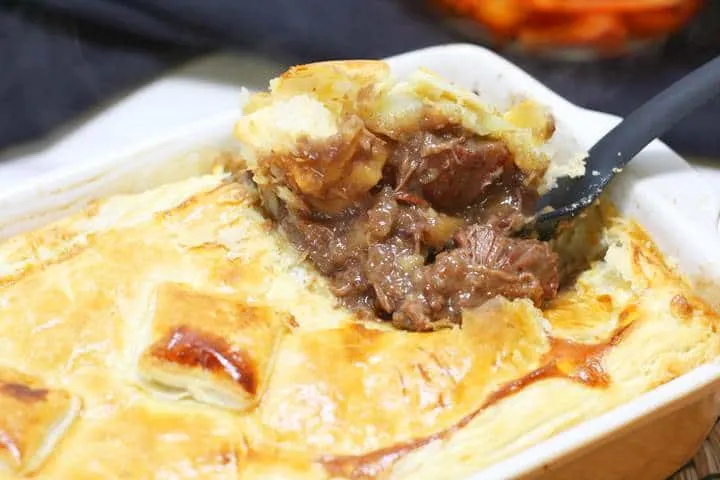 Which meat cut to use for a steak and onion pie?
The best type of meat to use for a steak pie is usually a chuck steak, or braising steak as we call it. But read more about that here: Choosing the best meat for Beef Stew.
The cheaper cuts of meat are normally better as the slow cook will tenderise them. I got a lovely piece of chuck steak for this one from our local butcher as you can see in the photos below.
I cut it into very large pieces, about 4-5 cm cubes, which you will appreciate when you finally open the pie.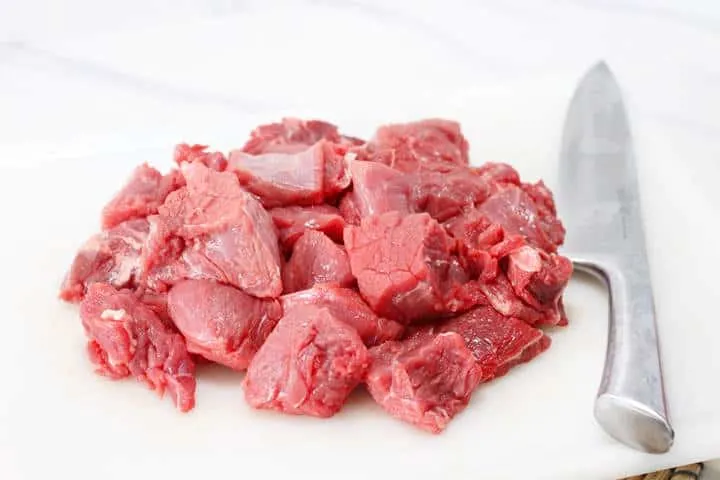 This steak and onion pie filling is slow-cooked in the oven, as I do not have a slow cooker or crock-pot. But I am sure the latter would do it fine as well. You could also make this a lot quicker in an Instant Pot as well if you so wished (it would cook in about one hour on high pressure).
Serve up with a side dish that will complement the taste of the sauce.
Here I chose some baked carrots as it was just as easy to cook them in the oven with the pie, and the potatoes had been added to the filling.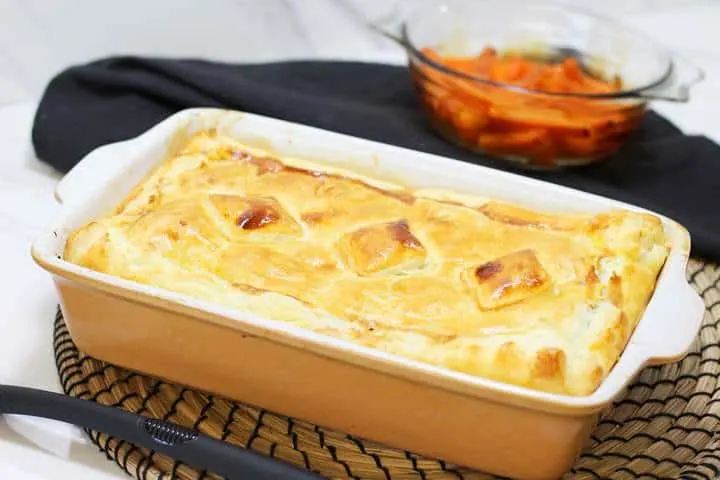 The amount of meat you use depends on how much food you want to make. The quantities below made one large and one small pie. Enough to feed about 6 people.
How to make a steak and onion pie
If you liked this recipe you may want to try these ones: