Brie and Cranberry Toastie
When it is coming up to Christmas time and everyone is busy getting the Christmas decorations ready and wrapping presents, what could be a better snack than a brie and cranberry toastie? This recipe shows you how to make a delicious brie and cranberry toastie.
It is such a simple snack to make and the combination with cranberries is just divine.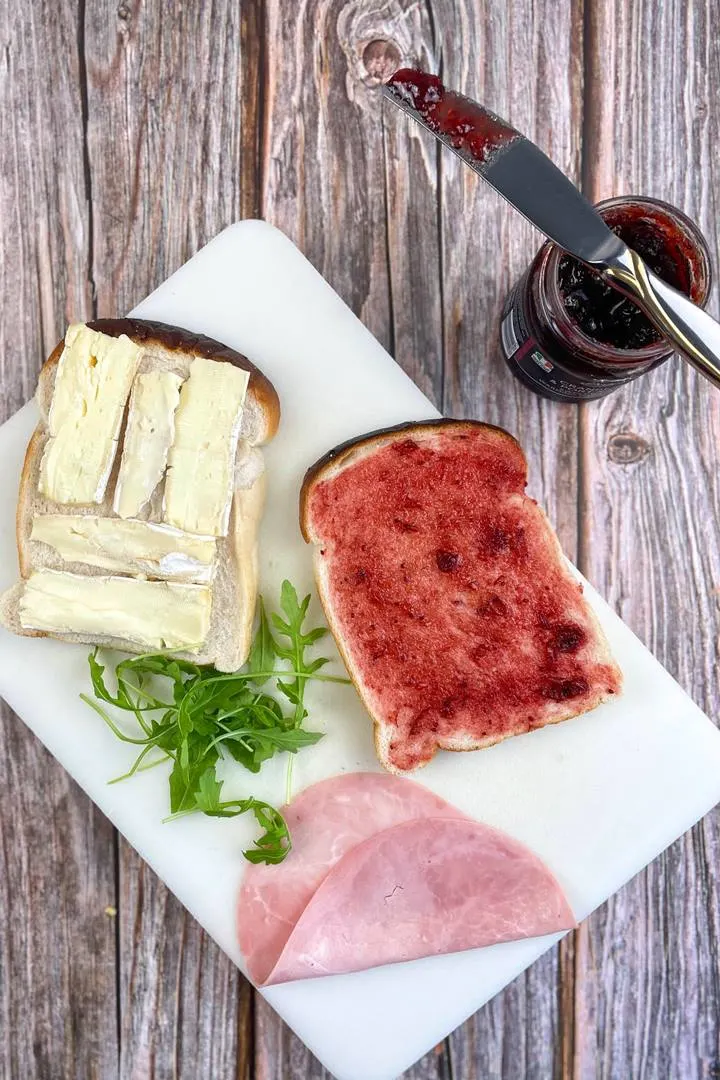 Really together with a mulled wine, I think it has to be the perfect snack to get you in a Christmassy mood. This easy recipe shows you how to make a brie and cranberry toastie, which of course you can also eat at any time of the year – it does not have to be Xmas!
Brie cheese
Brie is a soft cow cheese originating from a region in Northern France. It has an edible rind of white mould and is very similar in texture and taste to camembert cheese, which is from a different region of France, Normandy.
Either types of cheese can be used in this recipe, though you may find that camembert becomes even more creamy than the brie does when heated.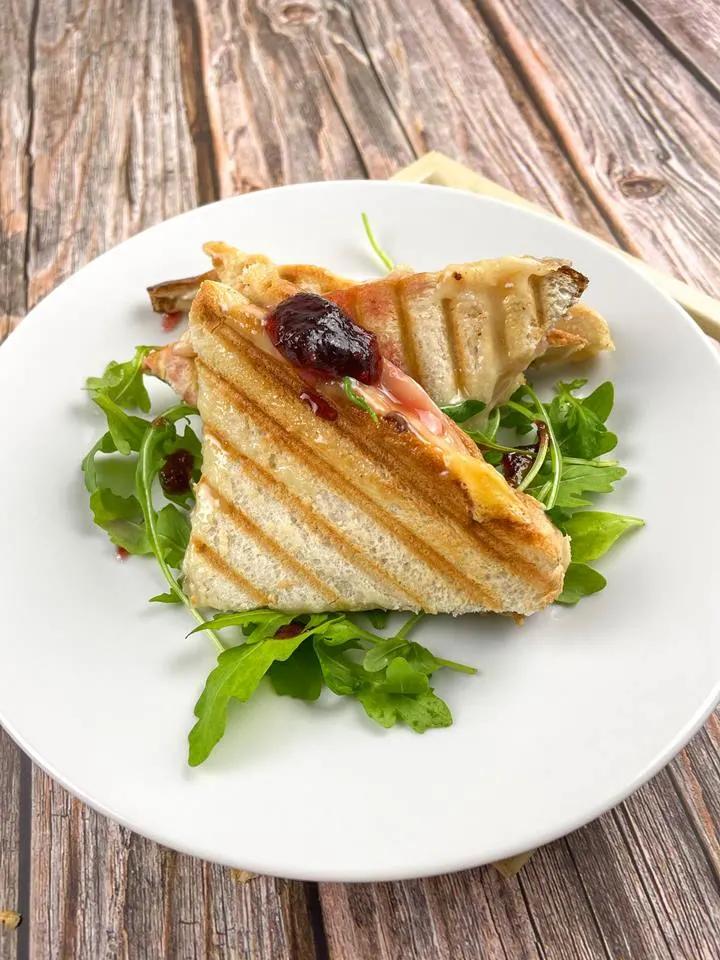 The combination of brie and cranberry is a classic. It can also be eaten together after dinner with a glass of port or even as a cranberry brie appetizer if you like.
This version of the combination, with a slice of ham and some arugula (rocket) I think is just a perfect combination (and a jolly good way to pretend it is Christmas all year round!)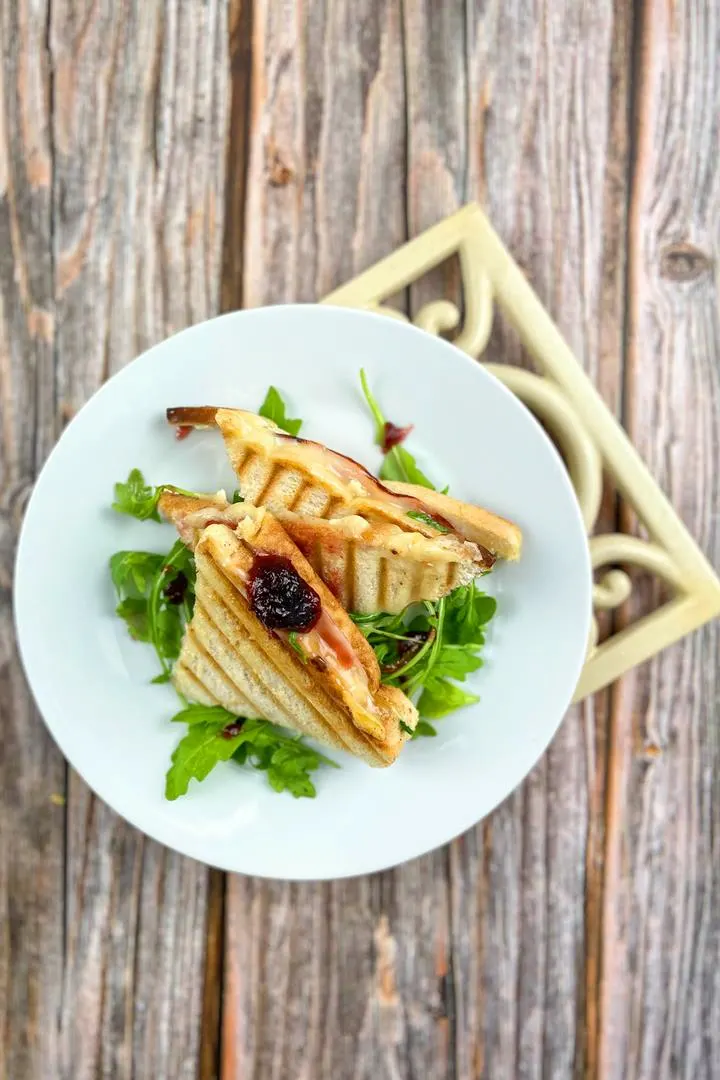 With Brexit soon approaching as I wrote this post, there was a bit of a worry that real French brie may not be as affordable in the future, or could be more difficult to get hold of.
But do not fret, as if you are in the UK, there are plenty of other alternatives. There are plenty of local bries produced in the UK like Cornish Brie or Somerset Brie, for example, which some consider being just as good.
Where we are in Ireland, though, we are not affected by any Brexit tariffs as we are still part of the EU. And we are also very lucky to have some wonderful dairy products. We recently had some Irish Brie from Aldi which was absolutely wonderful.
Of course, in the USA, you cannot get the real deal, as many good tasty cheeses are banned there. For example, cheese made from unpasteurized milk, like Brie and Camembert are banned there by the FDA. Pity.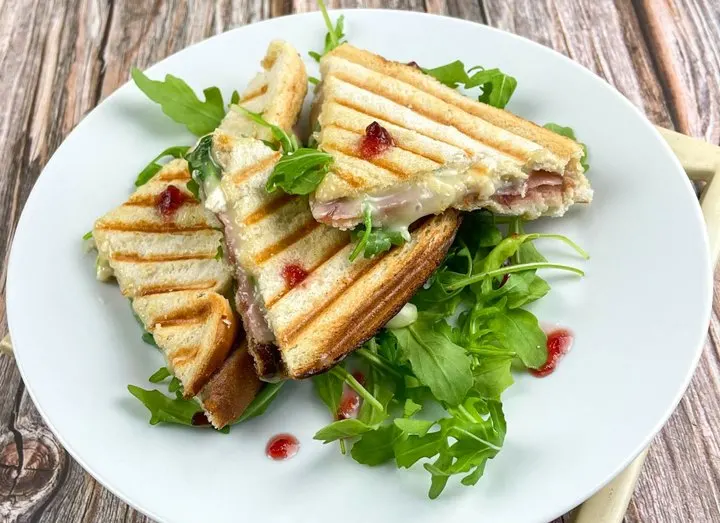 Why is a brie and cranberry toastie so good?
Well, the trick is in the melting of the cheese. Brie and camembert are great just as they come. But just like a cheese fondu or a raclette, these cheeses are also even more delicious when they are melted.
Around Christmas time our local Aldi sells small whole rounds of camembert. You can melt these in the oven and then use as a dip with whatever you like.
This toastie is great as all the ingredients complement each other perfectly. The savoury melted cheese with the sweet cranberry sauce is just perfection. We managed to find some cranberry with port sauce, which was even better!! 😉
I made this in our toastie maker. But you could also make this under the grill or in the pan if you prefer. Whatever you have available.
I hope you try to make this simple brie and cranberry toastie. If you do, please let me know how you get on in the comments section below!
How to make a brie and cranberry toastie